Back to selection
"Constraint as Liberation": Nicholas Rombes Publishes 10/40/70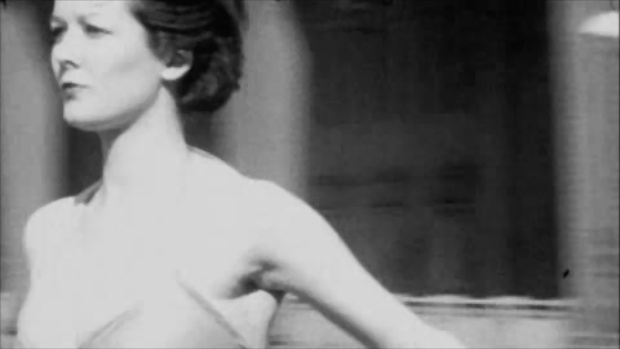 Still from the forty-minute mark of The Foreigner, 1978, Amos Poe.
Nicholas Rombes's "10/40/70" series is one of the freshest, most boundary-pushing bouts of film criticism in years, a collection of essays on films analyzing only the content of single frames occurring at the ten, 40 and 70-minute marks. Originally published, at The Rumpus, they are now published in 10/40/70: Constraint as Liberation in the Era of Digital Film Theory, an essential collection from Zero Books.
The book is prefaced with an apt quote from Jean Baudrillard: "As for ideas, everyone has them. What counts is the poetic singularity of the analysis." That singularity is here in ample supply, as Rombes's excursions venture inside and outside the frames, veering across theory, business analysis, memoir and, often, literature (Herman Melville, Sinclair Lewis and Mark Z. Danielewski all make appearances here) as these disciplines are provoked by people, objects or just ideas found in the frames.
Back in 2010 I interviewed Rombes about the project, and we discussed some of the unexpected results of his chosen formal constraint, such as the fact that the monster in Bong Joon-ho's The Host doesn't make an appearance in any of the three frames. Here's Rombes from our interview:
Filmmaker: Do you sometimes find yourself at odds with your concept? I notice some weeks you adhere to the "strict constructionist" application of the concept, while other weeks are more expansive, drawing in broader historical and artistic commentary.

Rombes: Your question cuts to the heart of it all. Yes, I fight the concept all the time, especially when the film does not yield what I expect it to yield. A good example is The Host. I very much wanted to write about that monster-tadpole. But it didn't show up. This turned out to be good, because it forced me to address different aspects of the film, ones I hadn't noticed before. Sometimes certain frames allow for broader commentary beyond the literal frame, and sometimes they lock you into the frame itself. This is a real tension in the 10/40/70 method that always threatens to explode. At the 40-minute mark of Out of the Past, for instance, I felt that Ann's gaze touched on a recurring visual logic in the film, so I talked a bit about that.
In addition to the 10/40/70 essays, Constraint as Liberation contains three additional pieces found at the beginning, half way and end points. These essays travel from film theory — particularly a reclamation and re-radicalization of Andre Bazin as the patron saint of a surveillance-age, DV-enabled long-take realism — through personal memoir (strange inter-personal occurrences surrounding the watching of a David Lynch film and Rombes's fixation on the visage of French theorist Julia Kristeva).
Rombes talks about the book in an excellent, wide-ranging Bomb Magazine interview with Andrew Gallix. Here they discuss the role of the DVD player in not only Rombes' practice but in The Removals, a screenplay he's written for Grace Krilanovich to direct.
AG: Post-VCR technology has transformed film theory, but has it also influenced film practice? Was this something you took on board when writing the script for The Removals, directed by Grace Krilanovich?

NR: Yes, in the sense that I still don't believe we've acclimatized to the radical displacement of actually seeing and hearing ourselves broadcast back to us, as film made possible only a little over a hundred years ago. This displacement—or removal—of ourselves from ourselves was first made adjustable by the VCR and other early forms of image playback technology. The Removals is a thriller in the sense that it's about the revenge of this second or third or fourth copy or iteration of ourselves on ourselves. Robert B. Ray has written elegantly—in How a Film Theory Got Lost and Other Mysteries in Cultural Studies—about how film theory, especially in the US, suffered a blow to the imagination by adopting a vague sort of social sciences approach to hermeneutics. One of his suggestions is to view film theory as a form of radical experimentation. What would happen, say, if I adopted the editing style of film X as a method of inquiry? The overall goal is to find something new and unexpected, not just in the film itself, but in the writing about the film.
Removals Teaser from Two Dollar Radio on Vimeo.
One of Rombes' points in the book is that the "10/40/70" markers have multiple metaphoric meanings, one simply being their inevitable allusions to youth, middle and old ages. Indeed, the final beauty of Rombes' conceit may be this final revelation, where life itself is just another form of cinema:
AG You suggest that the true, ultimate long take may be human perception itself: "a lifespan unfolding in real time, punctuated by cuts and fade-outs that take the form of blinking and sleeping and forgetting." What's at stake for you in film criticism is far more than just film criticism, isn't it? I'm thinking especially of passages where you apply the 10/40/70 method to your own memories: "There was yet no logic. No 10/40/70. No sense that images could be tamed only to be let loose among their tamers." Could you comment upon that last quote, which reminds me a little of Raymond Queneau's definition of Oulipians as "rats who build the labyrinth from which they plan to escape"?

NR There was a deep sadness that accompanied the writing and assembling of the book, and your question touches on the nature of that sadness, which I think has to do with realizing that theory—whether it's 10/40/70 or any theory—is an attempt on some level to structure and impose some sort of narrative coherence on our very selves and memories. Our brains are the most vicious total cinema machines of all. Our continual efforts when awake and when sleeping to work out the past, to smooth it into layers of meaning, must certainly wear the gears down until we can't even hear or feel them moving. Forced into a high level of concentration we come to realize that it's not films we're talking about, but ourselves. Our fingerprints are already over everything.
10/40/70: Constraint as Liberation in the Era of Digital Film Theory is available from Zero Books. (Also recommended: Rombes' Blue Velvet Project here at Filmmaker.)