Back to selection
Cannes 2014: Girlhood, It Follows, Red Army, Foxcatcher and Stray Duds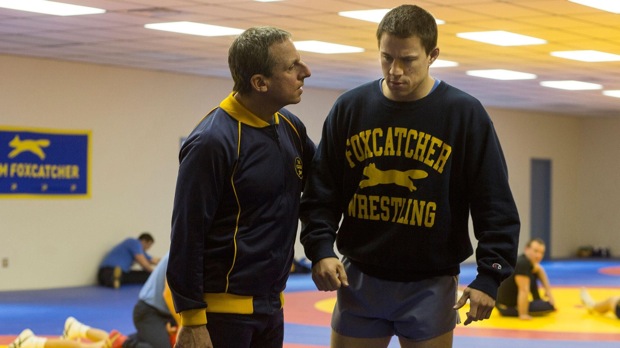 Foxcatcher
If it weren't for the inflexible, charmingly antiquated press hierarchies of the Cannes Film Festival, where journalists queue up and get let into screenings by priority of their rainbow badge color (yellow, blue, pink, pink with a yellow dot, and the all-powerful white), it would only be a matter of time before influential Twitter users were accredited. The social media juggernaut of mass brevity — like college, marriage, or colonic irrigation — is not for everyone, but during Cannes, it's the handiest tool for aggregating kneejerk reactions to what typically shakes down as half of the year's Most Important Films. It might take several months for Cannes' competition lineup to swim its way to the states for theatrical release, but between the extensive trade reviews, snarky Twitter discharge (sorry, that gauzy glitch of a biopic Grace of Monaco had it coming!), and the sheer pragmatic need for critics on the ground to stealthily navigate an overpacked screening schedule, there never seems enough time to reflect as the news-cycle hive mind buzzes faster each second.
Hi, my name is Aaron, and I tweet about challenging art films at Cannes long before I've had the breathing room to grapple with them to any intelligent or sensible degree. (The room echoes back, coldly: "Hi, Aaron.")
That felt good to get off my chest as we pass Day 6 here on the Croisette. While no so-called masterpieces have yet to materialize, the turkeys certainly flock together: Jessica Hausner's rigorous, trapped-under-amber Amour Fou is a tableaux-heavy chamber comedy that's not so much dry as dehydrated, and Atom Egoyan's lurid pedophile thriller Captive is too graceless and preposterous to deserve more description than that. However, Israeli filmmaker Keren Yedaya's father-daughter incest drama That Lovely Girl holds the most perverse honor, in that its repugnant force-feeding of empty-souled miserabilism is the worst Cannes selection I've seen in five years. Perk up, though, as here are some notables that helped soothe such burning disappointments.
Teenage Dream
Or is it a teenage wasteland? My first highlight this year was the electrifying Directors' Fortnight section opener Girlhood (Bande de Filles), the third feature from Céline Sciamma, whose 2007 coming-of-ager Water Lilies and gender-bent 2011 follow-up Tomboy proved the French writer-director a sensitive, incisive, progressive storyteller about adolescent girls bucking the social systems that try to make them conform. Here, among the banlieue underclass — rarely depicted in cinema, as in L'Esquive or La Haine — reticent 16-year-old Merieme (Karidja Touré) finds reprieve from her cruelly dominant older brother and dead-end boredom when she gets recruited as the fourth in an all-girl gang of bad bitches. Letting loose her tight braids and inhibitions, Marieme trades her apprehensive vulnerability for empowerment through a seamless series of bittersweet but buoyant, electropop-fueled episodes. The slacker quartet get into catfights with rivals, shake down their classmates for cash, shoplift dresses, check into a hotel armed with snacks, booze and dope, and boisterously lip-sync to Rihanna's "Diamonds." Whether using her newfound switchblade for revenge (not what you'd think) or discovering her budding sexuality, Touré reveals herself to be a terrific, naturalistic talent (as are her three costars), and Sciamma's sharp, graceful compositions could've had the film renamed Blue is the Warmest Color for its distinctive palette alone.
An equally gorgeous and sympathetic tale of youth's last hurrah, David Robert Mitchell's It Follows (Critics' Week) could be unfairly pigeonholed as arthouse horror, though its mesmerizing blend of dread and wonder is comparable (if not quite as ambiguous) to Under the Skin. Returning to the Michigan suburbs of Mitchell's lovely, gentle-hearted 2010 drama The Myth of the American Sleepover, the film actually tries its damnedest through dreamy, atmospheric softness not to be a horror film at all, though the setup is terrifying: 19-year-old Jay (Maika Monroe) finally consents to have sex with her new boyfriend Hugh (Jake Weary), but learns in the nightmarish afterglow that she's been cursed with a sort of supernatural STD. Only the infected can see the evil force (which can appear as a stranger or a loved one, sometimes partially or fully nude) walking slowly, silently, purposefully towards its prey; driving away can buy a victim-to-be some time, but don't let that thing touch you! Throbbing to an earworm score of synths and industrial noise by Disasterpiece (at times echoing John Carpenter, Vangelis and Goblin), the film accentuates the fear even in broad daylight, as our eyes scan the background for potential sauntering menace. Though a couple action-and-FX setpieces — one at a beach house, the other at a municipal pool — conspicuously place the film in the genre canon, it's still a nuanced, observational portrait of teens wiling the hours away, and thinking about the hunky boy across the street when that sweet dork with a crush is sitting right beside you on the porch.
Olympic Dispirit
Not just a Cold War saga but also a complicated study in nationalist pride and burden, Gabe Polsky's coolly entertaining doc Red Army (Out of Competition) puckishly chronicles the rise and fall of the legendary Soviet Union hockey team, which most may only remember from their Olympic loss to the U.S. in 1980. The film's figurehead is retired defenseman and captain Viacheslav "Slava" Fetisov — a two-time gold medalist, hall of famer, recipient of The Order of Lenin (the highest decoration awarded by the Soviet Union), and namesake of an asteroid discovered in 1981. Between this charismatic, curmudgeonly hockey god (in the very first scene, Slava flips off his director while staring at his cellphone) and a great deal of unearthed, masterfully curated footage, the film shows how the Soviets used the sport as a tool for propaganda.
Recruited as children, future rink heroes were trained like soldiers on the ice, crawling and somersaulting and carrying tires or teammates as they skated. Like chess masters, the Red Army's passing game became an intuitive Three-card Monte that baffled their opponents, and failure was never an option under the disciplinarian regime of coaches who literally worked for the Defense Ministry. The history books can't take away those 19 World Championships, but in all the away-game globetrotting, Mother Russia couldn't keep its young players from tasting the capitalist freedoms of the West, which is how Slava and some of his clan became political traitors by defecting to the NHL for big paydays. Glasnost and perestroika weren't indoctrinations but mere buzzwords, the film posits, and the KGB was always watching.
If a paranoid schizophrenic hadn't flipped out and killed a man in real life, would Foxcatcher have become a motion picture? It's a valid question, only in the sense that Bennett Miller's third middlebrow Oscar-buzzer (following Capote and Moneyball), about the peculiar and ultimately homicidal relationship between two gold-medalist wrestlers — brilliantly underplayed by Channing Tatum and Mark Ruffalo — and eccentric millionaire-cum-murderer John E. du Pont (Steve Carell, unrecognizably showboating through an exhausted monotone and prosthetic snout) could be called an anti-drama. The performances and cinematography are engaging but the themes are overstated in this gloomily somnambulant, two-hour-plus piece that's focused more on mood and process than interpersonal complexities.
In long melancholic takes and sequences, we watch Mark Schultz (Tatum) wrestle with a dummy, with his brother Dave (Ruffalo), with debt, with his wealthy "mentor," with addiction, with life and career frustration. When du Pont takes Mark in like a pet (underscored by the erratic, little-boy-lost philanthropist's obsession with birds, or his mother's prized thoroughbreds) to train at his estate ranch gym and regain his glory, we're meant to feel that the protégée lives in the shadow of his older bro—which is exactly a line of dialogue that du Pont tells him, too. As a psychological portrait, it's a thin slice of The Master's toxic codependencies, but it fares worse as a political analysis of upper-class corruption in the guise of American exceptionalism, as screenwriters E. Max Frye and Dan Futterman transpose the events to a decade earlier, firmly but inexplicably in the Reagan-Bush era. In lefty fashion, the last chanted line couldn't be more on-the-(fake)-nose: "U-S-A! U-S-A!"