Back to selection
Cannes 2014: 5 Questions for Wild Tales Director Damián Szifrón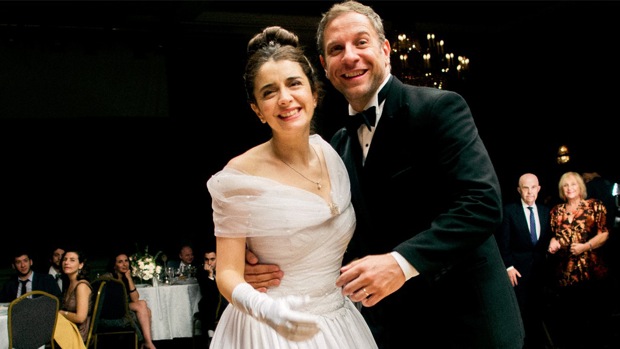 Wild Tales
Argentine director Damián Szifrón's Wild Tales opens with the ultimate revenge fantasy, one that unfolds into a firestorm before the credits finish. The film's six stories get only more wicked, quickly descending into the depths of the human psyche on the verge of imploding.
There is truly never a dull moment, a rarity for the Cannes lineup. A waitress gets help paying back the loan shark who drove her father to suicide. A quick road rage incident unfolds into a searing tale that will warn anyone against yelling at another driver. An explosives engineer fires back against his city's criminal car towing tricks. A father, trying to erase his son's crimes, gets drawn into an endless cycle of paying hush money that threatens to bleed him dry. The ending features a bride from hell who is intent on destroying her new husband after he rubs his infidelities in her face.
Wild Tales is a laugh-out-loud riot from start to finish. Contrary to most compilation films, the stories all hold their own weight and focus on a strong universal theme binding them together. The young director is one to watch, and we can only imagine his next film will be even bigger. We sat down with Szifrón in Cannes to find out the story behind the film.
Filmmaker: The idea of exploding, or losing one's wits, is something we can all relate to. What drew you into making the story?
Szifrón: I think I have problems with authority. I don't like being told what to do or not to do. I'm a writer and a director so I can express myself through films, the situations that I dislike, and do something with that. But normal people, regular people, I think they suffer a lot because of repressing emotions and instincts. We live in a society where we're not ourselves.
So yes, I think that this film gave me the freedom to collect tiny things that make me mad or angry. Some of them, like the wedding story, I wouldn't say that it was from something that angered me. But, yes, I went to a lot of weddings in which I saw some lies beneath the people. And, you know, you have to be there with a tuxedo and be a witness of something that I often don't feel is that true. I think that story had to be at the end of the movie because of the weight.
Filmmaker: Was it difficult making the film? Did you have any moments yourself when you were going to explode on set?
Szifrón: Not really. I think that, contrary to what you see on screen, it was a very pleasant project. You know, I was writing a huge science fiction movie, a film series that I want to make. But I spent two years or three years and I was still working on that project. Suddenly these powerful ideas began to appear and I didn't know what to do, so I reduced those ideas to the minimum and got these stories. And without even noticing it, I found that I had a new movie, and perhaps that made me a freer writer.
I had so much joy and I learned so much writing it. You see that the film is like writing lessons, to write short stories with an arc of transformation in which every character develops conflict to the very, very, very, very end until you have the climax.
So when I showed that script to the producers I'm used to working with, they were immediately happy with the movie. They thought I was going to make a modern film, a different film made out of classic storytelling. But the fact of putting together all these classic stories, it makes a different kind of film.
Filmmaker: A compilation film is one of the hardest films to make. How did you overcome that challenge?
Szifrón: I mean, that was the project. At some point of the process I began to think, OK, should I have some kind of carrot that goes through all the stories? Should I have a bird flying all over the stories? Should I have something that connects all the stories?
And then I discovered that these were, you see, separate stories but truly united by an energetic or spiritual force, and all the characters were people that at some point or another were compressed or oppressed by the situation.
They all lose the edge and they all feel some kind of pleasure when losing the edge, and I think that's the thing that provokes the humor in the film. Of course there are jokes, but it's not filmed as a comedy. It's filmed as a thriller, or as a drama in different parts, but you laugh because you understand that point in which somebody just decides not to regress anymore and make something that's really out of the box.
You don't measure the consequences so you can exorcise some feelings you have in your normal life through these characters. And that's what movies are a lot of times, you know, some kind of collective exorcism.
Filmmaker: The pacing was flawless. Was that a result of editing?
Szifrón: I worked a lot in editing. I brought the edit bay to my house and I lived with the film for six months. It was a very hard job to choose shots because the actors are so amazing. There was a lot of great stuff there, and to leave out things that you like was hard for me. So I would say, "OK, I'll do it tomorrow." I'll cut this stuff tomorrow. So I had like three different movies with different takes, and then we watched them all and then said "OK, these are the ones that go."
I think I worked a lot on the pacing during the writing. I know how to read the stuff I write, so I see the pictures and I hear the music. I worked on the order of the stories until I found that you could read it in a single sitting. So I trusted the images and I tried to respect that pacing during the editing. But that was a challenge.
Filmmaker: You've done a lot of TV, as well. Is there anything particular that you've learned from TV that influenced the film?
Szifrón: When I wrote Los Simuladores, which was my first TV series, I used elements from films in the TV series, which was very strange in Argentina at that time.
In Argentina, TV and films are extremely different things, you know. TV is more like soap opera and movies are more like film. We are not used to, let's say, Breaking Bad. We do not have those kinds of great TV shows. But at the time I felt that I was making like short films, and visiting a lot of stuff that I loved from movies. It was like each episode was a different genre, because the idea of the show was to pay tribute to recent movies I liked.
I made my last TV series in 2006, and then I decided I didn't want to live under the mechanism of a TV series, which is that I am writing one, while directing another, while editing the one that I shot before. I didn't like that life anymore. At first it was OK, but then I was just very tired. So I decided to stop shooting and dedicate myself to writing a few scripts. And then when I finished those scripts I decided to shoot and not write anymore. I prepared this film a lot before going to shoot, and that was new for me.
At some point in my career, I used TV techniques that give you elements to direct fast and decide on location how to shoot this scene or the other. And those were tools, but then I also found that they were like defects, you know, and I wanted to leave them out. Perhaps I see this movie and I like what I see, a better director. I feel like I changed the way I work.