Back to selection
"It is a Long Journey": DPs Emre Erkmen and Wojciech Staroń in Conversation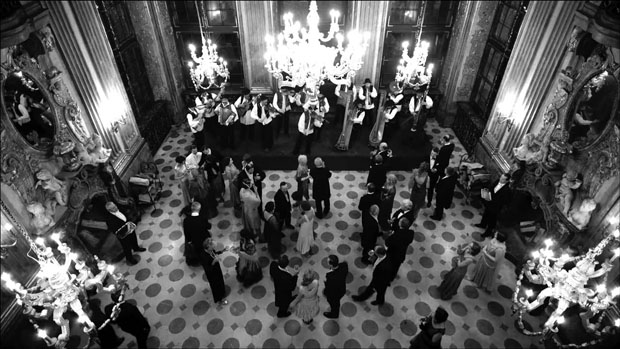 Papusza
Cinematographers are the best whores in the world.
Christopher Doyle, the award-winning Australian cinematographer behind In the Mood for Love and Hero, sincerely believed this. He echoed this thought to Michael Ballhaus, the German cinematographer who shot Goodfellas and Gangs of New York, when the two met at a panel in Berlin. (Ballhaus agreed.)
Several such anecdotes and beliefs on the art of photography were revealed when Turkish cinematographer Emre Erkmen hosted Wojciech Staroń, his Polish counterpart, for a conversation at the 33rd Istanbul Film Festival earlier this year. Staroń recently worked on Papusza, a black-and-white Polish biopic about the first Roma poet ever to write her poems down. The film won the Audience Award at the 2013 Thessaloniki Film Festival, and netted Staroń a cinematography honor too.
A few clips from the film were shown at the event. Staroń's camera lends each frame the aura of valuable real estate. The position a character is accorded dictates their importance to proceedings. His long takes make each scene feel like a scroll; the eye strains to find out how the situation is evolving each moment. During this conversation, the two artists shared their approaches to shooting, what it's like to work around the world and how unique the American film industry is.
Two employees, two bosses
Papusza had two DPs, Krzysztof Ptak and Staroń. They worked under the directorial duo (and real life couple) of Joanna Kos-Krauze and Krzysztof Krauze. Erkmen inquired how the experience of sharing duties with someone was and whether listening to two masters compromised matters.
"We knew each other. All four of us are close and think in similar ways," Staroń responded. "We didn't work two units. Usually it was both of us on one shot. My partner was concentrating on the light. I was looking at the mise en scène and staging. I was operating the camera myself, along with one other operator. I would prefer to be closer to the characters. [Ptak] would be on the monitor, focusing on the composition. Thus, we had two cameras, two operators and one photographer watching over all this. We didn't start the work unless we agreed on how to shoot. The two cameras helped. The directors' opinion was final, on the lens and distance from the actors."
Erkmen added that if there is a clash between the director and DP, then the technical crew usually sticks with the cinematographer, leaving the director alone. Staroń agreed, saying such a fight spreads bad energy throughout the crew, and that the "director and DP are the first couple of any movie."
Starting early, and camera tests
Staroń and Ptak were involved with Papusza from the beginning, working on the casting too. The duo shot the rehearsals, auditions and makeups. They studied the script and looked for locations. While scouting, they took a lot of photos, which were used for the framing and storyboards.
During this phase, they performed multiple camera tests. Papusza is shot on the RED Epic but before that, the crew tried the Alexa and new Sony model. The Alexa had "better skin tones," Staroń said, but this didn't matter since the movie was greyscale. Moreover, the RED had a good sensibility, HDR and yielded high contrasts. Staroń's partner, Ptak, also did the color grading for the film and said footage from the RED was easier to work with.
Art house vs Hollywood
Erkmen salivated over the prospect of working on a film from an early stage, reminiscing about the time he worked on a film for two years before the start of shooting, and with the same camera he would eventually use for the film. Staroń believed "being close during pre-production" is an advantage with art house cinema and a cinematographer's "obligation." On a Hollywood film, one usually joins the production later. He also brought up the concept of a First Assistant Director on a Hollywood set, a system that doesn't exist in Poland and many other countries. Erkmen cited the time he witnessed the shooting of Gangs of New York. Michael Ballhaus, his professor, had invited the entire class to the set to see ground realities (best field trip ever?) and Erkmen recalled how Ballhaus' major point of contact was the first AD, who made many decisions, and Ballhaus shot them that way.
What makes one a photographer?
Erkmen kept pressing Staroń to enumerate the axioms he considered essential for cinematography. The latter finally obliged, saying, "I believe in good scouting. Good locations give you the chance to work fast. They give you the opportunity of not having to light much, but work with what is given. I come back to the location multiple times with a still camera."
"The still camera is when you are first shooting the film," Erkman interjected. "You have a small camera and you are by yourself. You don't need to rely on anything or anyone. You can do the photos, grade them and then make the proposal."
Staroń used this opportunity to theorize on the definition of cinematography itself, and his thoughts resembled a call to action. He said that the skills one needs for becoming a cinematographer are not technical at all. "It is about what kind of person you are," he said. "A good gaffer can bring you light. A good operator can do mise en scène, but what sets a photographer apart is his sensibility and the decisions he takes."
Erkmen concurred. "A gaffer may set up the lights based on a talk with you but you have to look at it and decide if it is right," he said. "There is a lot of input on your part." His guest subsequently went into deeper philosophy, saying, "What lens? What angle? It's all shit. It's the same. What matters is your personal way of moving the camera, balancing the color. The screen is like an ultrasonic of what's on your mind. What you put on the screen is how you looked at the composition, light, angles and optics."
Background, globetrotting and family life
Staroń has worked extensively in documentaries, crediting them for molding his vision. He continues to shoot documentaries today, and prefers them to fiction films. In fact, he refers to feature films as documentaries, but on fictional sets. One could infer that means he has a proclivity towards realistic shooting, but that would be wrong. "Documentary does not mean hand held cameras!" he said. "A documentary needs being flexible, changing your mind every moment. Not just the storyboard decisions, but looking at what is happening. Forgetting all that's planned, and looking at the strongest energy in that moment, that light, those people."
Since the two speakers were discussing their projects extensively, past and present, talk turned to the jet-setting nature of the job. Staroń worked in Argentina for his latest project and shuttles between Germany and Poland frequently. Erkmen is based in Turkey, but his work also took him to South Africa recently. The two said they preferred working out of their hometown. "On the set I need to be concentrating for 12 hours without a lapse," Staroń explained. "At the end, I go home but need to come back the next day without any break." For him, working in Poland means going back to his family every night and reading a story to his daughter. However, being outside means subsuming oneself completely in the false world that the shoot belongs to.
He asked if there were any future DoPs in the audience, and beseeched them to consider their profession like being in a monastery. Erkmen admitted that photographers have to be willing to sacrifice themselves. "You can't just decide on the spot to do this," Staroń went on. "It is a long journey and you have to give up all other stuff for it. It becomes tough to share this or balance with family, or continue with a middle class lifestyle." He revealed that his being out for so long is tough on his family and children. That's why he tried to bring his wife into the film industry; she is now a producer.