Back to selection
YouTube, We're Watching You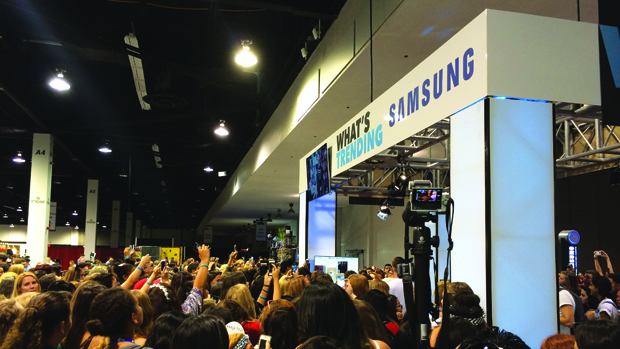 VidCon (Photo by Lance Weiler)
As I pull up to the front of the convention center, a man in a fluorescent vest struggles with some orange cones. I roll down my window to see if there is room in the parking garage, but before I can ask he says. "We're full. Twenty thousand people, too many cars. Welcome to VidCon." As I try to talk, the long line of vehicles behind me begin to honk. Drowned out, I drive off.
It was only five years ago that more than 1,400 YouTube creators and fans crammed into a hotel in Century City, Los Angeles. The first VidCon sold out six months in advance. Conceived by Hank and John Green of VlogBrothers fame, VidCon is the largest event of its kind devoted to online video, an annual pilgrimage for video-makers, many of whom are also fans. Thanks to YouTube providing a direct pathway to audiences, these content creators have become their own media companies. Fans and creators come from far and wide to connect face-to-face, share vids, see their favorite YouTube stars and to have fun over a two-day period in late June.
As I enter the convention center, my distant parking spot has provided me a unique advantage. I've left my car so far away that I've wandered unknowingly into the back of the convention center. In the distance, I hear the eruption of what sounds like a wall of screams that builds quickly and trails off. None of the security guards pay any attention to the fact that I don't have a badge; it's as though I'm invisible, as if my age is acting as a cloaking device. Instead, the guards have become hall monitors as they shout continually at hordes of teenagers bolting past, telling them not to run. Ages 13 and up, the fans move in packs, erupting in sheer pandemonium whenever a YouTube star is discovered in close proximity. A stampede ensues and the screams become piercing as bodies knock into each other and outreached arms desperately attempt to capture the moment. The result is a sea of mobile phones shooting video and capturing a continuous stream of selfies as the teens provide their own blow-by-blow commentary of what's happening around them.
The star power is impressive when you combine the reach of those in attendance. The Fine Brothers, Smosh, Tyler Oakley, the Gregory Brothers and Sam Pepper, although only a handful of the hundred-plus stars at VidCon, have millions of subscribers and billions of videos viewed between them. Over the course of the two-day convention, fans will wait for hours for the chance to meet them. The opportunities for signings and meet-and-greets quickly fill up as many fans are left disappointed when the demand exceeds the ability for the stars to accommodate everyone.
Will Keenan, president of Endemol Beyond (USA), explains the allure: "Most YouTube stars I know or have worked with are entertaining, engaging, authentic and talented. They seem to spend as much time on 'self-marketing' (online promotion via social interaction) as they do on creating content. They're looking at their data/analytics and creating content that works for their audiences. In this 'binge, snack, content everywhere on any device' era where the audience is in control, [you have to] give the people what they want and prove your creativity within that paradigm. For instance, we [Endemol Beyond] have gone from 80 million views every month across our worldwide online network when I started a few months ago to over 300 million views every month, and we're just getting started."
A strong industry presence was visible at VidCon. Various networks, studios and production companies were on hand to announce and roll out their slates. Astronauts Wanted, a digital shingle founded by former MTV CEO Judy McGrath, announced a new travel show. #HeyUSA, starring YouTube sensation Grace Helbig of It's Grace and Mamrie Hart of You Deserve a Drink, is the second series from producer and chief content officer Billy Parks, whose success with @SummerBreak caught McGrath's attention. #HeyUSA taps fans to help determine where Helbig and Hart should go as they crisscross the country. Released weekly in three-episode installments across Twitter, YouTube, Vine and Tumblr, #HeyUSA will be bundled into 22-minute episodes later this fall after its initial run.
There was a noticeable friction between content creators when it came to the methods for funding their content. While many have flocked to brand endorsements, others expressed their concern that the wrong brand relationship could send their audience running. In an effort to bridge the gap, YouTube announced a new "tip jar" type service aping the likes of Indiegogo and Kickstarter to enable creators to accept $1 to $500 donations from fans. It's one of a number of monetizing efforts the video giant is rolling out. Another more controversial program is their new music streaming service, which has divided indie labels, many of whom have been vocal about what they feel are unfair deal terms and the platform's hardball tactics.
One can't help but wonder if the tide could change with video creators as well. The dangers of building an audience on a third-party service is that you don't own your audience — the platform does. And as YouTube explores new business models, it will be interesting to see how the video service continues to grow. To date, many of YouTube's efforts have been very similar to traditional methods, such as subscription services' ad revenue models, as well as opening their own studio facilities in Los Angeles. However, VidCon proves that the passion between artists and fans is what really matters. In the end, it was not the industry that created VidCon, but rather a group of people with shared interests who wanted to connect.