Back to selection
R.I.P. James Garner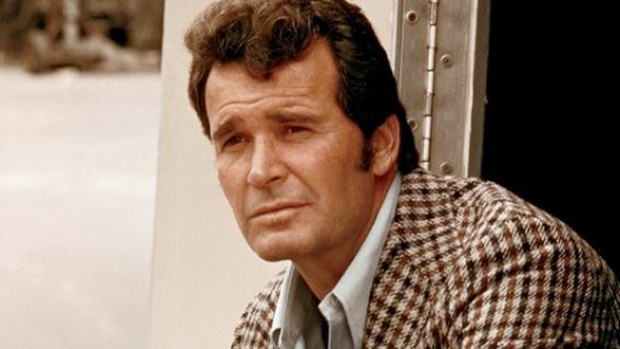 Good is the man who inspires the words "persuasively ambivalent" in a New York Times obituary. Actor James Garner died last night in his California home of natural causes. Long before I'd discover as a suburban teenager Elmore Leonard or Altman's The Long Goodbye there was Jim Rockford, the Malibu p.i. with his trailer home on the beach, troublemaking ex-con pal, on-again, off-again lawyer girlfriend. It seemed like a way to live.
From the Times:
"Maverick" had been in part a send-up of the conventional western drama, and "The Rockford Files" similarly made fun of the standard television detective, the man's man who upholds law and order and has everything under control. A sucker for a pretty girl with a distinctly '70s fashion sense — he favored loud houndstooth jackets — Rockford was perpetually wandering into threatening situations in which he ended up pursued by criminal goons or corrupt cops. He tried, mostly successfully, to steer clear of using guns; instead, a bit of a con artist himself, he relied on impersonations and other ruses — and high-speed driving skills. Every episode of the show, which ran from 1974-80 and more often than not involved at least one car chase and Rockford's getting beat up a time or two, began with a distinctive theme song featuring a synthesizer and a blues harmonica and a message coming in on a newfangled gadget — Rockford's telephone answering machine — that underscored his unheroic existence: "Jim, this is Norma at the market. It bounced. Do you want us to tear it up, send it back or put it with the others?"
In a 2011 piece in The Atlantic, Clive James reviews Garner's memoir, The Garner Files:
James Garner, you can bet on it, has never told an important lie in his life. He really is like the men he plays onscreen, even unto the modest requirements symbolized by the humble trailer that serves Jim Rockford for a residence. He is thoughtful, honest, and fundamentally gentle, although he has knocked men down when riled. On the evidence given here, one doesn't doubt that they asked for it. One doesn't doubt this guy at all.

Every sane person's favorite modern male movie star, Garner might have done even better if he'd been less articulate. In his generation, three male TV stars made it big in the movies: Steve McQueen, Clint Eastwood, and Garner. All of them became stars in TV Westerns: McQueen in Wanted: Dead or Alive, Eastwood in Rawhide, and Garner in Maverick. The only one of them who looked and sounded as if he enjoyed communicating by means of the spoken word was Garner.
R.I.P., James Garner.