Back to selection
Seattle's Scarecrow Video Raising Funds to Transition to Non-Profit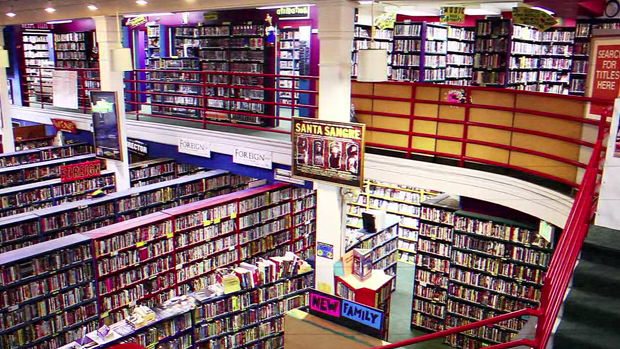 Scarecrow Video
Seattle's legendary Scarecrow Video houses some 120,000 titles on VHS, DVD, Blu-Ray, VCD and laserdisc. The store was the brainchild of the late George Latsios, whose compulsive purchasing of ever more and more titles (documented in this affectionate obituary from 2003) provided the base foundation for the store's current inventory.
With rentals decreasing 40 percent in the last six years, current owners Carl Tostevin and Mickey McDonough have come up with a viable strategy to try to keep the store's formidable collection intact. A Kickstarter has launched to help Scarecrow complete a planned conversion to non-profit status, a move necessary to keep it operating on a longterm basis. Beyond the affection anyone who spent formative in video stores will feel when confronted with this kind of fundraising request, one of the points made on the Kickstarter is particularly compelling:
With the explosion of home video in the 1980's came the birth of the direct-to-video industry. Countless direct-to-video films have never been released as16mm or 35mm prints. Thousands of these films never made the jump to DVD, and continue to be overlooked during the digital migration. Scarecrow keeps these nearly lost classics alive and available to viewers.
That argument goes backwards too. With film preservation always in a perilous state and untold numbers of movies not being looked after properly, it's inevitable that some titles will be lost in celluloid form without having been properly archived digitally. Collections like Scarecrow's will have to serve as imperfect but much-needed sources of reference copies. Check out the Kickstarter, and read more about Scarecrow's recent history here.