Back to selection
Five Questions for Adult Beginners Director Ross Katz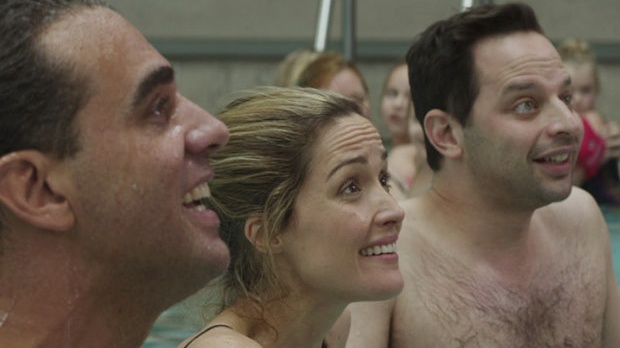 Ross Katz's Adult Beginners
Five years after transitioning from producer to director with the HBO veteran drama, Taking Chances, Ross Katz returns to the director's chair with a comedy about going home. Nick Kroll plays a young entrepreneur whose product launch has flamed out, who has burned through his investors' dough, and who has lost his girlfriend. He returns home to work as a nanny for his sister's young child in what is described as a movie about beginning again. Adult Beginners world premieres at the Toronto International Film Festival on Monday, September 8.
Filmmaker: After having written and produced your directorial debut, you're now directing a script you didn't write, and you aren't a producer. How did you wind up directing this project, and was it difficult — or liberating — to cede these roles?
Katz: It was incredibly liberating on both fronts. I was so lucky to get this magnificent script from Nick Kroll and Mark Duplass, two hyphenates that I greatly admire. I was looking to direct something completely different from my first film as director, Taking Chance. The opportunity to do comedy, having done a dramatic piece prior, was thrilling to me. I was very lucky to learn from people like Sydney Pollack and Ang Lee, and I always watched with awe as they swung from genre to genre. My interests are in many types of films. After I read and fell in love with Adult Beginners, I pitched myself to Mark and Nick. I promised them I was funny! Not wearing a producing hat was fantastic – I could just be a director. Though I have loved producing, directing is all of my focus now. And, with such good writers, Elizabeth Flahive and Jeff Cox, we were in it every step of the way, together. Besides, this movie already had amazing producers, so I didn't feel any need to butt in.
Filmmaker: The Duplass Brothers are involved as executive producers of this film. They're an independent generation (or two) after the generation of producers you worked with during your days at Good Machine. What did you learn from them on this project, and was the producing model of this film different than the model you'd use on your films as a producer?
Katz: It's funny… working with Mark Duplass makes me very nostalgic for Good Machine. The truth is, Good Machine was this incredible laboratory where ideas could live and breathe and grow. To have James Schamus, David Linde and Ted Hope guiding you was extraordinary. So, yes, the Duplass Bros. kind of remind me of Good Machine 2.0. Mark is a filmmaker's filmmaker. He indulged my anxiety at times, always weighed in with strong, thoughtful arguments for things and was an unbelievable support. I look at what Mark and Jay do and I'm just blown away. The fact that they act, write, direct and produce is one thing, but more important is how well they do it. I also had a superb producer in actor Nick Kroll (who originated the story). Nick produces his show on Comedy Central, and he's just a very smart and savvy producer — always supportive, always creative and always willing to go ten extra miles to make the movie better.
Filmmaker: What's specific to 2014 about your story?
Katz: Adult Beginners is about re-connecting in an age of Facebook and Twitter, [when] we sometimes lose real connection to those most important to us. I think, while the technology is of course amazing, it's also really alienating. I lament the fact that I communicate with my brother — who I adore — mostly by text and e-mail. I miss those conversations. I miss those moments. We tried to capture the heart of all that in the film.
Filmmaker: What was the biggest production challenge on Adult Beginners, and how did you surmount it?
Katz: Twenty-two days during the worst winter in 20 years in New York! Snow, ice, sleet, sub-zero temperatures. We had it all. And, we had no wiggle room. We surmounted with a great team of producers, a very adaptable d.p. (Vanja Cernjul) and 1st a.d. (Scott Lazar), and a hell of a lot of will. We were determined to make the movie we set out to make, and I think that determination got us through the cold.
Filmmaker: Are you satisfied with the opportunities offered independent filmmakers in today's filmmaking scene? How could the world of independent film be better and offer more opportunity?
Katz: Hmm… I think new opportunities are opening up every day for independents. But, it's still just plain grueling being "out there," raising money, developing, and finding supporters to believe in what you want to do. I think, when I made In the Bedroom in 2001, there was a bigger appetite for risk. On the other hand, there are new distribution models that exist now that are exciting to me.