Back to selection
Five Questions for In the Morning Writer/Director Nefertite Nguvu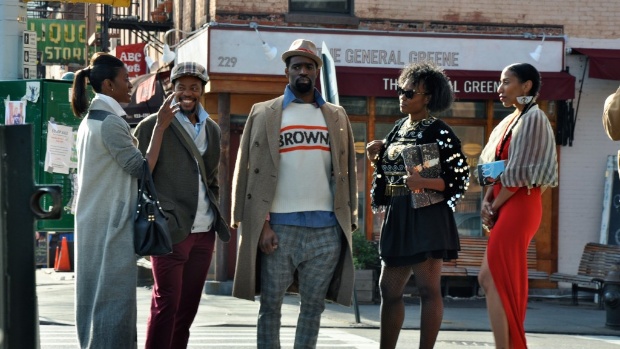 In the Morning
Nefertite Nguvu, whose works include two well-received shorts and a ten-part web series on female emcees, The Road to U.N.I.T.Y., makes her dramatic feature debut with In the Morning, premiering tonight at the Urbanworld Film Festival. "In The Morning," the film's website describes, "is about love and transitions. It examines the complexities of love from the perspective of three women in the midst of some hard won self-transformation. It's a mood piece that weaves together three stories about personal growth and the power of choice and action." Below, we ask Nguvu about films set in one day, Brooklyn and working with the legendary cinematographer Arthur Jafa.
Filmmaker: Your film features an ensemble cast and unfolds over one day. What were the narrative challenges of this approach?
Nguvu: Writing a story that unfolds over the course of one day was quite frankly, very specifically tied to the budget. I knew while writing In The Morning that I'd be shooting it independently, and with limited resources. I conceived a story that I knew would allow me to work within my means. However, regardless of resources, I am instinctively drawn to small, character driven stories.
I think the challenge with any character-driven narrative is that it puts an extraordinary amount of pressure on your collaboration with actors. The actors themselves, and their physical bodies, their movement, their choices, their faces become the central focus of your visual story telling, so they must be compelling. That, in and of itself was a challenge: figuring out how to make a film where there is essentially more character development than action or plot development engaging and interesting. Selecting the right cast was essential. Being a first-time feature film director, navigating an ensemble cast of nine, and shooting in eight days no less, I admit was daunting. All of our actors had very different levels of experience, and their needs were so specific. Having an extensive individual rehearsal period with most of them, prior to shooting was key. It really pays off in the performances.
Filmmaker: What role does Brooklyn play in your film?
Nguvu: Visually it's simply a beautiful back drop, but for the narrative, it's also interesting because it has a community with a certain amount of friction right now between what existed before and what's happening currently, as it gentrifies at a lightning speed. So for our characters Brooklyn is in many ways a familiar old lover, with whom their relationship is also transitioning.
Filmmaker: Tell us about your collaboration with the legendary D.P. Arthur Jafa. How did he become involved with the film, and how did his work on the film shape its visual sensibility?
Nguvu: AJ is very much a legend and undoubtedly a genius. My dear friend… legend in the making, cinematographer Bradford Young introduced us. After that, AJ and I worked on a small project together, and over the course of that work, developed an intense bond. I told him about the film and my vision for it and he wanted to be involved. Initially we spoke about him coming on board as a creative producer, but the more we talked about the film, I knew he had to be the one to shoot it. I worked up the courage to ask, and thankfully, he said yes.
Beyond it's remarkable aesthetic beauty, for me there is an emotional intelligence and sensitivity to AJ's work that is unparalleled. Given that, we developed a look that served the emotional intention of the work first and foremost. We wanted to create a film that possessed an elevated art-house cinema sensibility, that also felt like it possessed the rawest, deepest, darkest, blackest, most visceral, most beautiful, elements of soul music. We had everything in our look book from Tarkovsky and Bergman, to Mahalia Jackson and Miles Davis. Somewhere in all of that, is us.
Filmmaker: You describe the film as being about "love and transitions." What transition does its completion mark for you?
Nguvu: We completed principal photography for In The Morning in eight days. After that it took me two years to complete post-production. It's been incredibly challenging to make it through to completion, but I wouldn't trade this experience for anything. I feel that I've become a better artist for it, for the patience it's taught me, for the courage it's given me, and for all that I've learned through my collaborations with the incredible people that leant their gifts to our film. My transition has been about growth.
Filmmaker: What are your hopes and plans for the film's distribution?
Nguvu: Our hope is to partner with a distributer that understands, and knows how to connect with our audience, and is as passionate about our film as we are. I'm looking forward to that.
www.about.me/NefertiteNguvu
www.inthemorning-thefilm.com
www.facebook.com/inthemorning.thefilm
www.twitter.com/HollywdAfricans
www.instagram.com/hollywdafricans
www.hollywoodafricans.tumblr.com