Back to selection
NYFF '14: Heaven Knows What, Eden, The Look of Silence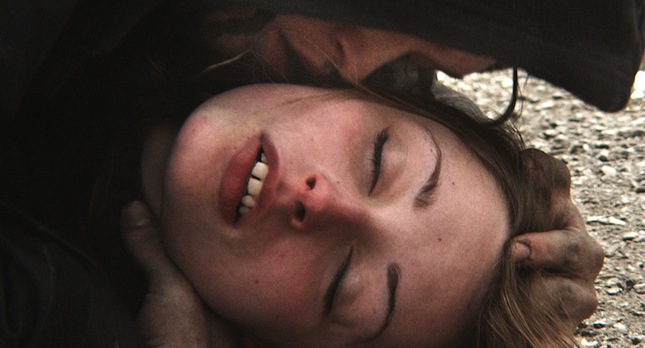 Heaven Knows What
Josh and Benny Safdie's filmmaking sensibilities are perhaps best summed up by the finale of 2009's Daddy Longlegs. Unable to hire movers for their spur of the moment decamp to Roosevelt Island, Lenny (Ronald Bronstein) tasks his sons with hoisting their refrigerator onto his back, bootleg straps in hand. Atop Lenny's spine, the near industrial-sized fridge is then caught between the closing doors of the tram, culminating in a moment that is hilarious, pitiful, and unexpectedly affecting. For years, the Safdies had been perfecting this brand of physical comedy, verisimilitude, cheeky humor and creeping sadness, all rendered on film with a handheld long lens, until 2012's Lenny Cooke coaxed them outside their comfort zone. If that archival-driven doc about a dream deferred was a toe down the rabbit hole, Heaven Knows What is a full-blown cannonball into a world apart. Set to a cracking score, it's a bold step forward on all fronts, one that continues to skirt that enviable line between life and something like it.
While the majority of the brothers' memorable characters are sui generis creations, existing as they are, Heaven's protagonist Harley (muse Arielle Holmes, a natural) feels the weight of her condition, entirely defined by her homelessness, desperation and reliance on others. Such a maxim begets a melodramatic introduction, in which these limits are tested as Harley threatens to take her life in exchange for the attention of her estranged paramour, Ilya (Caleb Landry Jones, unrecognizable). Abrasive as he is aloof, Ilya tries Harley's conviction until she lands herself in Bellevue for the film's stunning title sequence: a roving, unbroken steadicam shot around the psych ward that is still replaying itself on the insides of my eyelids weeks after the fact.
Back out on the streets, the Safdies and their heroine find their rhythm. Making the practical choice to shoot on digital, given Holmes' then-subsistence on methadone, the Safdies and d.p. Sean Price Williams still find plenty of applications for their long lensing. Whether it's looking down on Harley and her dealer cum boy toy Mike (Buddy Duress, another natural) from Upper West Side apartment buildings, or gazing at her worn eyelids amidst foot traffic, isolationism and its foil are the driving visual forces. Narratively, it's the draining cycle of abuse. Day in, day out, for as long as she's not distracted by Ilya, Harley ekes out cash. The limitless possibilites of this task, as well as its minutiae, are more or less tailor made for the Safdie's imagination, which elevate its routine depiction beyond what we may have already seen from the "addiction genre."
Much elbow grease has already been spent wedging Heaven Knows What into this camp (see: The Panic In Needle Park, et al.), but the film also has plenty to say about love and that uncomely triangular shape it takes. If Ilya and Harley's elliptical relationship is the supposed centerpiece, I'm far more intrigued by the sideshow of Harley and Mike, where Heaven often assumes its most brutally honest stance. Fully aware that he is being manipulated by Harley, Mike warns her of her incurably detrimental attachment to Ilya. "You don't care about how you do in life?" he asks. But when possessions are scarce, the only bit of security to alleviate a day's drudgery is another cohort: junk, human, or in Harley's case, both. Even as her hours are ruled by repetition, it's the overarching cycle of banality that proves Heaven's most devastating touch. At multiple times during the film, Harley is back where she started — in White Castle, Ilya's embrace, or with a band around her arm, veins pulsating for nourishment. Not even the welcome appearance of a kooky, Safdie-esque landlady who hawks dreamcatchers can mitigate that.
Eden's Paul (Félix de Givry, a Guillaume Canet dead ringer) describes his music as "melancholic and euphoric," and the same can be said for Mia Hansen-Løve's fourth feature. The Frenchwoman's most ambitious film to date favors her signature two-part structure to queasily haunting effect. While the first half lulls you into submission with its bright lights and big promises, the second is a monumental comedown.
Paul, based off Hansen-Løve's brother and co-writer, Sven, is a teenaged Parisian who likes to attend his fair share of raves (in button-downs and pressed sweaters, mind you.) The deep blues of the endless music halls, which Hansen-Løve tracks with unnecessary handheld, are filled with the sort of buzzed chatter, loud beats and lithe bodies that could only make you want to try your hand at the trade. And so Paul and his best friend Stan (Hugo Conzelmann) start "Cheers," their garage DJ duo that winkingly lifts its insignia from the early '80s TV show. The two enjoy modest success as Hansen-Løve zips between the years: a couple residencies here, a few radio show takeovers there, with a tight-knit cluster of friends around them.
If the first chapter of the film feels like a needlessly repetitive wash of babes and blow (with Greta Gerwig randomly thrown in the mix), it's both because it is and because Hansen-Løve wants you to taste what it means to be a honeymooner. Eventually, things go South in 2001, when the crew heads stateside for a series of Warm-Up style gigs at MoMA's P.S. 1, which feels anachronistic and somewhat misguided given its proximity to 9/11, but whatever, the French will romanticize New York to their hearts' content. Reuniting with his American fling Julia (Gerwig's character) on native soil, she kicks off the refrain that will come to haunt Paul: "It's crazy you haven't changed." Pregnant and capitalizing on a once lofty career, Paul still looks and lives like the barely twenty-something she slept with years prior. Hansen-Løve takes this conceit to great visual lengths, giving Paul only a few grays and whiskers over the film's near-20 year span, in an exercise that can almost be described as anti-Boyhood. If this choice grates one's logical nodes, it is at least a deliberately grounded one, unlike some flightier stylistic liberties Hansen-Løve tries that include superimposed monologues.
The film's Part Deux: Lost In Music, (or, Different Babes, Same Blow), is a cooly-coated hell, a treatise on the realities of putting all your eggs in one very unstable basket. When you're 34, deep in debt and addiction, "borrowing" from your mother to scrape by, and allowing models to abuse your anemic perks, those turntables start to look a whole lot less glamorous. Even the re-appearance of Paul's ex-girlfriend Louise (Pauline Étienne) as his belated escape route into adulthood becomes a harshly empty promise. Hansen-Løve may take her time in tackling the ramifications of her characters' lifestyles, but the pay off is all the more ruinous for it.
After the unorthodox, jaw-droppingly revealing execution of The Act of Killing, Joshua Oppenheimer has considerably pared back the rollout of its companion, The Look of Silence, to no less excruciating effect. If the latter was concerned with trumpeting decades' old atrocities, the former uncovers the oppression and hypocrisy of being told to forget them. Swapping a perpetrator protagonist for a victim, we are introduced to Adi, an ophthalmologist, whose occupation nicely lends itself to his desire to see his neighbors more clearly. Adi lives with his lively mother and decrepit, helpless father, who is 103 despite identifying himself as 17. At various points in the film, Adi asks after his parents' identity cards, which his mother claims are lost. Stripped of their older son who was murdered in the genocide, the two thus struggle to self-actualize their identity, denying the aging process that wasn't afforded to Ramli.
Although we are intimately aligned with Adi and his family at home, the murderers still get their fair share of screen time. Whether it's through Oppenheimer's footage from years prior, in which they tour their burial grounds, dispensing graphic details, or via Adi's present-day house calls, the perpetrators haunt the film's narrative just as they do the village's conscience. In these conversations with former commanders, Adi functions as Oppenheimer's eloquent and composed proxy, with one even telling him his questions are more probing and off-putting than Joshua's.
Oppenheimer, for his part, stays firmly fixed behind the camera, shooting Adi and his sparring partners so that they never share the same frame, thereby broadening the gulf in their stance. The common refrain throughout these talks is that "the past is past," and that if Adi goes searching for trouble, he's bound to find it in some unrestrained temper. But he won't settle, not until he finds someone who will take responsibility for the brutal dismembering of his brother who died before he was born. Of course, no one is willing to shoulder that burden. They brag and they boast until Adi backs them into a corner and they throw up their arms and feign ignorance to the crime. With some close quarter sequences unfolding over 20 minutes, it's an utterly unflinching piece of work, a lyrical rendering of the cycle of repression that proves time stings more than it heals.