Back to selection
Panasonic VariCam 35 and HS Are Now Shipping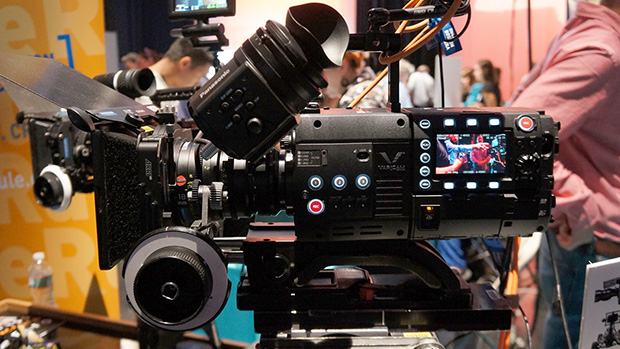 Panasonic is now shipping their new VariCam models, the 35 and HS. Panasonic first displayed mockups of a camera at NAB in 2012, but they didn't announce these models until NAB 2014, and it's taken another seven months to finally ship the product.
The VariCam is really two sensor head units and a single recording unit that can be attached to either sensor unit. The VariCam 35 has a 35mm 4K sensor with a PL mount, while the Varicam HS is a 2/3" HD sensor with a B4 mount and the ability to capture at 240fps. The HS model is primarily intended for sports and documentary work. The recording unit can be separated from the head by an umbilical chord and the side-mounted control panel can also be removed from the body and used with a second cable.
Panasonic's Senior Product Manager Steve Cooperman answered some questions about the development of the camera via email.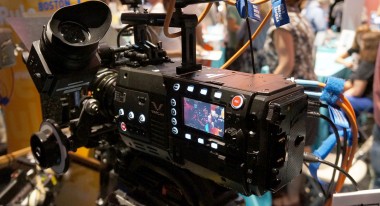 Cooperman: The genesis of the VariCam 35 was our desire to bring the widely-admired VariCam HD imagery and quality to 4K acquisition. The original VariCam HD models revolutionized EFP cinematography with their unique progressive scan image acquisition and variable frame rates, FilmRec gamma profiles and their unique "look," a gentle, natural skin tone that makes the talent look great.

The new VariCam 35 is equipped with an s35mm sensor for 4K image capture with 14+ stops of latitude. Plus it has native ISOs of 800 and 5000 and higher ISOs can be set in-camera. And it has the prized VariCam cinematic look that DPs desire.

Filmmaker: What's the compression?

Cooperman: Both the VariCam 35 and its sister camera, the 2/3" VariCam HS 1080p camera with 240 fps image capture, offer our AVC-ULTRA family of advanced video codecs. The AVC-ULTRA codecs for 4K enable very manageable and practical 4K production files. Plus included is the well-established HD workflow of Apple's ProRes 4444 and ProRes 422 HQ. And through a strategic alliance with Codex Digital, we'll offer a high-speed 4K uncompressed RAW recorder for the VariCam 35 that will capture uncompressed 4K VariCam RAW at up to 120fps.

Filmmaker: Anything else unusual about the camera?

Cooperman:  We're receiving tremendous reaction to the VariCam 35's capability to simultaneously record in 4K, 2K and proxy video. This gives a filmmaker unparalleled flexibility. No other camera offers this type of versatility.

In addition, the VariCam 35's ability to do in-camera color grading for on-set color dailies has garnered great interest. This gives DPs great individual control over the images that they've just captured.

And the VariCam's unique design has certainly captured cinematographers' creative imagination. The 4K and 2/3" camera heads of the VariCam 35 and VariCam HS are separate from the dockable recorder, which both cameras share. A filmmaker can interchange the s35mm and 2/3" camera heads to best meet their project's demands. There's an umbilical cable between the camera and recorder that permits them to be used as a box-type camera on jibs, cranes and other mounts.

And DPs who have demoed the camera have raved about its EVF. We feel the high-resolution OLED EVF is the best EVF in the world.

We're thrilled with filmmakers' overwhelming positive reaction to the VariCams.
Panasonic's digital video camera strategy over the past few years seems to have been to leave the area of filmmaking to other manufacturers. Though they had some early success with the AG-AF100, they then failed to do anything to update the camera. Panasonic has continued to offer and update ENG style digital cameras, but they've been noticeably absent from the digital film camera race that Sony, ARRI and Canon have engaged in over the past three years. They have had some success with the GH2/3 and the recent GH4 cameras, but these aren't professional cameras, and it's not clear whether the success of these cameras for filmmaking has been intentional or accidental. The Varicam is a completely different world; the specs of the new cameras look impressive, but at $46,000 – $55,000 they are clearly going after only the high-end market.
The VariCam 35 can output 4K RAW, 4K, UHD, 2K, HD and can encode in AVC-ULTRA and ProRes. It has a super 35mm MOS 4096 x 2160 (17:9) sensor with a claimed 14+ stops of latitude. Panasonic is working with Codex Digital to offer 4K uncompressed RAW recording at up to 120 fps. The VariCam HS has three 1920 x 1080p MOS imagers and also promises 14 stops of latitude.
Different LUTs can be assigned to different recording channels and camera outputs, making it possible to record 4K in V-Log while applying a 709 LUT to an HD proxy.
The camera has four memory card slots; two 256Gbyte expressP2 and two microP2 cards. The expressP2 card can record up to 90 minutes of 4K/4:2:2 content.
Interfaces include: 3G-HD-SDI x4 for 4K QUAD output; an HD-SDI out for monitoring (down-converting from 4K); a dedicated VF HD-SDI output complete with all of the EVF status and display data; and two XLR inputs to record four channels of 24-bit, 48KHz audio.
The VariCam 35 has a suggested list price of $55,000; the VariCam HS has a suggested list price of $46,000.  Both prices include the camera head, the AU-VREC1G  recorder, AU-VCVF1G OLED viewfinder, and the AU-VSHL1G shoulder pad/tripod mount.
Note: The original interview section was replaced with the answers from the product manager.