Back to selection
Building the Message Machine: Takeaways from the Film Independent Film Forum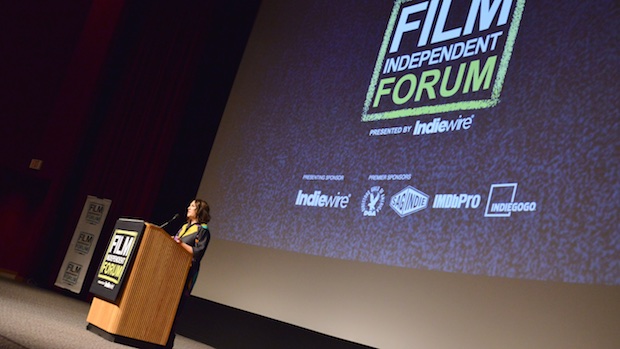 Jill Solloway at the Film Independent Film Forum. (Photo: Araya Diaz/WireImage)
The Film Independent Forum held October 24 – 26 in Los Angeles focused heavily on beginnings and endings of the filmmaking process, largely leaving technical details and production needs aside. The panelists agreed: a successful film requires beginning with the end in mind. What is your film about, and who is your audience? How can you start building your audience at the ideas phase, and how can you continue to engage that audience throughout the process of making and distributing your film?
In developing a project, producer Lisa Cortés (Precious, The Woodsman) said it's important for producers to ask themselves, "What is my marketing going to be 12-18 months from now?" Producer Albert Berger (Nebraska, The Leftovers) concurred, stating that while the most important element in development is to consider how the story works dramatically, "there's a smaller voice [inside] that's thinking ahead pragmatically."
That pragmatic approach requires "building the message machine as quickly as possible," said Asher Goldstein, a producer of Short Term 12. Produced on a budget of around $500,000, the film crossed the $1 million mark over four months of theatrical release by Cinedigm. Still, Goldstein said, "We could have done a better job of establishing our social media footprint earlier on. We could have engaged the foster and group home community by using Tugg or Gathr. That was a misstep."
The financing environment of today may seem more daunting than that of decades past, but filmmakers today enjoy one key benefit: the ability to economically build audiences using the internet. "Social media allows you to market to your audience at an unbelievably low cost," said Wigs channel Executive Producer and Indigenous Media COO Jake Avnet, whose projects appear exclusively online.
Avnet's advice isn't new, of course — it's what filmmakers are continually advised at events such as this one. But other than crowdfunding, very few filmmakers seem to be heeding this call to use digital tools to build audience at early stages. Building a great website and a strong mailing list with compelling content are crucial elements in making an independent film today. Yet independent auteur filmmakers are often still failing to budget the time or money on these (or any) new marketing tools.
Distribution consultant Peter Broderick's heavily detailed, mostly documentary DIY distribution case studies frustrated some narrative filmmakers in the audience. How could the lessons derived from marketing campaigns targeting hungry niche audiences like firefighters (Burn), skateboarders (Bones Brigade), and video gamers (Indie Game: The Movie) apply to their own character-based dramas? Broderick suggested examining what's distinctive about your project and finding the audience within that distinction. But because Broderick's strategies revolve largely around a digital audience, one might also wonder whether the audience needs to be relatively active online to achieve notable results. Still, Broderick's overall message cannot be ignored outright: there are levels to the scope of independent cinema, and if you want or need to be truly independent (which Broderick defines as being able to self-finance, self-distribute, and still pay your rent), you will have to find and engage your audience with new distribution strategies – many of which are digital – and many of which start before shooting begins.
Of course, the success of your career as a filmmaker doesn't depend exclusively on online branding. The old method of honing your pitch to a known and stable elite survives, as evinced by the business models of several financiers who spoke on a "Money Matters" panel Saturday afternoon. All but one panelist agreed that attaching talent to your project is the #1 key to unlocking financing. For Brian O'Shea of The Exchange, which recently helped sell the Sundance hit Dear White People, chasing funding is a "balancing-act analysis" that places talent first. "Can your director convince Emma Watson to be in your movie?" he quipped to Film Independent Producer Award-winner Summer Shelton. Such an attachment would be the biggest aid to assembling the $1-3M budget she needs, he opined. The sole dissenting voice on the panel came from Michelle Turnure-Salleo of the San Francisco Film Society's Filmmaker360 program. For Turnure-Salleo, who has helped finance such ventures as Beasts of the Southern Wild, Cutie & the Boxer, Fruitvale Station, and Short Term 12, relationships within the community are more important than talent: "We look for people who are excited to be a part of the community…Impact for us is about the filmmaker's experience and what that brings to their lives. The process is as important [as the result]."
Regardless of your ultimate direction with a film, a variety of filmmaker panelists touted the importance of test screenings. "Get notes from anyone and everyone," offered Jill Soloway, fresh off the success of Amazon Studios' series "Transparent." "You shouldn't be afraid to get feedback," agreed Ron Najor, producer of Short Term 12. Najor test screened the film for film school classes at San Diego State University, where he teaches, and compiled the results of the surveys by hand. The filmmakers learned their audience skewed younger than they had anticipated, and the process helped them to make sure their lead characters were likable and that certain story points came across in the way they'd hoped.
At one point in his Executive Keynote Address, Alamo Drafthouse Cinema CEO Tim League, said, "I feel everything moving toward the online space." That's despite his company's success with the cable-driven VOD platform on their day-and-date releases. "75% of America has never transacted in the VOD space," he said. "I don't know if VOD will continue. Online, cloud-based, and subscription services might outpace the growth of VOD."
League and Peter Broderick separately advocated for free content as part of a larger marketing and distribution strategy. For League's Drafthouse Films, that can mean BitTorrent bundles and free streaming of clips and extras in conjunction with pay gate bundles. Shrugging off an audience question about piracy, League says the reality is that as soon as a movie is released, it is available for free somewhere online. "If you can get 2% of people to convert [to sales via BitTorrent], I consider that a success." The success of many of the distribution strategies League proposed may depend on the work filmmakers have put into the digital space prior to distribution and the willingness of the filmmaker and his/her distributor to experiment with new technologies.
Starting in the online space seems just as important as finishing there, regardless of your path in the meantime. As a filmmaker, you are a brand with a voice, conference speakers stressed. Hone that voice from development through distribution, just as much online and in your film's community as in your film itself, and the chances your film will be seen by the people who'll care will increase. The theme of the Film Independent Forum was "Breaking Through the Noise," and the most recurring suggestion of how to do so was to find, know, and engage your audience. Take an active role in marketing from day one. In Soloway's words, "What are you doing to get what you want?… The audience is just sitting there."