Back to selection
Sundance Announces Creative Producing Lab & Fellowship Call for Entries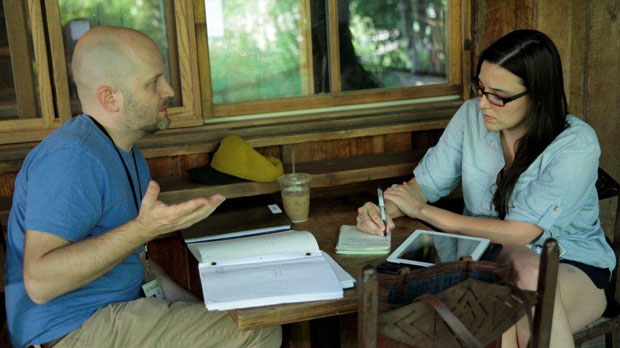 Gabrielle Nadig with Creative Producing advisor Todd Louiso.
Over the years Sundance has steadily increased its support for young independent film producers, with the more recently created Creative Producing Lab & Fellowship as loved by producers as the Screenwriting and Directing Labs are loved by writers and directors. (Don't believe me? Well, here's producer Gabrielle Nadiq on the program in 2013: "The Sundance Creative Producing Lab changed my life… I have never been a part of a program that was so nurturing, generous, uplifting, and reinvigorating. Nor have I had an experience that so completely broke me down and built me back up as a filmmaker.") The program has just announced their call for entries for the 2015 edition.
Here's the hard info from Sundance on the program — what it provides and who is eligible:
The Sundance Institute Feature Film Creative Producing Fellowship is a year-long program for emerging American producers ready to take their next project to the screen. The Fellowship focuses on supporting the next generation of independent producers to help develop their creative and strategic skills for a complex marketplace and encourage a holistic approach in their collaboration with directors and writers. Fellowship includes:

Feature Film Creative Producing Lab

Creative Producing Summit participation
Sundance Film Festival attendance
Sundance Industry Meetings at the Festival
$5,000 living stipend
$5,000 pre-production grant
Year-round mentorship from 2 Industry Advisors
Community building among Producing Fellows
Year-round support from Sundance Institute staff

Eligibility

Candidates must have produced at least one short or feature-length narrative or documentary film, but no more than two narrative features total as lead creative producer. This does not include co, associate, or executive producer credits.

Candidates must have a completed, legally-optioned, scripted, narrative project in hand with a director attached to the project.

Candidates may not be the writer or director of submitted project.

Candidates must live in the United States, though the project may be filmed internationally.
For more accounts of time spent at the Lab here at Filmmaker, visit our collection of guest essays from the producers. The deadline to apply is February 10.