Back to selection
Francesca Coppola on Her Kickstarter Project, Jonny Come Lately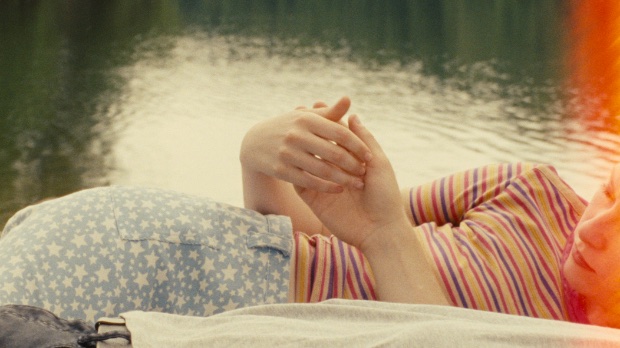 Jonny Come Lately
Writer/director Francesca Coppola has just launched a Kickstarter campaign for her second short film, Jonny Come Lately. Below, she writes about the short's themes and issues, her decision to shoot on film and the power of community. Please visit her Kickstarter page and, if you are able to, consider donating.
I'm only a few hours away from hitting the launch button on my first Kickstarter campaign to complete the funding for my second film, Jonny Come Lately. There is a whirlwind of feelings at play here and a maelstrom going through my head right now; I'm nervous, exhausted, confused, but honestly I've never been so eager and excited to present something to the world, to strangers, and specifically to you. To me it's not only about the final product, to which we're so close to, but more about the experience that has brought me from where I was two years ago to where I am now. So much has happened in between, but the most invaluable thing has been to meet the artists, performers, filmmakers and passionate individuals that, to the question "do you want to make this?" have all answered a resounding, "yes!" So today we are celebrating not just the film and its making but the efforts each one of us puts into choosing to do what we do, every day, sometimes against all odds, especially the financial ones.
I don't know what this film will be about for you when you watch it, but I can tell you what is about for me. Jonny, the main character in the film (played by the incredible Deragh Campbell) is a young woman who is trapped in an abusive relationship with her boyfriend Sam (played by Kentucker Audley). Some of you, our audience, have had similar experiences. But for those of you who haven't, it is a struggle of the most isolating, alienating nature, one of the most troubling challenges that a person can endure. It disrupts one's social, physical and emotional life to the point of altering it in ways that can be irreparable, until it has become unrecognizable even to ourselves. The challenges at times seem insurmountable, as if to defy our concepts of what resilience we are actually capable of. This film is about how it feels to be in that place, stuck. In a relationship like that, stuck. It's about these two people, Jonny and Sam, a girl and a guy who despite their affection for each other, can't be together, aren't meant to be now or ever again. Most of all it's a film about being alone in circumstances that are so difficult to articulate anything about or to talk over, even with your closest friends and family. It's about the expectations others have, and those we have for ourselves, about being functional in our everyday life, especially at the times we feel incapable of just that. It's about one of those moments when we just don't know how to exist in the world. Jonny Come Lately is an effort to understand a traumatic experience and a moment of growth.
This film is about a woman, not because women are the only victims of abuse, but because in mainstream cinema we don't usually get a great deal of insight into a woman's interior life and her experience of the world, least of all insight that is not filtered through a man's point of view. Historically men have had myriads of opportunities to express themselves and their view of women, while women have had no such chance. Women are too often the image in the picture as opposed to being the bearers of that perspective. This unbalance feeds upon some of the same issues of expectations and gender roles that, as it is in the case of our characters, lead inevitably to unhealthy relationships between men and women. I wanted to make a film in which Jonny could see things for herself. Where she could be the observer of her own world. Where even though she may fall, as many women do, into the trap of allowing herself to be seen and judged by her boyfriend for something that she is not, she is dignified by having this story told through her perspective. Thus free of the stereotypical conventions of women's representations, Jonny's perspective becomes the space where cinematic pleasure is possible for a female audience as well.
Which is the reason why I think that this film is not just any story but instead an experiential series of meaningful moments, captured across the skin of the film without a clear beginning or end, absent of convention, genres or formulas, a space reconfigured and simply existing within this frame, for no reason other than the fact that this is how things happen, not just in Jonny's world, but in anyone's. Our experience of life is made from equal parts memory and magic, in an environment where the line between physical space and that of our mind blurs. In the way this narrative unfolds, we pay honor and respect to that construct.
People think I'm crazy because I shoot on film, and they are probably right. My first film Flamingos (New Directors New Films '13) was shot on Super 16mm and so is Jonny Come Lately, and in both cases I had two very special people with me, cinematographer Spencer Katz and producer Gioele Donnamaria, two of my best friends and creative collaborators. There is something about shooting film, for all of us, that is irreplaceable and priceless. It's part of the experience, the discipline of what we've learned in all our formative works. But more than that, it's a process filled with beautiful accidents, captured in the reel, be they a beam of light, a glitch, a hair, the image of a character superimposed into another moment in time. The texture of film is rich with the sharp noise that is life; no matter how you frame it, it leaks through the cracks. For us, that which leaks through is part of the pure magic of the form, and it is our hope that you will experience the same in watching the work as we have in making it. I know that eventually I will have to give it up and submit to newer technology, but I'm very grateful this project gets to live on film. We made this choice for the medium's vibrancy and timbre, as well as for the record of memory contained in the texture of the image. There really was no other choice.
So… we went ahead and shot the film and now we're asking for money? Yes, that we did. We did so because 1) we were able to raise enough capital to get started, and 2) we had a confidence in our narrative, our cast, and our mode of execution, that we could do this. And, more importantly, that we would do this, by hook or by crook (or in this case, as it were, by credit card). We did it because we needed to do it, were burning to do it. We did it because we have many friends who've made their own films, who've helped us and believed in us, who've encouraged us to do the same and to do the same for others. So far we have been right in trusting in this axis. More than anything, we did it because we love this thing called cinema, and we can't think of doing anything else. We did it for you, so that we can share it with you and hopefully you'll love it so much that maybe you'll come and make films with us, or make films that speak to your experience as we have done here, and maybe one day show us what you've made. If you can find it in your resources to support a project such as this one, perhaps one day we can do the same for you.
Given the events of last night, we are aware that it's a difficult time to be launching our campaign and the inequities intrinsically tied to utilizing our community's privilege to complete our work. For us, it would be unthinkable to not be conflicted over this tragedy's relevance for our lives and trying to finance a work of fiction. But today is also the International Day for the Elimination of Violence Against Women. In the face of these two crucial events coinciding, we feel we should choose to be angered rather than saddened, as there is no other solution but to continue advocating for what we believe in and keep making informed and political work to the best of our ability. We'd like to take a moment to acknowledge the victims of violence across the country and the world who are not protected by our society, Michael Brown's family, Ferguson and all those with stories like theirs.