Back to selection
Red Giant's Shooter Suite: Video Acquisition and Image Processing Software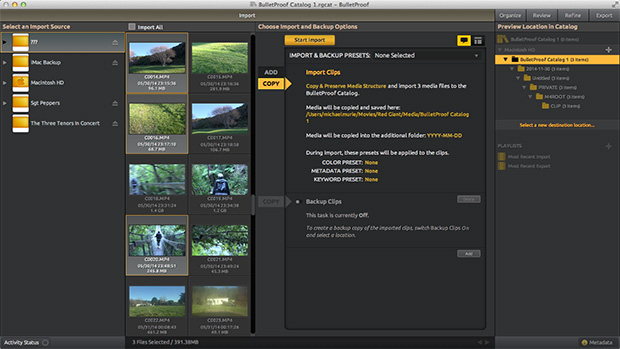 Red Giant have been expanding their software offerings. Well known for their easy-to-use color correction tools Magic Bullet and Colorista, they've also built up a wide collection of tools for keying and effects. Their latest suite consists of some new tools and some updated ones and is geared towards content acquisition and initial image manipulation.
The Red Giant Shooter Suite consists of the following applications: OffLoad, BulletProof, and PluralEyes, as well as the plug-ins Denoiser II, Frames, Instant 4K and Lut Buddy. I was most interested in the two acquisition tools, Offload and BulletProof, but it's worth running down the other tools in the package.
PluralEyes is perhaps the best-known audio/video sync tool, and it works without requiring the use of clappers or timecode. The 3.5 release added support for more media types and new algorithms that are claimed to make it faster and more accurate than competing products. Another new feature is the ability to correct for sync drift, which will adjust for differences between two tracks that can develop over a long period of time. PluralEyes is a standalone app and is sold separately for $199.
The Denoiser II plugin cleans up noise and grain in your image. The latest release of Denoiser II, version 1.4, has GPU support that works with OpenCL 1.1 systems and can improve performance by three to four times. Denoiser II supports Adobe After Effects & Adobe Premier Pro from CS 5 upwards, but it only supports Apple Final Cut Pro 7. It costs $99.
Red Giant had an upscaling plug-in called Instant HD, which they discontinued some time ago. Now they are offering Instant 4K, which can upscale to 720P, 1080P 2K and 4K (including Ultra HD (3840 x 2160) and Full Aperture 4K (4096 x 3112)). You can also create custom formats. It supports After Effects and Premiere Pro CC and costs $99.
Frames is a deinterlace plug-in that removes interlacing from old footage and will also convert to 24p. It costs $99 and works with After Effects and Premiere Pro CS 3 and greater. Deinterlacing isn't always easy, particularly if you're taking older SD material and planning to scale it up to HD. I found a combination of switching between Upper and Lower and Blend and Motion for Interpolation, as well as using the Instant 4K for the scaling, had different effects on different parts of a sequence. Sometimes fine detail in the scene can actually seem more noticeably distorted when the rest of the image is "cleaned up." If you want the very best results, you'll have to adjust settings for each sequence.
LUT Buddy is a free utility for importing, creating and exporting Lookup Tables. It works with After Effects CS3 and higher, Premiere Pro CS5 and higher, Final Cut Pro 7 and Apple Motion 3 and 4.
For me, the two most intriguing products are Offload and BulletProof. Both are tools designed for managing the import of footage in the field.
Offload is the simplest of the two. At $49, this tool is intended only for importing content. Its interface is simple; you choose your import source device (or drive) and then specify where to copy the content. What sets it apart from manually copying files is that you can make a Backup copy at the same time. Each set of content can be copied to a new sub folder that has a name based on combinations of date and time.
Things it won't do: it won't let you select specific takes to import (it's all or nothing), there's no way to preview clips, and you can't recompress the content to another format. If you want to do any of those things, you want to use BulletProof. But if you are in the field and need a quick way to copy your content, Offload offers a simple to use interface which provides basic organization and should reduce the errors that can happen when doing manual copies.
BulletProof has a very different interface to Offload and provides a much greater level of functionality. Where Offload does just one thing, BulletProof will let you copy and backup files, select which clips to process, lets you preview them, add meta data and color correction and then recompress and export in multiple formats.
In the Refine section you can perform color correction with color tools that include the Colorista 3-Way color corrector, curves, and LUTs. In Export you can export multiple versions, using different compressors, so you can export a proxy file as well as a high-quality version of the clips. In short, it does most of the things I'd like an import tool to do.
I encountered one limitation with Offload and BulletProof on the Mac that isn't really their fault: the Mac finder doesn't recognize GoPro cameras attached to the computer. The only way I could get either program to recognize GoPro footage was to insert the memory card from the camera into a card reader.
I also had problems with 4K footage from a Sony AX100 in BulletProof. While it recognized the footage and imported it, the program had a great deal of problems – virtually freezing – while playing and color correcting the footage. This was on a 2.7 GHz i5 iMac. I would therefore check that your camera is supported before adopting BulletProof. Fortunately, Red Giant offers a free trial version, so you can download and test the application with your desired configuration before buying. The BulletProof App costs $199.
The Shooter Suite is $399. If you don't have PluralEyes already, then the suite makes for a good deal if you'll also make use of BulletProof. Those two packages together cost as much as the suite, and it's more than likely you'll get some use out of Frames, Instant 4K, Denoiser II or all three. If you have PluralEyes, or aren't particularly interested in BulletProof, you might save money by buying just the tools you need.