Back to selection
CITIZENFOUR Wins Big at the 8th Annual Cinema Eye Honors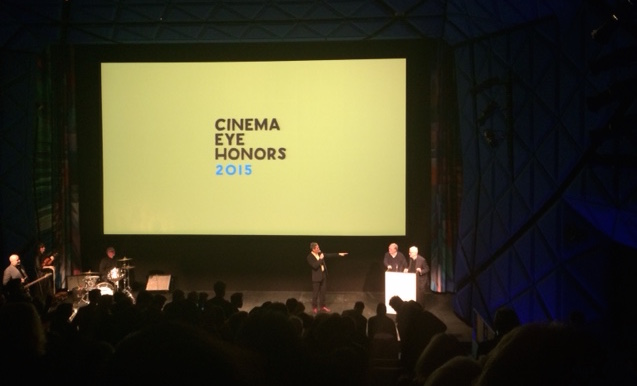 Sam Green, D.A. Pennebaker and Al Maysles
"Eight years ago, the shortlist came out, and the Academy failed to recognize not just three or four good films. They left off all the good films," began Laura Poitras, the first presenter and undisputed star of last night's 8th Annual Cinema Eye Honors, held at Astoria's Museum of Moving Image. Recounting a bit of the organization's history before bestowing Finding Vivian Maier with Best Debut, Poitras remarked that Founding Director AJ Schnack forged a necessary "response to what was happening in the community" in creating this close-knit, nonfiction awards ceremony.  Cinema Eye Honors is always a pleasure to attend on account of that sense of "community," a buzzword which is uttered by nearly every presenter and award recipient over the course of the evening.
The ring leader of this year's relatively fast-paced affair was documentarian Sam Green, who received an assist from the "voice of God," aka Serial's own Sarah Koenig, when it came to running the clips. Green assured the audience that they would be out of the door in no time, because "if Steve James can make a movie under two hours, we can do the same at Cinema Eye." Clocking in at only 70 minutes, Green made good on his promise, in part thanks to Cinema Eye's decision to hand out the Legacy Award to Jennie Livingston's Paris is Burning and the Filmmaker-sponsored Heterodox Award to Richard Linklater's Boyhood at a luncheon two days prior. As is also often the case, several winners were absent, which helps to pare down speech time.
An unidentified 20,000 Days on Earth producer was on hand to collect the wins for Score and Cinematography, while Radius co-Presidents Tom Quinn and Jason Janego accepted the Audience Award for their release Keep On Keepin' On from The Cruise's own Speed Levitch. The film's director, Alan Hicks, had flown down to Arkansas at the last minute to be with the ailing jazz legend Clark Terry. "If anyone in this room is religious," said Janego, "Please say some prayers for Clark."
Radius' other property, CITIZENFOUR, went on to scoop up four awards for Best Production, Editing, Direction and Feature. Sandwiched between Poitras and the Parisian editor/producer Mathilde Bonnefoy, CITIZENFOUR producer Dirk Wilutzky was the first to acknowledge the elephant in the room: the Charlie Hebdo massacre that had taken place several hours earlier. "Find better answers than what will be said in the next couple of weeks," he urged the audience. Presenting the Editing Award to Bonnefoy, Jonathan Oppenheim had a few words to say about a "documentary editing schedule." "It's at least seven drafts of a feature narrative script," he said, "but it's writing with images." For Bonnefoy, it was a "big deal," to be accepted by "the American community whose work has so impressed me."
Before bringing Poitras back up for Best Direction, Jennie Livingston told an anecdote about her godfather, Alan Pakula. "I thought he was being proprietary and sexist when he told me not to be a filmmaker, but he was being nice." Oppenheim and Livingston's repartee would be a tough act to follow, but not when the Best Feature presenters were Al Maysles and D.A. Pennebaker, longtime friends and living legends, suitably greeted by a standing ovation. "As filmmakers," said Maysles, "we're able to capture the experience of somebody and influence the experience of an audience. Filmmaking…is making friends." Regardless of his stature, he shares the same grievances as many of his younger colleagues. "I don't have money for my next film, I don't have any place to show my two current ones," he sighed, before Pennebaker chimed in, "Kickstarter?" They cracked open the envelope and Pennebaker smiled, "Laura." Poitras dedicated her final award of the evening to Glenn Greenwald and Edward Snowden. "There's no one I'd want to be on the front lines with more than Glenn," she said. "And thank you to Ed Snowden, who risked his personal freedom so we could understand what our government was doing."
The band played on to an afterparty around the corner, where Maysles, Pennebaker, Chris Hegedus and the rest of us minded our chicken fingers and fries, keeping in the Cinema Eye tradition of a casual, communal experience.
Best Nonfiction Feature: CITIZENFOUR
Best Direction: CITIZENFOUR
Audience Choice: Keep On, Keepin' On
Best Editing: CITIZENFOUR
Best Production: CITIZENFOUR
Achievement in Nonfiction Filmmaking for Television: The Price of Gold
Spotlight Award: 1971
Nonfiction Short: The Lion's Mouth Opens
Best Cinematography: 20,000 Days on Earth and Virunga
Achievement in Graphic Design or Animation: Jodorowsky's Dune and Particle Fever
Best Original Score: 20,000 Days on Earth
Best Debut Feature: Finding Vivian Maier 
Legacy Award: Paris is Burning
Heterodox Award:  Boyhood