Back to selection
Boyhood Wins Heterodox Award, Paris is Burning Honored with Legacy Award at Cinema Eye Honor's Inaugural Honors Lunch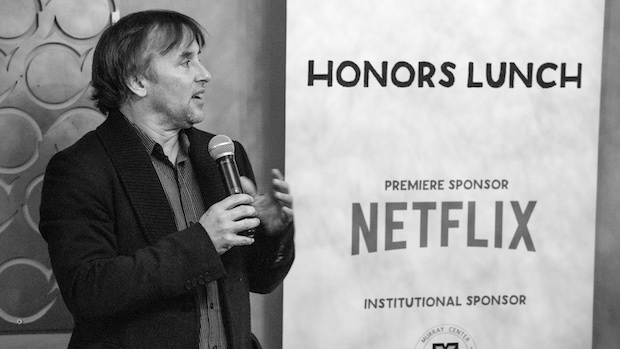 Photo: Spencer Worthley
In a new annual lunchtime ceremony, Cinema Eye Honors awarded today the Filmmaker-sponsored Heterodox Award to Richard Linklater's Boyhood and feted Jennie Livingston's Paris is Burning with its Legacy Award. Linklater as well as Livingston and her collaborators were all on hand to accept their awards at midtown's Etcetera Etcetera.
Of the divide between documentary and fiction, Linklater, who was on hand to accept the award, said, "I don't even call it 'a blurry line'… I've never really drawn a particular line between documentary and fiction."
Continuing, he said, "[Boyhood] is not a documentary but it's certainly a document. It's not fiction really, because it all happened, believe it or not. My storytelling impulse was very autobiographical, trying to examine childhood and in the process I was examining parenthood. And you talked about the intimate relation between subject and filmmaker, that's what this was. I was collaborating with these actors over such a long period of time, and they were collaborating with me so openly, that, in a way, I am sort of documenting time as their lives changed and incorporating that. So to me it was a very blurry area and kind of a wonderful one."
Linklater then brought up the film's star, Ellar Coltrane, asking him, "How did it feel to be a lab experiment?" Still acclimating to the film's awards buzz, Coltrane replied, "All of this is pretty scary — or it was. It's getting easier with every warm response. Like Richard said, it's not a documentary, but there's a lot of me up there."
The Cinema Eye Heterodox Award honors a fiction film that imaginatively incorporates nonfiction strategies, content and/or modes of production. In addition to Boyhood, 2015 Nominees included: Heaven Knows What (Josh and Benny Safdie), A Spell to Ward Off the Darkness (Ben Rivers and Ben Russell), Stop the Pounding Heart (Roberto Minervini) and Under the Skin (Jonathan Glazer). Regarding the nomination and selection process, the Cinema Eye Honors board nominates 12 titles that the editors and writers of Filmmaker then vote on to arrive at the five nominees. A jury then selects the winner. This year the jury consisted of filmmakers Marshall Curry, Terence Nance and Dawn Porter, and editor Jean Tsien.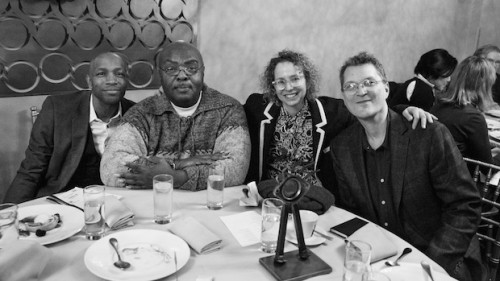 The Cinema Eye Honors Legacy Award, celebrating a classic documentary film, is in its sixth year. Accepting on behalf of her whole Paris is Burning team was director Jenny Livingston, who said, "You make a film to be transformed… to enable a journey" and went on to describe the process of documentary filmmaking as "repairing the world — to use a Jewish phrase!"
In addition to the two awards, Cinema Eye Honors recognized additional films as well as documentary subjects. From the press release:
In addition to Paris Is Burning, Cinema Eye toasted the 24 other films named to the annual list of The Influentials, classic films such as previous Legacy Award winners Grey Gardens, Harlan County USA, Sherman's March, Titicut Follies and The War Room, that were cited by this year's class of documentary filmmakers as the films that inspired them.

The afternoon event also recognized this year's Unforgettables, notable and significant documentary subjects from the past year's films. With "The Unforgettables," Cinema Eye celebrates the deeply collaborative nature of documentary filmmaking between filmmakers and subjects at the heart of some of the year's best films. Among the Unforgettables in attendance were Brandy Burre (Actress) and Mark Landis (Art and Craft).

Cinema Eye Honors filmmakers in attendance included representatives from Boyhood, Paris is Burning, Virunga, E-Team, Citizenfour, Actress, The Case Against 8, Art and Craft, Approaching the Elphant, Point and Shoot, Jodorowsky's Dune, The Dog, Evaporating Borders, Honest Liar, Heaven Knows What, The Lion's Mouth Opens, Joanna, Keep On Keepin' On, and doc greats from Cinema Eye Honors past like DA Pennebaker and Al Maysles.
The 8th Annual Cinema Eye Honors Awards will be presented tomorrow night at a ceremony at the Museum of the Moving Image. Filmmaker Sam Green will be the host. Cinema Eye was founded in 2007 to recognize excellence in artistry and craft in nonfiction filmmaking.