Back to selection
High Maintenance Director Katja Blichfeld Offers Advice to Young Filmmakers in First She Does Podcast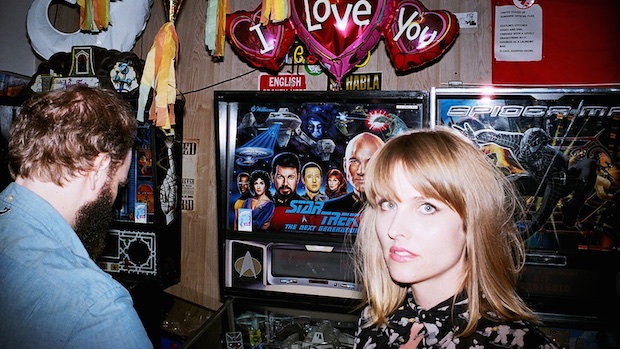 Katja Blichfeld (Photo: Paul Kwiatkowski)
Episode One of She Does podcast features the talented Katja Blichfeld. Katja, along with her husband Ben Sinclair, writes, directs and produces High Maintenance, which recently became Vimeo's first original series. We talked with Katja about her Danish roots, growing up in Southern California, aimlessly wandering through community college, finding a mentor, working with Tina Fey on 30 Rock as a casting director balancing work and life with her husband, and the pressure of being a first-time director.
Below we have provided five takeaways from Katja.
Trust your childhood instincts
"I have a very distinct memory of 6th grade, producing a class talent show for the whole school and really I was interested in the producing element. I was going around the room identifying people's talents and skill sets and then getting them set up to create a performance piece for everyone. I think I always had these instincts to want to produce, cast and write, but I never had any formal training. It was a lot of dead-end situations, but I felt like I was really at my peak there in elementary school."
Katja on casting her husband, Ben, as "The Guy" in High Maintenance
"Since the moment I met him I was really captivated by his energy and I really just wanted to help translate that in a way that other people could enjoy and appreciate. He was a struggling actor going in for parts that always seemed like they skewed on the more crazy side of things. I understand why a casting director might meet him and want to make him a criminal or whatever they did. But, I saw this other side of him that I thought was so oddly charming and he really doesn't have much of a filter. He's a very laid back, non judgemental guy. At his best, that's him, and I thought that was something worth putting to screen."
Katja on reaching a male/female balance with crew and story
"I feel like that's something that we're always trying to achieve is this masculine feminine balance that we hope translates in our storytelling as well. We don't ever want to lean too hard on just dick jokes or we don't ever want to skew even the other way too much. We just want to tell stories about human beings and try to give fair and equal representation to both genders and people who are uncertain about their gender even. We're really hoping to represent humanity."
Katja on being a first-time, female director
"I am getting a lot more comfortable now with being the one to say no and it's been pointed out on many occasions by my collaborators that I'm sort of the quality control on this project and I'm the last stop on this show. Me following my intuition and me following my instincts has never not paid off. I feel like I've lived four complete lives in my 35 years. It's been a lot of my major life decisions, but they've always been very driven from what's in my heart, and they've always paid off."
Katja's advice to young filmmakers
"I see a lot of people come out of film school–at the undergrad level mostly—and you can see people's visions outsize what's available to them resource-wise. And I think that's why they fail. They don't have access to those great actors that are going to sell these complex roles that they've written. Or they don't have access to the locations that are going to sell the story. I'm a big proponent of scaling your vision to what your resources are and letting it sort of grow organically. I always say, set the bar where you can not only reach it but where you can go beyond it."
ABOUT: She Does podcast, hosted by Elaine Sheldon and Sarah Ginsburg, features creative women working in the diverse field of media. The bi-weekly show can be found on iTunes, Twitter, Facebook.
Join a live Google Hangout Q&A with Katja on Wednesday, January 21st 3-3:30PM EST. If you can't make it, tweet your questions to @shedoespodcast with hashtag #shedoeshang