Back to selection
Victoria's Film Exchange, A Production Resource for Filmmakers, Premieres The Strongest Man at Sundance (Sponsored Post)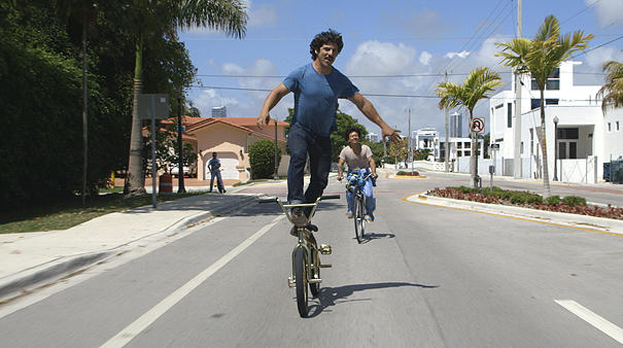 The Strongest Man
Looking to make the most of a modest independent film budget? The Victoria, Texas-based Film Exchange invites filmmakers to come and take advantage of $500,000 worth of equipment — for free. Through Film Exchange, filmmakers can save thousands of dollars and raise their production value by implementing gear from the Film Exchange studio, including the 4K Canon C500 and Blackmagic 2.5K cameras, Zeiss cinema zooms and compact primes and a $60,000 sound package including Lectrosonic transmitters and Sennheiser microphones, as well as five 4K post-production and color grading stations. In addition to providing production services, Film Exchange can help with obtaining permits and assistance from local law enforcement, as well as aid in casting and crew needs, location scouting, obtaining reduced hotel rates and local product placement and other production details in both Victoria and nearby beach destination Corpus Christi.
Beyond its equipment and logistical help, Film Exchange can also be a co-production partner. For The Strongest Man director Kenny Riches, whose film premieres this month in competition at the Sundance Film Festival, Film Exchange's help started on his short film Isip the Warrior. Riches met Film Exchange executive director Anthony Pedone at Sundance in 2013, where he discussed some short film projects he had in mind. "Anthony said, 'Come to Victoria and shoot the first one there,'" Riches recalled. "It was great and a very organic thing. Because I was shooting in his hometown, he helped facilitate the entire project, from giving us a place to house everyone to all of the camera, lighting and sound equipment."
Despite The Strongest Man being shot in Miami, their working relationship continued. Pedone served as a producer and provided a Canon C-300 camera package, complete with lenses — an equipment gift Riches estimates saved the production $20,000. After the film was completed and accepted into Sundance, Pedone helped the filmmaker navigate launching Strongest Man: "I really had no idea what was involved with Sundance," Riches said, "so he helped give advice on sales agents, how to line up a publicist and things like that."
The Strongest Man premieres January 25th at Sundance at the Prospector Square Theatre. Visit the film's Facebook page here, and click here to learn more about what the Film Exchange can offer your production.