Back to selection
Sundance 2015: Results, Entertainment and The Witch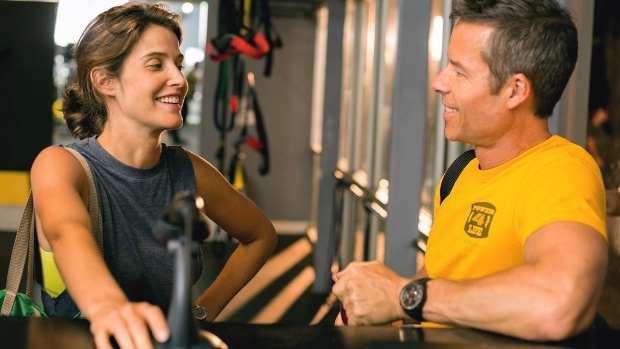 Results
He may not be your bag, but it's tough to deny that Andrew Bujalski is one of the most distinctive American independent filmmakers working today. So distinctive that even when he sets his sights on the pseudo-pedestrian genre of the romantic comedy, he finds a way to completely reconfigure the shape of its central love triangle. In Results, Trevor (Guy Pearce) is an Australian in Austin who owns the Power 4 Life fitness studio, living and breathing his own advertising mantras about self-improvement. The recently divorced, suddenly rich Danny (Kevin Corrigan, brilliant) is new in town and eager to buy what Power 4 Life is selling – if not the physical Results, then the life-changing concept behind them. At their first consultation, Trevor asks Danny what his fitness goals are, to which Danny replies, "I've got a lot of money, so I can pay for whatever." It's this sort of lackadaisical entitlement that eventually gets Danny into hot water with his trainer Kat (Cobie Smulders, fantastic), though it's not entirely uninvited.
Since Kate Dollenmayer's indelible turn as Marnie in Funny Ha Ha, Bujalski has exhibited a knack for writing "complicated" women, and Kat here is no exception. She is tempestuous, consistently playing by her own rules, and chiding the slightest glimpse of sub-performance in clients and co-workers alike, yet somehow, she's not at all off-putting. Of course, for Danny, it doesn't hurt that she's rather nice to look at. For all of the compromising workout positions Bujalski places Smulders in, it's incredibly refreshing to see him wield an objective camera. Danny's eyes practically pop out of his head when he watches Kat squat to the floor (in person or on YouTube late at night), but the frame stays fixed on his gaze alone.
Beyond modesty, Bujalski and his longtime d.p. Matthias Grunsky demonstrate a great handle on the comic potential of framing. When Kat and Danny first meet, Bujalski places them in a wide shot, on separate shrink-wrapped couches, on opposite sides of the room, allowing their bodies to register every reaction. (It goes without saying that a film about fitness is a goldmine of physical comedy.) After the two spend a night together, Danny invites Kat over for what she thinks is a late night workout session. As she summits Danny's roof patio, the camera shakily backs off her stunned expression to reveal a jazz band, then a candlelit dinner, and then a chef's table, all in one wonderfully goofy take.
While it may be evident early on that Kat belongs not with the schlubby Danny but with her one time fuckbuddy and boss, Trevor, the characters themselves have a hard time acknowledging it. It is Danny, of all people, who stages a round about set-up between the two, and suddenly, it's no longer clear who is training, or helping, whom. In the end, it's the selfish self-improvers who are blind to their own needs.
On the whole, what makes Bujalski's films so enjoyable is his attention to detail, both with respect to his characters and dialogue, so it's somewhat surprising that his lead, Trevor, somewhat flounders on his own. Bujalski gives him a sub-plot – a Power 4 Life expansion, complete with a section for psychologists – that sends the film into its final act, which is at once necessary, but also uninteresting, especially in relation to the unpredictable, shifting dynamics amid the trio. I'd guess Bujalski thought as much himself, as he layers these construction site visits with juice bar hallucinations, an effect that doesn't quite work even if it's vaguely reminiscent of Computer Chess. But Results is decidedly not Computer Chess, and — dreamlike bits aside — it boasts its own, very enjoyable stylistic flourishes in Justin Rice's music and the retro, sideswipe edits. Above all, Results has the kind of genuine emotion that is so desperately absent from the genre: it's romantic, it's hilarious, it's intelligent, it's reticent and it's weird. In other words, it's everything you'd expect from an Andrew Bujalski film.
The Comedian (Gregg Turkington) at the center of Rick Alverson's Entertainment is in dire need of guidance, but even if you offered it, he'd probably just throw it back in your face. Alverson is not remotely interested in fixes or resolutions — what fascinates this master manipulator of tone are conditions. More precisely, the condition of being utterly alone. The Comedian is not always physically solitary, but it's clear that he's the type of man who feels as unmoored before an audience as he does in his hotel room at night. Winding through the Mojave Desert, the film opens with a stunningly observed segment inside an "airplane graveyard," before moving to a nearby jail, where The Comedian watches his Clown sidekick (Tye Sheridan, all grown up) warm up the inmate audience.
Each segment in this episodic jaunt of dread through a California limbo offers Alverson ammunition for his exacting cynicism. A clown jumping up and down, for starters, is far more hilarious than any joke mumbled by The Comedian, pointing towards the lobotomized humor of the masses. A distant cousin (the great John C. Reilly) who lambastes The Comedian for throwing away jokes for free to empty seats points towards America's capitalist preoccupation with optimization and branding. A new age spiritualist who offers some semblance of solace for The Comedian looks at our fascination with immaterial, faith-based, and ultimately ephemeral, solutions. Some of these segments begin to feel so freewheeling that you ironically crave the dreary routine of The Comedian's poorly received — yet hilarious – gigs. With his web-like comb over that goads you into pitying him, off color jokes, and the three drinks he consistently cradles in his arms, Turkington's Neil Hamburger character provokes a well of contrasting emotions that deepen and complicate Entertainment's examination of isolationism.
Alverson's main attempt at humanizing this zombified man comes in the form of ritualized calls to the voicemail box of his absentee daughter. She is presumably the reason he is making his way to Los Angeles, as everything else about The Comedian's being seems to suggest complete free fall. I'm not entirely sure Alverson needed to equip his character with such an objective, and in fact, the film may have been even more existentially horrifying without this empty promise of reunion. But that is a meager misstep in a film that feels to be at the complete and utter mercy of its maker. Working with Heli cinematographer, Lorenzo Hagerman, Alverson has also achieved a beautiful sense of formality, a sharp contrast to The Comedy's roving camerawork. The wide static shots in bars and the desert only reinforce The Comedian's detachment, to a most entrancing effect.
Yet another highly accomplished, confident film, Robert Eggers' The Witch was an early festival highpoint, screening for critics several days before its world premiere, and selling to A24 in the interim. A puritanical folktale, The Witch begins with a family's exile from their 17th century colony, a banishment from Eden that may be the film's first Biblical reference, but certainly not its last. As the family of seven sets up camp on their own plot of land in the wilderness, one of the children disappears, leading the parents and siblings to suspect that the eldest daughter, Thomasin (Anya Taylor-Joy, Elle Fanning's doppelganger), is a witch. To any viewer, it would appear that she's innocent, but Eggers allows ambiguous evidence to prey on the increasingly debilitated psychology of the mother, Katherine (Kate Dickie), and all who will believe her. That Katherine is so one sided in suspecting her own daughter of such a crime is a one-note sentiment that unfortunately detracts from the emotional impact of the film's well done climax.
Nevertheless, the sheer attention to detail in this painterly piece of work is worthy of more than a few plaudits. In addition to the costuming, sound and set design, Eggers' script is a carefully constructed Old English document that never feels overdone in the actors' mouths, not even when one is hysterical on his deathbed. Fusing horror tropes from The Shining and The Exorcist with period drama, The Witch was by far the most out-of-the-box debut I saw at Sundance, and a welcome one at that.