Back to selection
Previewing Berlinale 2015: Malick, Herzog, Panahi and More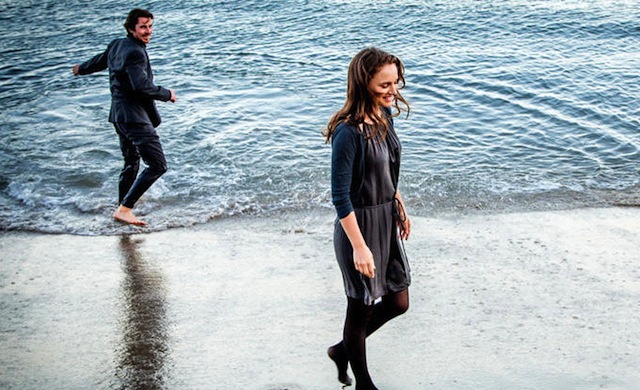 Knight of Cups
Given that Wong Kar-wai's The Grandmaster and Wes Anderson's The Grand Budapest Hotel kicked off the Berlinale the last two years, the response was less than enthusiastic when Isabel Coixet's Nobody Wants the Night was announced as this year's opening film (though, predictably, many a Twitter wag delighted in the film title's pliability for expressing what it is that nobody wants). The Greenland-set period drama stars Juliette Binoche as Josephine, the wife of arctic explorer Robert Peary, and follows her attempt to rejoin her husband on his mission to reach the North Pole. When an Inuit woman comes to her aid on the perilous journey, Josephine (per official festival synopsis) "realizes that she has more in common with this woman from a different world than she thought."
While Coixet's opener seems likely to follow in the cloying footsteps of her previous output, this year's Competition nevertheless offers one of the most tantalizing selections in years. Perhaps the most highly anticipated title is Terrence Malick's Knight of Cups, starring Christian Bale as a typical Malickian hero: attractive, brooding, in the midst of a metaphysical crisis and surrounded by beautiful women (Cate Blanchett and Natalie Portman this time around). Though set in a vice-ridden Los Angeles rather than a pastoral idyll, with its ethereal camera (once again courtesy of Emmanuel Lubezki), rhapsodic soundtrack and hushed voice-overs, the film looks to be very much in line with its predecessors The Tree of Life and To the Wonder. Even if Malick were to indulge in the same mawkish abandon of the latter, it will undoubtedly make for a majestic viewing experience in the gigantic-screened Berlinale Palast, all the more so for the hall having been recently fitted with a Dolby Atmos sound system.
Queen of the Desert reunites Werner Herzog with his favored type of protagonist — a fiercely driven over-achiever — with the big difference being that for the first time in the director's oeuvre, this protagonist is a woman: Nicole Kidman plays Gertrude Bell, the English explorer with too many hyphenated achievements to be listed here. Also featuring Robert Pattinson (as T.E. Lawrence) and James Franco, the film offers a biographical account of Bell's time in the Middle East and the influential role she played in redrawing the region's geography following the demise of the Ottoman Empire. Peter Greenaway, lately famous for his filmic homages to luminary painters, also shifts focus with a biographical film. Eisenstein in Guanajuato chronicles Sergei Eisenstein's ill-fated attempt at shooting a film in Mexico, employing an aesthetic that explicitly references the Soviet master's groundbreaking practice and theory.
Jafar Panahi's Taxi is the third film he shot since the Iranian government issued a 20-year ban from filmmaking in 2010, and the second to premiere in Competition at the Berlinale following Closed Curtain two years ago. Again resorting to guerilla methods, Panahi filmed himself driving a taxi through Tehran. Stylistically reminiscent of Ten by Panahi's frequent collaborator Abbas Kiarostami, the film conjures a contemporary portrait of the Iranian capital through the director's conversations with a diverse range of passengers.
Other highlights in Competition include the new features by Patricio Guzmán and Pablo Larraín, two of Chile's most consistently compelling directors. Guzmán's phenomenal documentary Nostalgia for the Light looked up at the stars to initiate a meditation on the horrors of Augusto Pinochet's dictatorship. With The Pearl Button, which Guzmán has described as a companion piece, he offers an analogous contemplation of the country's collective memory by turning his gaze downwards to the sea, where two small buttons shed light on the country's recent past. While Larraín's previous three features also effected a trenchant confrontation with the country's dictatorial past (though from a radically different perspective than Guzmán), he now turns his attention to the Catholic Church. In The Club, a small group of priests who have strayed from the straight and narrow serve as a microcosm through which to highlight hypocrisies deeply entrenched in Chile's contemporary society.
The Berlinale has two primary sidebars, Panorama and Focus. Panorama is the less interesting of the two, largely devoted to middling titles that don't fit elsewhere, and this year's tepid selection is no exception. Forum is the section dedicated to more stylistically audacious entries as well as ones bearing a distinct authorial stamp. This year's opening film, Guy Maddin's The Forbidden Room, is a case in point. Although a recipient of rave reviews upon its Sundance premiere, it should only be approached by cinephiles of the most indulgent kind. For most others (including fans of Maddin's previous work), the frenetic 130-minute amalgam of seemingly every half-thought-out idea the director has ever had, as staggeringly creative and sporadically amusing as it may be, will be more akin to a bad acid trip than a film.
A more digestible look inside an auteur's head, Antoine Barraud's Portrait of the Artist stars House of Pleasures/Saint Laurent director Bertrand Bonello as a fictionalised version of himself. Beset by writer's block, he struggles to come up with a new film based on the theme of monstrosity, roaming museums hoping to draw inspiration from the work of artists such as Bacon, Renoir, Arbus, Balthus and others. As he grows increasingly desperate, his reality becomes unhinged, and the more surreal things become, the more his world starts to resemble one of his own films. What could easily have lent itself to masturbatory, navel-gazing ruminations on art is instead a perceptive and refreshingly ironic look at the creative process that feels like a cross between Barton Fink and The Kidnapping of Michel Houellebecq.
For Queen of Earth, Alex Ross Perry has reunited with Elisabeth Moss as well as much of the principal crew from Listen Up Philip. Abandoning the narcissistic male protagonists of his two previous features, Perry portrays two women who retreat to a lakeside cabin to try and deal with unresolved personal issues. In interviews, Moss has cited Roman Polanski's claustrophobic psychological thrillers and Robert Altman's Images as influences.
Forum habitué Jem Cohen follows up his highly successful Museum Hours with Counting, an essayistic saunter through several cities – Istanbul, Moscow, New York, Porto, St. Petersburg, and one purposely left unnamed – with a deliberate nod to the work of Chris Marker. Also in essay/diary film territory, Joaquim Pinto and husband Nuno Leonel present their latest collaboration, Fish Tail. The characteristically meditative and free-floating portrait of a Portuguese fishing village captures the villagers' struggle in keeping their traditional fishing methods alive in the face of aggressive industrial progress. The film's footage was originally shot between 1999 and 2001 for a TV documentary that was permanently shelved after a single showing due to conflict with the broadcasters. With the fishermen's fight largely lost in the meanwhile, the filmmakers have reassembled the material into an elegiac tribute to a bygone way of life.
Certain to spur the greatest excitement in certain quarters is the premiere of the new film by Kidlat Tahimik, the godfather of Filipino independent cinema. The screening of a Tahimik film is always a rare occasion, but the opportunity of finally seeing Balikbayan #1 Memories of Overdevelopment Redux is downright extraordinary. The film, which tells the story of Enrique of Malacca, Magellan's slave and arguably the first person to ever circumnavigate the globe, has been in the making for 35 years. A sui generis historical epic, the film freely mixes genres, integrates a variety of formats and features a carousel of actors spanning three generations – it may very well be Tahimik's magnum opus.