Back to selection
Six Women Directors Discuss Filmmaking, Their Countries and Their Sundance Premieres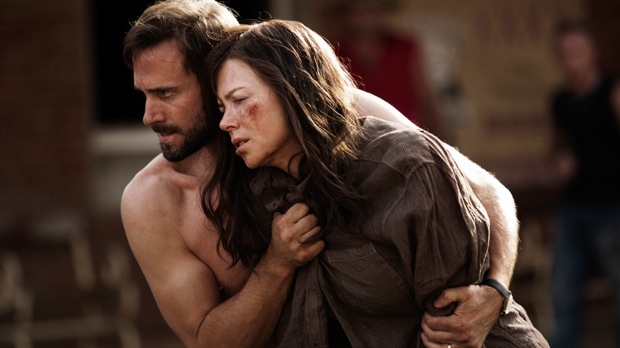 Strangerland
In and out of movie theaters, buses, cafes, after-parties, and the crowds of Main Street, the conversations at Sundance Film Festival are exclusively about movies. The fact that the cinematographer of the film you are trash-talking is probably standing behind you is negligible. There is an unrestrained and unforgiving buzz of reviews in Park City, Utah. It's less that everyone is acting like a critic and more that everyone is just obsessed with talking about film. If you've been to theater camp, that's the vibe. It's not that I wasn't excited to see movies and flaunt my personal ratings like everyone else, I was just more excited to sit down with filmmakers outside the frenzy of camp Sundance.
Incidentally, I spoke with international filmmakers arriving farthest outside of Park City, screening films in the World Cinema Dramatic Competition. I met with each filmmaker separately, starting with Kim Farrant from Australia, Anne Sewitsky from Norway, Alanté Kavaïté from Lithuania, Tali Shalom Ezer from Israel, and Anna Muylaert from Brazil. To round out the international voices, I met with American first-time feature filmmaker and Sundance first-timer Nikole Beckwith, whose film Stockholm, PA had its world premiere in U.S. Dramatic Competition.
I think what initially interested me about an international perspective at Sundance (Farrant actually just moved to Los Angeles), has to do with how the scope of geography reflects the filmmaking experience. After six conversations with filmmakers from around the world, I learn that many of the challenges and processes are similar. What is most consistent, though, is the tenacity each woman exudes.
It's no wonder these interviews provide a welcome detour from the madness of Camp Sundance. The commentary is background noise to the voices of these six formidable filmmakers.
Kim Farrant, Strangerland
How was the World Premiere last night? 
It was amazing and intense. My film is very confronting, and I think it leaves people feeling uncomfortable, so there was kind of an awkwardness in the room. My intention was to unnerve people, which I achieved. But now I have to sit with everyone's discomfort, which is uncomfortable for me as well.
How would you describe your style as a director? 
There's an intimacy in the way I use the camera. There's a natural quality, the opposite of stylized actually. It's slightly observational.
You used to be an actor. Why'd you give it up? 
While I was in acting school, I got asked to direct a play, and it was the first time I felt truly in my skin. It planted this beautiful seed of what I wanted to do.
How would you describe your process working with the actors? 
On this film, I had actors ranging from untrained to veterans, and they all have different techniques, so it's about adapting to each of them. With some of the cast I used some sense memory work, and some personalization/substitution work, and I would call out code words to trigger them. Sometimes I improvised with the actors, either within the take or leading into the take. With the more seasoned professionals — Nicole Kidman, Joseph Fiennes, and Hugo Weaving — we had robust discussions about the script. They were all so generous with each other. On set, they were sometimes in and out of character and sometimes in character all day.
How would you describe your relationship with your producers? 
Each producer is different and each film is different in terms of what I need from a producer. With my main producers on Strangerland, we worked intensely on the script.  I had lots of space on set, which I really appreciated. In the edit, they also gave me space on the director's cut before giving really objective feedback.
What was the biggest challenge with Strangerland?
Getting the film financed because it was an unnerving script. It was challenging for people to see something on the page that they may not want to see in themselves. Though it was tough getting financed, it's fantastic that it took the time it did because we could continue to work the script. During the long process, I grew as a filmmaker, as a woman, and as a collaborator, so I don't regret that challenge.
You are the founder of Australian Public Forums' "What Men Really Think About." Why not "What Women Really Think About?"
When I designed the Forums, I had way more female friends in my life, and felt a strange disconnect from men. I found it rare to have the depth of emotional intimacy with men, so I wanted to create a space where I could understand them more. The other reason is that some of the men in my family have suffered depression, also suicide, so I wanted to create a platform where men could freely express themselves and where we could role model emotional intimacy.
How would you describe the film industry in Australia compared to the one in the U.S.?
The only part of that I can touch on is that the Australian industry runs primarily on government funding, while the U.S. industry does not. Part of the reason why I just moved to L.A. is to open up the scope for funding for my projects, to feel less limited to that one source of government financing. I think there's more opportunities for diverse kinds of projects with private investors and alternative methods of funding.
How would you describe your voice as a filmmaker in 3 words?
Raw, confronting, intimate.
Anne Sewitsky, Homesick
How would say being Norwegian has its advantages and disadvantages in the film industry?
Right now, there's a focus on Scandinavian filmmakers and I think especially Norwegian ones. In Norway, I have final cut and can choose who I work with and how, and there are many director-driven films. I don't know how it differs in the States, but it probably depends on the project. A disadvantage is that films can only become so large within the Norwegian funding system. There's not a huge industry like in the States.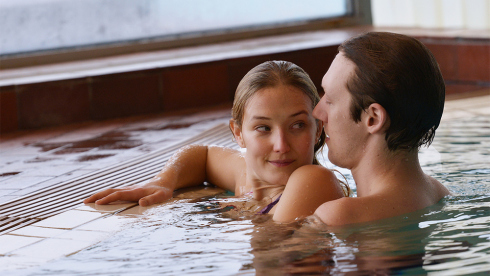 How has winning the Grand Jury Prize for World Cinema at Sundance in 2011 for Happy Happy changed your career?
It probably gave me more confidence. Shortly afterwards, my producer and I got slate funding for three films. Homesick is the first film in the slate package. There are four directors in Norway who have slate funding. It's a great to know I have two more films, that this isn't the end of my career yet.
How is directing for television different than for film?
It depends what kind of television. Right now, there's so much interesting TV with longer stories and complex characters. In Norway, it's not much different from directing a feature because TV is so director driven with close collaboration between writer/director/producer. As a TV director, I've done both drama and comedy series. The comedy series are fun because it's all improvised, which is different than what I normally do. I'm a very restless person so I need to have one foot in my passion projects and one foot in the other, fun projects.
What does taking risks mean to you?
Some directors have one theme and do iterations of the same film, but that's not me. I strive not to make the same film over again. My next project is a thriller television series, and then I'm doing a biopic about Sonja Henie, a famous Norwegian figure skater and Hollywood star from the 1940s. Both genres are new to me so I have to figure out how and where to start. I'm always trying to do something different, which is a risk, because it can collapse. At the start of each project, my first thought is, "I am not a director, what the hell have I gotten myself into!" Once I stabilize my nerves, it becomes fun.
Can you describe the process casting and working with your actors?
A lot that happened in the casting found its way into the script. We would improvise in the casting, but not so much on set. My main actress, Ine Wilmann, was very much a natural so I ended up saying very little on set, which is actually quite unusual for me.
What's been the biggest setback for you on this film?
Even though I had the slate funding, it was delayed many rounds. Had we waited six more months I probably wouldn't have been interested in my own film anymore because when you work on a film for so long you can get tired with the topic, and I was almost at that stage.
How would you describe your process as a writer?
Originally I'm not a writer. My writer on this film, Ragnhild Tronvoll, initiated the collaboration. Together we talked a lot to bring personal stories into the writing. Because I'm not educated as a writer, I'm not always sure on structure. I have to feel my way, and trust my sense of the character and the story.
As your films travel around the world at various festivals, how does the reception change among audiences?
I don't know yet for this film. My last film had a controversial part with two boys playing slave games that affected some American audiences strongly, but not the Europeans. All in all, I think my main interest isn't to provoke, but to share something about how even absurd behavior is about the fundamental need for love and connection.
How would you describe your voice as a filmmaker in three words?
Human, unpretentious, intuitive.
Alanté Kavaïté, The Summer of Sangaile
You were born in Lithuania. Why have you settled in France? 
Lithuania was completely closed for fifty years, so when the borders opened in 1992 I wanted to study abroad and find a fresh education. I liked that I could study video, photo, and painting all at the same time and at one school, which didn't exist in Lithuania. And then I stayed in France for personal reasons. And then I found the cinema. Why France and not elsewhere? France is the country of freedom. It's the most culturally interesting area in the world.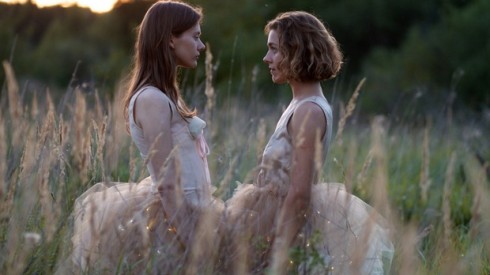 This is your first time at Sundance, what are your impressions? 
I like the audience's questions. They are very open-minded, educated, and curious.
How does location or place inspire your work? 
Location is very important. First I have a character and a main idea, and then I imagine the characters in a place. In this film, the airfield and stunt planes were so important to create a very precise space. I think a lot about space and using landscapes as characters because they change and influence the characters as much as other characters.
Do you want to work with American actors? 
I would love to. If there is one reason to be a part of American cinema, it would be to work with American actors. They are the best. European actors are very academic, while in American theater schools, they work so much with their feelings and emotions. As a director, I give so much of myself so I ask for actors to do the same. Sometimes, French actors refuse to suffer or lose their control, but this is not a problem with American actors.
Summer of Sangaile is your second feature — how was the experience different than making your first, Fissures? 
I've gained a lot of freedom. With Summer of Sangaile, I felt more free to change the script everyday, as needed. I also felt much more free because it was a smaller budget so I didn't have the weight of the finances on my shoulders. I've become quicker too with adjusting and adapting to problems.
What do you like least about being a filmmaker?
I like almost everything. Of course pre-production is the most difficult period because the high potential for collapse. Promo reels and posters are maybe the worst things for me. I never used to consider these promotional aspects. I used to feel uncomfortable with them, but now I see how important all the small things are, and I'm starting to like them.
What does taking risks mean to you? 
It means having strong conviction. To drive your idea to the end until it's done in spite of everything. Risk means not making compromises.
Who could you not work without?
My producer, Antoine Simkine, produced my experimental work, my first short, and my first two feature films. There is a perfect balance between us. I want to do all my films with my d.p. Dominique Colin. And I'd want Joëlle Hache to edit all my films. These three people are the heart of this film.
How would you describe your voice as a filmmaker in three words?
It's hard to find the precise English words — Quiet strength, resilience, inventive
Tali Shalom Ezer, Princess
How would you describe your style as a filmmaker?
It's very intimate. I try to get as close as I can to my characters, this is most interesting to me. I try to express the character's truths as authentically as I can.
Can you describe the Israeli film industry? 
We live in a very violent environment in Israel so everything is full of tension. I feel this affects the films and the stories we choose to tell. Maybe I'm wrong, but I really think it has something to do with violence. Also Israelis are very direct and truthful people, who tell each other what and how they feel. I think this is special and you can see it in our films.
Are there disadvantages to making films in Israel? 
We have lots of talented filmmakers, but it's a very tiny country so the competition is very high. All the films are supported by the government, and the budgets of the film funds are very small, so there's lots of competition.
You've lived in New York for a period of time, what was your experience? 
Only for a few months. When I was 20, I went to New York and started writing. I felt that I wanted to tell stories. Before New York, I was studying acting, but I realized I couldn't fully express myself as an actress. I'm very shy, and I'm more comfortable communicating from behind the camera.
What was your rehearsal process like on Princess? 
The rehearsal process was unusually long. We spent so much time together, but we didn't work on the dialogue necessarily. So much of the film is what emerged when we were just hanging out doing nothing, seeing what kinds of conversation came up. It's important to have a long rehearsal process because shooting is so short. My producer actually gave me a lot of time for Princess — 30 days. Usually it's 22.
How was the experience different than it was working on your previous film, Surrogate? 
The experience with Princess was so different because the story is so different. I was really looking for a special atmosphere with Princess, and it was very difficult to achieve.
How do you think American audiences and Israeli audiences respond differently to your work? 
It's such a different experience here. Even though Americans are maybe more conservative, I think in this case it's more difficult for Israelis to watch the film because they see it in Hebrew, so it's more real, more true. The screenings in Israel were so emotional, angry even, but here, the audiences are much more calm. I don't know if the Sundance audience reflects general American audiences, but here, they were so open.
Is there one person whom you could not work without? 
Definitely my producer, Elad Gavish. My film is his, same level. This is our third film together. All my team is very important to me — my d.p. Radek Ladczuk, the set designer, the costume designer and the artistic consultant (both are my best childhood friends). It's a true collaboration, and I couldn't do it without the support of everyone who fought so hard for this film.
How would you describe your voice as a filmmaker in three words? 
I need more time to think about that. My films have a lot to do with psychology and transformation. I guess the third word is intimate.
Anna Muylaert, The Second Mother
Can you describe your writing process? 
Whenever I commit to writing, I'm very extreme and I write like crazy. When I write for other filmmakers, I try to understand what they want. When I write my films, it's different, it's almost like pregnancy in that it sort of comes from the sky and slowly forms over time. Day by day it starts to take shape and years later, it's there.
Is there someone you couldn't work without? 
No, but there are people who I'd love to always be working with. I had a dream team on The Second Mother — my d.p., production designer, and editor, they are all the best in Brazil.
Have you ever lived outside of Brazil?
I lived in the U.S. as a teenager. And I've lived in France for a bit. But I've never lived outside of Brazil for more than six months.
How is your work received in Brazil compared to how it's received in the U.S.? 
My two features were received well in America. I love American writing and I feel they receive my writing well. I don't know if reception is necessarily different between cultures. I think Americans understand my work more than the Europeans. The Second Mother is more social so I'm hoping it will be well received with the European audiences.
The Second Mother has already been picked up for distribution by The Match Factory. How does that influence your experience at the festival this year? 
It's the first time I have sales agents and they've worked really hard for me. The festival as a whole has been great to me — it's very professional.
How has the social and political climate of Brazil shaped your work as a filmmaker? 
This film has a lot to do with the new Brazil, the Brazil after the Lula government. I'm not necessarily political, but when the President of Brazil, Dilma Rousseff, assumed power, she invited a group of female filmmakers to meet and have dinner together in the palace, and she chose to screen my second film. She has given us a lot of moral support. I feel very grateful to her, we all do.
Is it important to be recognized as a female filmmaker?
I believe there are feminine films and masculine ones. It doesn't matter whether the filmmaker is female or male. But at this dinner with President Dilma, with a group of female filmmakers who have never all been together before, I realized that the fact Dilma is the first female President of Brazil is not something to be forgotten. We may not be male or female filmmakers, but don't forget, we are women.
Describe your process with actors. 
Constant improvisation. I never fully rehearse the scene — we just block it out, but we don't really do it until we shoot. Acting is like a meditation. It really has to be felt to happen, including all the elements of reality that emerge. I'm constantly trying to get the maximum amount of life.
What does taking risks mean to you? 
I think the editing room is the place to really take risks. For example, I had to take a 20-minute scene and cut it to two minutes. But also, making a movie is taking a risk.
Why do you make films? 
I used to say I make films because it is the most difficult thing to choose. This is a good answer, but, in fact, I have to make films because all my life I've been drawing and taking pictures and listening to music and writing, and I've found that film is the only place I could combine my abilities and qualities all together.
How would you describe your voice as a filmmaker in three words? 
That's not an easy question — I'm a woman, I'm Brazilian, I'm a mother who is trying to do cinema that I believe in. That's it.
Nikole Beckwith, Stockholm, Pennsylvania
Can you describe your shift from playwright to writing and directing Stockholm, Pennsylvania?
My plays are all comedies, very dark ones, very fast paced with quick dialogue. I initially wrote Stockholm, Pennsylvania as a play. But, the first time I heard any of it out loud, I realized it was a drama and knew I wanted to adapt it into a screenplay. I wanted to explore a different tonality and a quiet intimacy that you can't always do in theatre. And with directing, the shift was very organic. Playwrights are integral in the directing process in new theater, so though I hadn't directed film before, it felt less like a leap and more like a step to the left.
As a playwright, actor, screenwriter, director, and probably several other creative personas, what does multitasking mean to you?
It all feels very cohesive. I think everything I make is both separate and very connected. An idea or story or a question will reveal itself to me in its intended medium. After Stockholm, I wrote a comical play in London at the National Theatre and then came home and did another film that just wrapped photography. Everything comes from the same place, I just have different platforms and outlets.
How has your style evolved?
I don't know if it's style yet. I'm very interested to see how my second film will be different than Stockholm. There's a maturity shift in the way my plays feel versus the way my film feels. As a filmmaker, I'm digging deeper into scarier territory, mining myself in a more brutal or dangerous way. It's not that my stage work isn't strong or mature, it's just a different animal. I like the comedy outlet in my plays. And of course it's that work which led me to Stockholm. It's all connected.
How would you describe your process with actors?
A big part of directing is intuition. Every actor works differently, it's like watching different climates coming together to make weather. I start with feeling my way through that and placing myself in their processes accordingly. For Stockholm I had everyone come in word perfect on the script. I don't know if I will always work that way, but that's where our process started for this. And I sent a list of books to Saoirse [Ronan] and the young Leias, books they would have grown up reading, to create a shared thread.
What part of working on Stockholm, Pennsylvania has been most fulfilling? Most frustrating?  
Everything in equal measure. I've never been more challenged and tired, but also I've never been more happy or alive in myself. While shooting, you have adrenaline and camaraderie and everything is a shared victory or shared setback, which is the beautiful part of shooting. Editing is terrific. A rebirth of the story. And it's really intimate because you are working with just one person, so it's a complete shift, and has it's own challenges. As a first-time filmmaker, I felt frustrated and fulfilled every day.
How would you describe the film industry in the U.S.?
I don't know, I'm so new to it. From what I see as an audience member and from what I experience as a new filmmaker taking meetings, we need more women. Whatever gatekeepers are preventing the revelation of women needs to break down. It's still somehow seen as a risk to hire a woman to direct a film. I can't think of something less risky, actually.
So female filmmaker or filmmaker? 
We are filmmakers. Why say female filmmaker? I'm not a female dog-walker, I'm not a female lunch-eater, no one says, "I want a female lawyer." "Female" is not an appropriate qualifier for your work. That's not to say I'm not fully a feminist. I'm completely committed to and embrace my female ideas in the way I work and communicate.
What does risk mean to you?
You should be willing to fall flat on you face for your work. Willing to fail. That's the only way to make something real.
Who could you not work without?
The creative team on my film has an intrinsic shared sensibility, so they will always be my first go-to. I feel very spoiled because sometimes it takes people years to find their creative tribe. I got lucky.
How would you describe your voice as a filmmaker in three words?
Evolving, patient, and I don't know, both loud and quiet.