Back to selection
Successive Slidings of Displeasure: The Anti-50 Shades of Grey Campaigns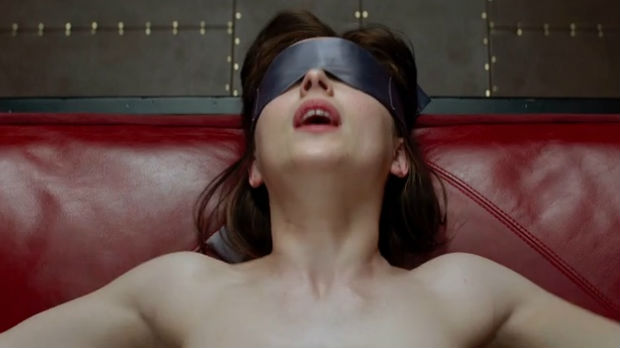 50 Shades of Grey
Any publication on the culture beat has been inundated by emails and pitches tied to anti-50 Shades of Grey campaigns. It's predictable enough that the easily-alarmed conservatives at, say, Breitbart.com would be on that beat, but once you start delving into the tangled coalition against the Walmart-friendly BDSM adaptation, things get more interesting. There are certainly opponents who merely worry about a surge of libertinism overtaking the land, but they've done an uncharacteristically good job of making some unlikely alliances, and they're just the tip of the fragmented iceberg.
Let's start simple, with organizations whose names aren't entirely straightforward about the interests they represent. The National Center on Sexual Exploitation is not precisely that, but in fact — as, to its credit, they tell you plainly on their history page — "an interfaith effort to counter pornography." Their talking points conflate sound bullet points ("Violence is violence. Sexual violence is worse.") with the purely morality-based case against BDSM ("Not every decision one makes is a good one"). When concern over sexual violence is yoked to moralizing over private practice, it's hard for me to take the argument seriously; the censorious latter agenda is what's really being pushed.
Nonetheless, the organization's done a good job of making sure that its larger agenda can be disentangled from the immediate talking points at hand, not least by requesting (via the hashtag #50dollarsnot50shades) that potential viewers instead donate $50 to a domestic violence shelter or agency. This has worked out: I doubt very much that the National Center on Sexual Exploitation shares the ideological underpinnings of the Provincial Association of Transition Houses and Services of Saskatchewan, a domestic violence support group which glommed on to the hashtag. PATHS' philosophy page notes that "violence exists because of power differentials, socio-economic systems, and patriarchal attitudes and is perpetuated by the society in which we live." They don't seem really on the same page as a group that seeks "to educate citizens and leaders on the public health crisis resulting from a pornified culture," but the NCSE's goals have been accomplished: by yoking their agenda to an unimpeachable cause and uncustomary allies, maybe they can get more recruits down the line.
One doesn't need the NCSE to protest 50 Shades as normalizing abuse. Melbourne's Radical Alliance of Women "aims to create solidarity between feminist women who are involved in radical politics. They're protesting and urge you to find a local cinema and do likewise to protest promoting "stalking, manipulation, threats, isolation, BDSM and other forms of domestic abuse as "romantic.'" At the opposite end of the spectrum, there's WIZO (Women's International Zionist Organization) Aviv, the local branch of the organization that runs day cares, social support for children removed from their families et al. — i.e., their work isn't confined to domestic abuse support networks. They've organized fundraising screenings globally, most of which are sold out already. The Times of Israel quotes one anonymous American Jew who's offended: "Using 50 Shades of Grey to raise funds to help women who have been sexually abused is like saying, 'Let's go eat burgers to raise money for animal rights.'" Not so, says spokeswoman Laurenne Baitz: "In a world where viewing the real mutilated bodies of humans' spoils of war is an all-day, every-day visual reality oozed across every news channel […] exercising the personal choice to view (or not) a strictly-rated adult movie that has passed the international censorship boards seems more in perspective." The greater-good argument also includes the hope the screenings will attract younger women to keep the group going.
50 Shades is predictably also controversial within the BDSM community. The books were denounced swiftly, as in this representative 2012 Guardian op-ed arguing they're bad for bondage — indeed, they "demonise" it and portray Christian Gray as "psychologically 'sick.'" The 50 Shades of Abuse blog has a different, very plausible angle of attack: "Christian uses BDSM as a guise for his abuse. He breaks rules set up for everyone's safety." Ditto the 50 Shades is Abuse campaign, which aims to "show that the books portrayal of BDSM is not accurate, and what is described is more like grooming and coercive consent." There's a lot of reading on this topic: this essay is a good place to start, which points out that "Christian has an agenda and he sets the pace for both of them exclusively based on it. He continually introduces new elements of BDSM into the relationship before Anastasia is ready, and a lot of that happens with minimal to no communication." It's not entirely surprising that these dissenting voices have been given less on-air time than NCSE types: safely sweepingly condemnatory positions and stark binaries are what's asked for.
Now down into the realm of the morally censorious, speaking mainly to and for each other. The putatively-respectable American College of Pediatricians isn't as plausible (even in the short term) as the NCSE, as made clear by numerous position statements like "On the Promotion of Homosexuality in the Schools" ("School officials are being increasingly pressured by pro-homosexual organizations to integrate homosexual education into school curricula"). Hence, a warning that "adolescents need parents to correct the dangerous messages about alcohol, sex and violence in Fifty Shades of Grey." Equally far down on the credibility scale we find Miriam Grossman, M.D., author of books whose titles pretty much say it all; e.g. You're Teaching My Child What?, which argues that sex ed is "based on liberal lies and politically correct propaganda that promote the illusion that children (yes, children) can be sexually free without risk." It's Grossman's proud boast that "my priority is to keep people out of the offices of doctors and therapists," and it's hard to get too bothered about her five-part "Parent Survival Guide" tied to the film's release, which unsurprisingly relies on sexual panic and shaky analogies to drive home the dangers at stake when people are given too much freedom of personal choice. Her mocking comparison to show how wrong that would be: "By her own choice, Anastasia went on a diet of cheezwhiz and gummy worms. No one pressured her, she could have picked other diets. So the decision was right for her."
There are, of course, Christian-minded broadsides against the film. There's the self-explanatory "Don't Let 'Fifty Shades of Grey' Lead Your Daughter Astray" ("lust does not equal love") and an admirably pedantic variant by one David Kyle Foster. Evidently Hebrews 13:4 ("Marriage is honorable in all, and the bed undefiled: but whoremongers and adulterers God will judge") has been used by Christians who are fans to defend their consumption, but Foster isn't having it. "The Greek word 'amiantos' actually means 'undefiled in the sense of being kept pure' and most decidedly NOT in the sense of 'do whatever sex act to each other that you both agree to'"; there you have it.
Also down on the credibility scale, though for an entirely different reason, is the Christian romance Old Fashioned. Shot in Ohio in 2011 — i.e., before or during the release of the books — it's apparently a quite terrible movie about good old-fashioned courtship, with its moral views spouted by a protagonist (the film's writer/director Rik Swartzwelder) so dedicated to purity he makes a female tenant stand outside the room while he fixes her stove, because he can't be left alone with any woman who isn't his wife. Cf. Charles Bramesco at The Dissolve for a sample of what's on tap: "Clearly moved by his purity of heart, she agrees to marry him and sets to work proving her worth to him through a series of preposterous challenges. At one point, Clay demands she demonstrate a serviceable knowledge of how to cut a pear for a baby's consumption. Amber, the inexplicable good sport, goes for it." In fact, positioning itself against 50 Shades as the morally superior alternative seems to be all Old Fashioned has going for it: note this compare/contrast trailer, this even creepier animated infomercial comparing Old Fashioned and Grey's protagonists while appealing to the controlling patriarch ("Dads: which man is right for your daughter"), and Swartzwelder's hard sell in this trailer: "We're picking a fight with the schoolground bully, likely to get our nose busted in two." Why go "toe to toe in a David vs. Goliath standoff with a cultural juggernaut?" You can probably guess the answer.
The people with the most immediately pragmatic reason to curse 50 Shades may be the poor employees at the UK hardware store chain B&Q. In an internal memo, workers were urged to familiarize themselves with the novel and warned that "when the book was released in 2012, DIY and hardware stores in the UK and US reported increased demand of certain products and queries from customers as they tried to recreate their own 50 Shades experiences. We need to be prepared for the same effect when the film is released this month" and be ready to "encounter increased customer product queries relating to rope, cable ties and masking or duct tape." But let's leave the last word to Catherine Robbe-Grillet — widow of the late Alain, whose own sex play limits are set at "irreversible blood loss." Neither she nor her partner cared for the books ("The French translation was poor literature and Beverly, who is an English speaker, agreed that the English one was too"). There are, admittedly, "spicy bits," and when she went to sex shops after the books' release, she noticed an increase in bondage purchase, but not one she's impressed by: "People were buying handcuffs which were furry or velvet."