Back to selection
How Do You Take a Meeting? Learn How at the IFP's Made in New York Media Center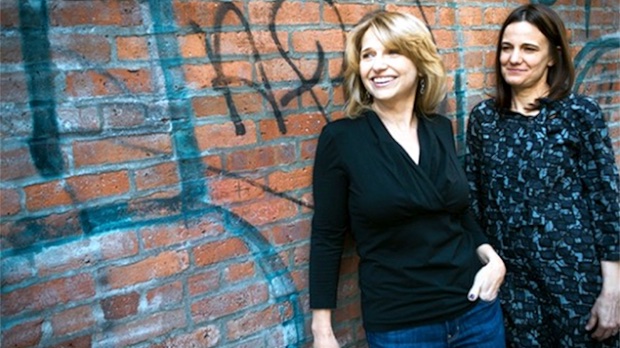 Anne Hubbell and Amy Hobby
There are resources to help you pitch your screenplay, and even articles for writers and directors on how to behave at a general meeting, but a broader discussion of how producers, directors and anyone else in the film business should play it when work talk moves off email to IRL is strangely absent from our tutorial landscape. Our friends at Tangerine Entertainment, Amy Hobby and Ann Hubbell, aim to change that with their workshop, "How to Take a Meeting," occurring at the IFP's Made in New York Media Center on March 3. Full information is below, and note the special discount if you enroll in this workshop along with the upcoming "The Art of Film Finance."
As the fictional agent Bob Sugar explains in Jerry Maguire, "It's not show friends. It's show business." It is sometimes difficult to remember, but even in our cozy indie film bubble, this is true. We are lucky to be a part of a community of fun, creative people. But that community exists because of the media we all work so hard to create.
Moving your idea from a concept to reality requires collaborators and money. Being prepared to discuss work in a scheduled meeting or on the fly at a cocktail party is crucial to success. We have learned (sometimes the hard way) to be ready for anything.

Before important meetings we always make sure to research credits and backgrounds of the people we are talking to. We often have an internal pre-meeting and make notes or an outline of important points to stress. And we are always up to speed on other projects should we need to switch gears and pitch something other than the original idea. We are looking forward to sharing some strategies, success stories and missteps in our upcoming workshop. Come prepared to participate!

Tangerine Entertainment's Anne Hubbell and Amy Hobby, producers of such films as Gayby and Secretary, and administors of the Juice Fund for women directors, lead "How to Take Meetings: Producers Tips for Filmmakers" on March 3 at the Made in NY Media Center by IFP. Tickets are only $30 for IFP members. Sign up here.

Producer's Special: All participants of How to Take Meetings or Women at the Helm: Documentary Producing for Impact (Feb. 28) get a $15 credit for Art of Film Finance workshop (March 7). Sign up for either of the earlier workshops and receive a discount code via email!