Back to selection
Meta Hairy: David Robert Mitchell's It Follows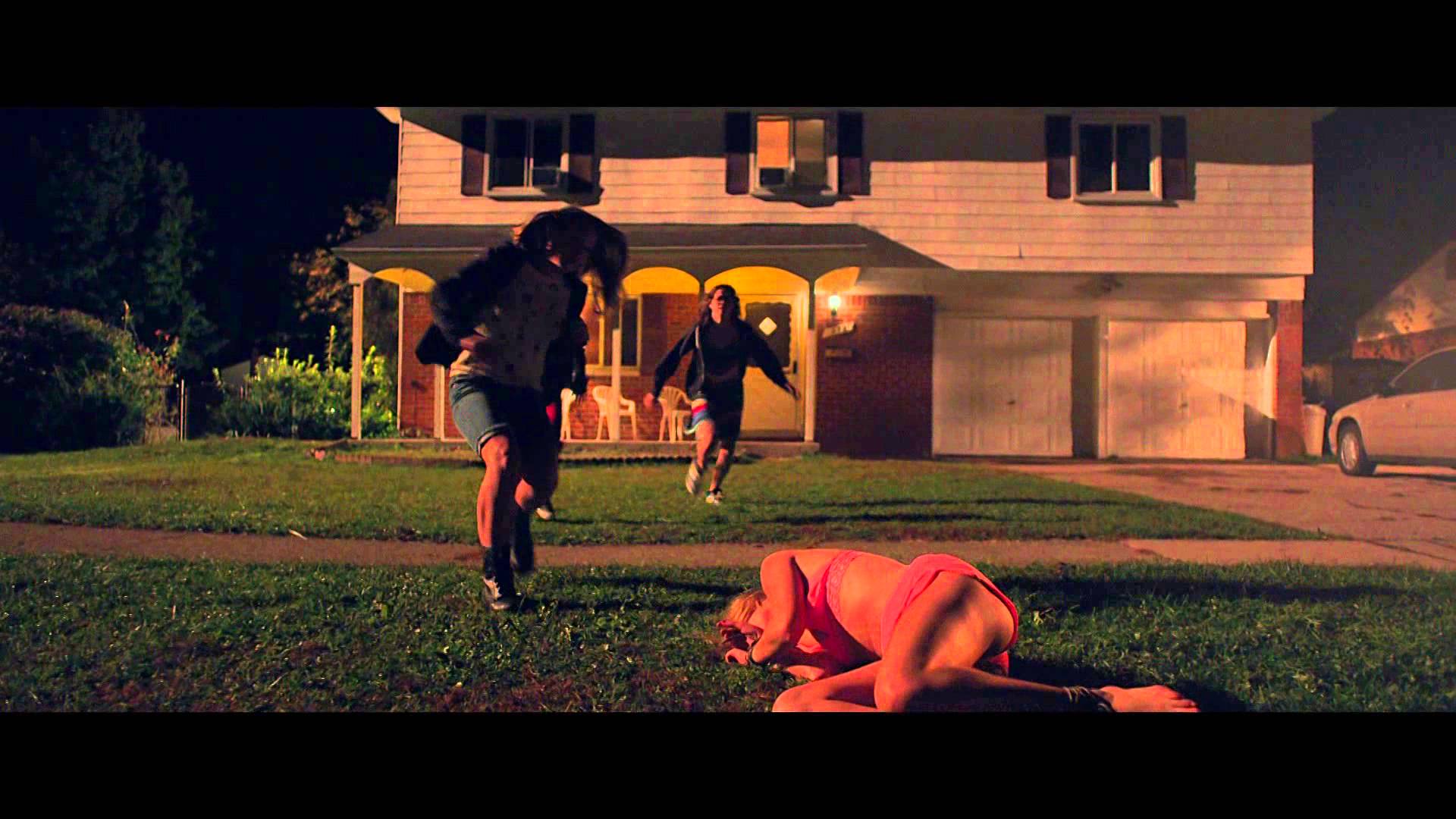 It Follows
Unlike dopamine-inducing mood enhancers, the opening sequence of unique hybrid It Follows aims for atmosphere, not climax — though that, too, will come. It is cinematic foreplay, simultaneously tease and microcosm. Over the span of several minutes, David Robert Mitchell succinctly anticipates not only the plotline of the narrative, but also its themes and infrastructure.
He privileges ambience over character development even more in this genre-bending teen/horror movie than he did in 2010's Myth of the American Sleepover, the film about growing pains and friendship among youth in suburban Detroit that put him on the radar of film scene machers. Myth was primarily a festival jewel. Having further honed his craft and fulfilled his promise, Mitchell has pierced the thick-skinned perimeter of the brothers Weinstein. He can only advance.
The first shot: The camera pans 360 degrees on a single block in a stiflingly quiet, petit-bourgeois neighborhood, once again in suburban Detroit. It pauses, however, at 270, shifting our focus to a flailing teenager in panties and t-shirt flying out her front door, screaming as if being chased. By the time the circular movement is complete, the panic-stricken girl has returned, reemerged with car keys, and, still clad only in undergarments, sped off. She arrives at a lakeside beach. A shot the next morning reveals her torso lying across the sand, one leg bent in the wrong direction. All the while, synthesized music swells, ominous chords frequently held.
Then, a drastic cut to total silence and the calm of a backyard swimming pool, in which floats the chief protagonist of the related, more detailed story. The filmmaker has seductively pulled us into the chilling main narrative, and will play us yet again with an ending as open as the intro episode is closed. According to Godard's well-worn maxim, "A story should have a beginning, a middle, and an end, but not necessarily in that order." It Follows may be more or less chronological, but the master would surely tip his hat to Mitchell's heady, self-reflexive revision of all three.
At the center of both pool and tale is Jay (Maika Monroe), an attractive blonde college student who lives with her family in the same lily-white enclave as the teen in the prelude. She is relaxing before a big date with the older, handsome Hugh (Jake Weary), a guy she assumes to be, in other ways, like everyone else in the area. We next meet her close pals: bespectacled, non-glam Yara (Olivia Luccardi); rational Paul (Keir Gilchrist), a nerdy younger boy Jay has known since early childhood; and sharp, high-school-aged sister Kelly (Lili Sepe). Mitchell effectively immerses us in the sacred arena of teen friendship. Particular to that phase are trust and information sharing, and at least in this film, none of it is abstract or elevated beyond the immediate. Other than being a native of Detroit, Mitchell is obviously smitten with a peer group and location duplicating those in Myth.
Immediately after Hugh unceremoniously dumps Jay in front of her home once the rendezvous-turned-nightmare is over (no spoilers here, but you won't forget it), her sexy, self-satisfied classmate-neighbor Greg (Daniel Zovatto) comes into the picture. Her enervating encounter with Hugh and Greg's comforting presence are catalysts for sparks of desire, with Jay at the apex of a triangle including both Greg and Paul. Atypically for teen flicks, sex among the trio is fairly pleasure-free, especially for Jay, who performs like the cold wife in I-have-a-headache jokes. Eros is incidental to the true reason for intercourse: transmission to another of even a pinch of an amorphous monster that takes on human form and guarantees a violent demise. Sex is the only way to shake it; exposure moves down the line of participants, like a chain letter. Although Hugh consciously passes it to the unknowing Jay in the back seat of his car, both Greg and Paul know the risks before indulging.
The metaphor for hazardous sexual intimacy is on the surface, but this is not necessarily the film of an abstinent or an AIDS activist. Yes, unprotected sex in real life flaunts danger, but here the issue is peripheral. This is the conflation of fright and teen subculture by a knowledgeable cinephile/director besotted with both.
Mitchell's approach to horror is novel. First and foremost is the monster, obvious only to the infected in such forms as a urinating woman holding her breasts, an old, shuffling lady in a white gown, a naked man on Greg's roof, an otherwise nondescript fellow with a beard, and a simulacrum of Greg's mother, who knocks him out, then mounts him. Mitchell adds a less toxic layer of clips from old horror films the buddies watch: Killers From Space, Voyage to the Planet of Prehistoric Women. A democratic film lover, he references Charade, a classic rom-com, in a scene during the doomed date in which Hugh takes Jay to a restored movie palace, where he first hints about his odd visions.
Arguably the most rabid terror of all is the off-putting suburban civilization the characters inhabit. Mitchell ratchets up the mild contempt-with-affection quotient with graceful tracking shots — for example, along a kitchen counter piled with appliances and time-saving food cutters not unlike the ones cheesily promoted on late-night TV — as well as more static symmetrical shots on the streets and sidewalks in front of charmless, utilitarian residences. He films mostly in long shot, filling the widescreen frame with signifiers of a lifestyle from which these young people should run as they would from phantoms.
Mitchell keeps the storyline loose, open to surprise. To support it, and for motility, he opts for recurring leitmotifs. Most prominent is water: pools, a lake, a heavy thunderstorm. Then there are medical facilities, or at least bloody wounds, that point to sickness in the sterile milieu, emblems of the monster's impact and a barren culture, respectively. Scenes of driving abound, most often when Jay flees a site where she's spotted one of them. Interwoven, the leitmotifs dispatch the narrative through an open conduit. After blowing the head off a scary woman coming for her by the lake, Jay jumps in a car, proceeds to crash into a corn field, and wakes up in a hospital bed, arm in cast, big bandage on her forehead. Yara is injured later in an inventive climax in a natatorium, part of an abandoned school (oddly, chosen for its history as the location of Jay and Paul's first childhood kiss), and ends up in the same place to heal. There she holds court for her confidants, babbling in teen-talk — a marker Mitchell records in other scenes as well. He does not make fun: He is an engaged, non-judgmental observer.
The execution of a singular vision, It Follows is nonetheless a collaborative project. Cinematographer Michael Gioulakis does exceptional work with a mobile camera and with lights, the latter more for building emotion than for strictly defining facial features. The long shots strengthen the dramatic impact of that rare close-up, such as Jay's facial tremors — a visual match to Disasterpeace's electronic track that pounds, then halts in a nanosecond. The musical compositions are haunting or soothing, as required. And the actors: These relatively green talents restrain their interpretations, the better to foreground Jay's frequent freakouts and the near-perfect choices Mitchell makes all the way through.