Back to selection
"The Need to Crowdfund is a Major Curse, Indeed": The Yes Men on the Changing Funding Landscape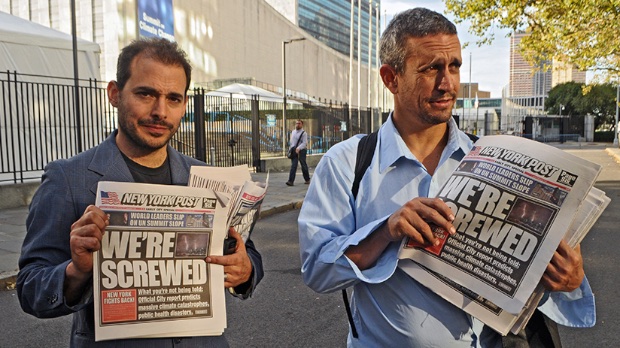 The Yes Men are Revolting
Over at the Creative Capital blog, Andy Bichlbaum and Mike Bonanno of the Yes Men have posted a sober essay about the changes they've seen in the documentary funding landscape since 2000, when they received one of the organization's first grants for their feature, The Yes Men.
Two films and 15 years later, the two are still at it — creatively agitating for social change while producing actions and making documentary films. Their latest film, The Yes Men are Revolting, directed with Laura Nix, opens June 12, and it mixes their trademark anarchic political humor with more ruminative passages reflecting on aging, parenting and contemporary activism. The film opens with the two being sued for one of their pranks by the Chamber of Commerce, who argues that their activity is not political speech but the business of making movies. That lawsuit is settled, but if it weren't, the Chamber could be directed to the Yes Men's Creative Capital blog post, where they detail just how little of a business filmmaking has turned out to be. Filmmaker has certainly preached a DIY gospel for years, and we've urged directors and producers to crowdfund and cultivate social media. So, the palpable fatigue expressed here is bracing:
Crowdfunding is considered a blessing, because it enables you to raise money when all other revenue streams are dry. But it's also a curse: instead of making the film, we find ourselves making Kickstarter videos and running campaigns, sometimes before we even know exactly what the film's going to be.

When we're doing all that, of course, we're not making a film. We slowly drain our social capital as we beg our Facebook friends (even the destitute ones) for money. We think up products to give out as rewards. We operate a mail-order store, shipping and making things.

All that is just fine if your intent all along is to sell some product or other: it's probably no accident that the top-funded projects on Kickstarter are smart watches, fancy beer coolers, and the like. But if you're trying to make a difference in the world, be it in the realm of poetry or advocacy, the need to crowdfund is a major curse indeed. It can even force a kind of self-censorship, as you try to tailor your work to raise money, instead of what it should do.

Worst of all, because it seems from the outside to work, crowdfunding allows us to accept a situation in which public grants are non-existent. Why mourn the loss of the NEA and the like? The real answer is: because artists and activists must now spend the bulk of their time cajoling a crowd, rather than challenging them.
In the piece, the two filmmakers reflect nostalgically on that Creative Capital grant. Indeed, their essay reminds us, it's as important to support our non-profits and to lobby for arts funding as it is to every so often throw a dime in the digital tip jar.