Back to selection
Deep Pockets, High Ambitions and In-Development Projects at the Riviera Maya Film Festival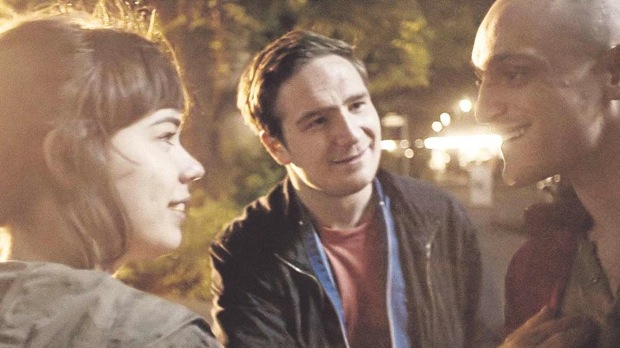 Victoria
The Riviera Maya Film Festival (RMFF), which takes place throughout Mexico's beautiful, tourist-ridden state of Quintana Roo, seems to have unfathomably deep pockets at its disposal. I was flown in for its fourth edition as a representative of the True/False Film Fest and housed, along with several dozen other industry delegates, in Hotel Cacao, the poshest place I've ever slept. Over the course of a few days, I was relieved to discover that the festival wasn't just blowing resources on lavish guest accommodations. Its organizers seem ambitious, practical and equally committed to serving two communities: those who reside in Quintana Roo and those who create formally ambitious cinema, especially within Latin America.
As at Cartagena and AFI Fest, RMFF public screenings are free. I spent most of my time at the Cinemex Centro Maya, a nondescript multiplex tucked away behind a shopping mall food court. Twenty minutes before each screening, a line would casually form in the theater hallway. Depending on the time of day, we would fill half or three-quarters of the theater. The program introduced dozens of festival favorites to Mexico while also spotlighting new Mexican films through its competitive Mexican Platform section. Young local audiences seemed particularly keen on supporting their own national cinema. After a well-attended screening and discussion of the Mexico City-set documentary Muchachas, the audience collectively groaned at the news that the theater's subsequent screening of the Mexican film La Maldad (deemed "an aesthetically potent experimental feature" by The Hollywood Reporter) had been replaced by David Gordon Green's Manglehorn. La Maldad, which screened to industry members as a work-in-progress at RMFF 2014 before world premiering at the 2015 Berlinale, later took home the Young Jury Prize.
In a sign of just how much it's grown since 2012, the festival also hosted the first North American screenings of two Berlinale successes, Jafar Panahi's Golden Bear-winning Taxi and Sebastian Schipper's Victoria (another, Terrence Malick's Knight Of Cups, was announced but later withdrawn from the lineup). I regrettably missed the former but was fortunate to catch a screening of Schipper's film, which follows a young, Spanish cafe worker (Laia Costa) as she exits a night club and runs into a charismatic, mischievous group who promise to show her the real Berlin. For an hour, they roam the streets, drunkenly flirting with one another and committing petty crimes. Then, inevitably, a more conventionally compelling plot line kicks in, and Victoria turns into a thriller. Schipper's film consists of a handheld, 134-minute-long single take, and like Richard Linklater's Boyhood, it will likely be one of the festival circuit's most heatedly discussed films. Disagreements won't revolve around the execution — cinematographer Sturla Brandth Grøvlen's stamina is extremely impressive, and his impulses are on point — but the concept: is its camerawork a gimmick, an innovation or neither?
For this nonfiction-oriented viewer, Victoria exhilarates because it's harnessed to reality. The film's narrative plausibility is up for debate, but its novel technique forces it to adhere to real world time and geography, which imbues a thrilling sense of spontaneity. Early on, there's a fleeting moment where the camera starts to lose contact with its subjects, and I briefly believed the operator would ditch them altogether and step inside a corner bar. Alas, Victoria is not that radical, but it's easy to imagine other filmmakers following its lead and taking the concept to new places.
RMFF flew me in to participate in the burgeoning RivieraLab, which supports projects in various stages of production. As with the festival slate proper, it is remarkable how quickly RivieraLab has established itself as a major player in Latin America's festival landscape. This year's edition attracted programmers from Locarno, Rotterdam and the Berlinale, as well as sales agents such as Urban Distribution International (Las Acacias, El Premio, Stray Dogs) and FiGa Films (Neighboring Sounds, Bad Hair, Our Beloved Month of August).
In the first half of the RivieraLab, the Coproduction Forum, industry members meet one-on-one for twenty minutes with the teams behind nine in-development projects. Concurrently, those teams meet with three jury members, who award one project with 200,000 pesos and another with 100,000 pesos. The Coproduction Lab lineup was tightly curated, almost exclusively focusing on idiosyncratic Latin American cinema; the one English-language project came from Michigan director Joel Potrykus (Ape, Buzzard). The jury wisely celebrated two young but proven talents: Spanish director Lois Patiño (Costa da Morte, which peppered the 2013 NYFF Views from the Avant-Garde slate along with other shorts), and Chilean director Camila José Donoso, whose Naomi Campbel screened at CPH:DOX and Art of the Real.
If I were choosing, I'd have been very tempted to gamble on Oldguns, a fascinating project from Monterrey-based brothers Ángel and Leo Marz. In the '80s, Mexican drug lords bankrolled an extremely successful film genre called the "Cabrito Western," which resembled Spaghetti Westerns and served the same purpose as narcocorridos. The Marz brothers tracked down a famous Cabrito Western extra who worked alongside one of the genre's most famous producers. Now they're following and abetting him as he embarks on a project that sounds extremely risky and potentially very exciting (sorry to be coy, but I suspect I should stop the description here).
The second half of the RivieraLab takes place in a nearby movie theater, where the same industry members gather for seven work-in-progress screenings. Most of these films are nearing the finish line, with their eyes set on festivals such as Locarno, Toronto and Venice. In past years, this program gave visiting industry the opportunity to see rough cuts of since well-traveled titles such as Matías Piñeiro's The Princess of France (Argentina), Ana Guevara and Leticia Jorge's So Much Water (Uruguay), Mark Peranson and Raya Martin's La última película (Mexico/Canada/Denmark/Philippines) and J.P. Sniadecki's The Iron Ministry (China / U.S.).  One of this year's two work-in-progress winners, Jerónimo Rodríguez's The Monument Hunters, is already set to world premiere at FIDMarseille in July. Unfortunately I missed the other winner, Joaquín del Paso's Maquinaria Panamericana, which seemed to be the consensus pick going into the awards ceremony.
Of the work-in-progress screenings I did attend, I was most impressed by Mexican director Juan Manuel Sepúlveda's The Ballad of Oppenheimer Park. Sepúlveda focuses on a community of Aboriginals who find shelter in a Vancouver park. His film never leaves that park, and his central characters are frequently inebriated. He attentively captures many striking, intimate scenes that ultimately give a sense of how this community operates: its day-to-day joys and struggles, its slippery interpersonal bonds, its societal frustrations.
With its colorful, tortured, vividly drawn characters, as well as its unflinching curiosity and sensitivity, the film reminded me of Gianfranco Rosi's Slab City portrait/masterpiece Below Sea Level (2008). In the version of Oppenheimer Park we watched (and just to reiterate, I am discussing a rough cut), Sepúlveda offers a few sentences to contextualize his presence and purpose by denouncing the word "empathy," explaining that he's in no position to be empathizing with subjects who have faced an oppression that in no way resembles his own upbringing.
This pronouncement rankled part of the room. One particularly outspoken man said he was frustrated by the film's "hopelessness." He asked what audiences were supposed to do about the subjects' plight and mentioned another documentary that very successfully treated its impoverished protagonists as charity cases. By focusing exclusively on the pain of Oppenheimer Park, this man seemed to ignore the beauty that Sepúlveda also evocatively captured. His specific complaints reflect a general crisis facing nonfiction cinema in this era of the obnoxious activitist documentary. Many of nonfiction's gatekeepers are hellbent on indoctrinating a patronizing gaze that reductively presents human beings as evidence (be it as erudite fact-deliverers or, worse, piteous proof of an epidemic). The hope, I gather, is that these talking heads' damning facts and upsetting testimony will inspire policy change. The residents of Oppenheimer Park will stay with me longer.
Enough venting. How about a film that manages to please and then, perhaps fruitfully, frustrate both sides of this argument? The straightforward, cleanly executed Mexican documentary Muchachas, which screened in the festival proper, also opens with brief contextual narration. Director Juliana ("Juli") Fanjul Guión tells us that Reme, her well-loved family housemaid of 22 years, was roundly ignored after the death of the family matriarch. Guión then realized she knew very little about Reme and the two other housemaids who surrounded her during childhood. Over the course of the next hour, she converses with them about their lives as they go about work at their current housekeeping jobs.
Guión is clearly a talented filmmaker. Muchachas' editing is sensitive to the rhythms of conversation. Its unfussy, entrancing compositions give equal weight to their subjects' domestic routines and expressive faces. When one subject starts to tear up, Guión's camera wisely stays put. As the film nears its finale, it seems to have gently and effectively made a sweet but simplistic argument, namely that Mexicans should disregard class barriers and truly treat housemaids like family. And yet Guión complicates all this in a startling exchange during the film's final stretch. After a series of conversations largely revolving around very personal matters (e.g. upbringing, home life, relationship with bosses), the topic suddenly switches to societal barriers, as Guión asks one of her subjects to discuss the Spaniards who invaded the country and raped indigenous women centuries ago. "I think that nowadays, Juli, in order to rape a woman, you'll have to dope her or tie her up," the subject responds. Guión asks, "And back then?" Her subject responds, "Maybe women liked it. Imagine a tall blue-eyed white man. Not bad, hey? I think they liked it." I can't help but wonder how she would respond to The Hunting Ground.