Back to selection
"Hollywood is a Town that Especially Wants Women to be… Not Human…": Caitlin FitzGerald Talks Acting on She Does Podcast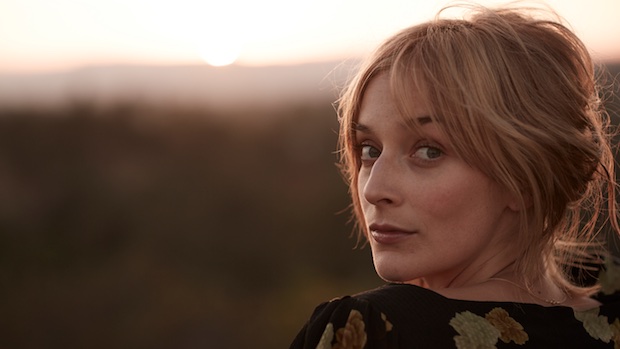 Photo by Mathieu Young
Caitlin FitzGerald, writer and actor, is one of Hollywood's emerging talents. She may be best known for her role as Libby Masters on Showtime Network's Masters of Sex. The series, which is currently in its third season, is set in the late 1950s and is a drama centered around the true story of the pioneers of the science of human sexuality. You may have also seen FitzGerald in the feature films It's Complicated, Damsels in Distress and Newlyweds, and TV shows including Gossip Girl, How to Make It In America, and Law & Order: SVU. Additionally, FitzGerald co-wrote and starred in the feature film, Like The Water, which was filmed in her hometown of Camden, Maine. Caitlin talks about the ups and downs of Hollywood and her love of live theatre. She encourages you to choose yourself, remove "weakness" from your vocabulary and live for the journey, rather than the "I made it" moments. She's a thoughtful soul that is sure to make you appreciate the role of an actor in our society.
5 Takeaways
Remove the word "weakness" from your vocabulary
Our culture is so oriented towards success and achievement and very little towards process. In my work and my life, because they inform each other always, there are things that I will work on my whole life and I'm really trying to embrace all of myself. These are the stories that I want to tell and the stories that are compelling to me, where we see people who are really human. Hollywood is a town that especially wants women to be sort of…not human, actually. And wants to deny a whole part of their humanity and their messiness and their complications and their aging and fat and cellulite and on and on. So, I'm trying to just take up my space and say, "Yeah, I have cellulite. It's cool." Because I'm a human. What happens when we start telling those stories for the next generation of girls. And for all of us. That really matters.
The balancing act of becoming period drama character Libby Masters
Hair and makeup is about two hours, all told, every morning. I have a team of really, really talented individuals who do it, but it's full on. I'm a pretty low maintenance girl from Maine. I don't own a blow dryer. But women could have run the world, cured hundreds of diseases, done everything, if we weren't so busy getting ready for millennia. Especially in the 1950s. To be Libby Masters takes so much work. I was a kid who grew up reading fashion magazines, and I love clothes, I always have, but it can become such a full-time job. It does feel like I got on this TV show and then suddenly I'm expected to be a certain kind of actress on a very specific kind of trajectory, one that is very well worn and doesn't feel entirely authentic to who I am. So, I'm still really in this negotiation of how to play the game by my rules.
You are your character
I get asked this a lot about being an actor: how do you put on another persona in a character? I am really suspect of that because I think we like to believe we're one set person. But actually, I'm different with you guys than I am with my boyfriend than I am with my dog than I am with my mom than I am with my enemy. We have such a range of colors in us, many more than I think we're comfortable acknowledging, right? So many of us are afraid to be rageful women or afraid to be big, or all these things. So, for me as an actor, part of what I love about it is that it's a chance to explore parts of myself. Right? And find how I am a '50s housewife and what resonates for me in this story.
Choose yourself
There's an acting teacher in New York who is really amazing, and he said to me, "Actors choose themselves." That has always stuck with me. I think you could sub in the word "artist" with a capital A. The people that we are drawn to, the real creatives, are people that choose themselves and choose to be authentic and live their particular life.
Find your true north
I feel so lucky. I can't imagine what it is to grow up in the city (Los Angeles) and be in this business because for me, getting to go home to Maine where nobody cares and I don't wear make up and don't wear shoes, it's such an important perspective because this town can be very myopic, so it's good to get out. I would tell actors to find a way to reconnect to the realness because even when you're on an uptick and having success, there will come a moment where it goes away or it changes. You've got to have your feet planted deeply and maybe it changes throughout your life but really be clear about why you want to do what you're doing and if that reason doesn't light you up, it's already going to be a hard road but I think you gotta have the compass, a true north to be moving towards.
Masters of Sex just had its Season 3 Premiere, catch the first episode on Showtime or on Youtube.
https://www.youtube.com/watch?v=OGFjA0WmmgE