Back to selection
"… You Just Have to Remind Yourself, 'I Can Do Anything'": Kirsten Lepore Talks Animation on She Does Podcast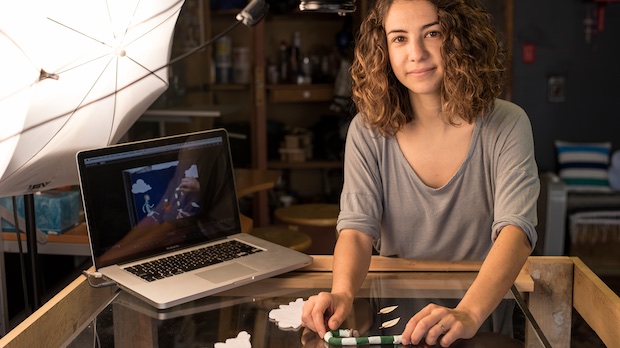 Kirsten Lepore
Animator Kirsten Lepore is the writer and director of an upcoming episode of Cartoon Network's popular show Adventure Time. Until now, a majority of her career has been spent in her garage, which is actually her workshop, carefully moving tiny, handmade characters in the worlds she's built for them. The films she made at Maryland Institute College of Art and CalArts, Sweet Dreams and Bottle, won countless awards and screened at SXSW, Slamdance, the Vimeo Awards, the Annie Awards, among others. She's made work for big names like Google, MTV, Whole Foods, Nestlé and Nickelodeon, upholding her own raw but charming style no matter the project. Kirsten talks about her knack for cooking, the challenges of being a one-woman band, poking a bit at her peculiar side, and stepping into a big director role with Adventure Time. She's a self-proclaimed weirdo and that's the way she'll stay. Here are five takeaways from Kirsten's conversation on this week's She Does Podcast.
The Unnatural Art Form of Stop Motion
Filmmaking makes sense — you can shoot something in a reasonable timeframe and edit it. But something like stop motion, everything that you do is counterintuitive to the way the natural world works. You're trying to recreate the natural world, but in the slowest and most painstaking way possible. You get six seconds of footage a day on a good day. You're fighting gravity. You need a completely controlled work environment. You can't bump a light. You're confined in this space. You're sweating. You're standing up. You're trying to move this puppet, which is always breaking, and it's driving you insane. I always compare it to surgery because you can't leave. You have to be there for eight or 12 hours because even if you take an hour break, then naturally the way the Earth moves, your set will shift and you'll see that in the footage. So stuff like that just to give a sense of this thing coming to life.
The Options Are Limitless
The thing that feeds me about this process is that you can make anything you want. It's that concept that keeps it exciting for me. Sometimes you lose sight of that, but you just have to remind yourself, "I can do anything." That thought can be a little scary, but it's also super liberating. It's scary because since you can do anything you're like, "Where do I start?" That's always the most difficult question. But if you can get a couple ideas together, a material you want to work with, or you just have some inkling of an idea, you can start from there and then make it into anything you want it to be.
The Challenges of Working as a One Woman Band
Every film that I've ever made, all those films I did in school, there was a moment halfway through every single one where I almost quit. I was just like, "Nope, it's not going to happen. Logistically, this is too much. This is too ambitious." And it was always a friend, my mom or the support of one person that pushed me that little bit that I needed to finish. Everything I learned how to do I had to take the initiative and had to teach myself. And there's people that will help you along, but in the end it's up to you to control your own destiny. I think that's the key to success. Someone can't find that for you, you have to find that yourself.
Take Risks in Your Work
There's a lot of stuff that's being re-made over and over again. And I feel it. I feel it in my heart and it hurts because I know so many artists worked on this thing that is just a rehashing of something I've seen a million times. I know that it's not their fault, because they're just the people that were hired to make it and it's some client who's like, "Oh, this was successful once, we'll just remake this same thing over and over again and expect the same result." I mean, not everything can be a crazy original thing. That's why I need to make my own films constantly because I need to make something that is completely breaking out of the realm of what is conventional in this medium. I think it's the things like that, ironically, that would get me and other people like me client work. It's not the thing that looks like everything else that someone hired you to do that's going to get you work. It's the really unique thing that you made for yourself that really showcases something new that's going to get you hired.
On Directing an Episode of Adventure Time… For the First Time.
It felt like the first real experience being the director, the person that calls the shots. Before Adventure Time, I never had a producer or animators under me, or a fabrication team or set designers. I had all of that. I was truly the director. It's a collaboration. Filmmaking should be a collaboration, it usually is, but when you're an animator, it's usually not. I still think I would have had a different perspective on this if it were my own personal film that I was making with a big studio. But because the characters on Adventure Time are pre-established — there's a look, there's a feel, everything is there — I was much more okay with letting go.
Maintaining Accessibility vs. Making Your Work
I usually don't think too much about what the mass audience will think. But at the same time I wonder if it's a sort of chicken-or-egg type thing, "Am I really making the work I want to make? Or am I making work that I know audiences will probably like but I also enjoy making." There's definitely some things that I would want to make that are really off-brand for me that would probably terrify most of my audience. The idea of accessibility is really important to me. I don't want my work to be some really esoteric thing that no one can relate to or grasp.