Back to selection
Memories of Afterdevelopment: John Magary on Making The Mend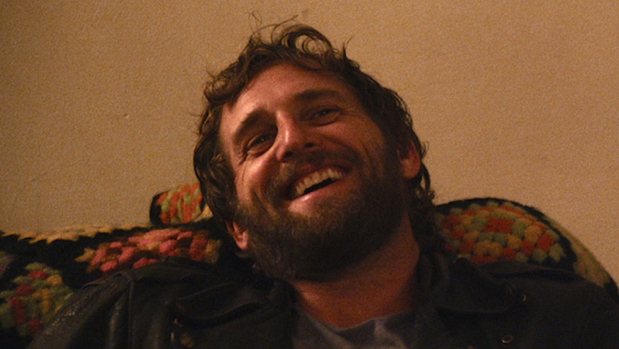 Josh Lucas in The Mend
[Editor's note: The Mend writer/director John Magary has written for Filmmaker before in a critical capacity. Today he contributes an essay about the making of his debut feature, with bonus oral history appended. For information on playdates, click here.]
"This movie…it's a quilt!"
— Russell Harbaugh, exiled roommate
Over about five weeks in September and October of 2013, an unusually sustained period of bright and pleasant weather, we shot The Mend in New York City. The idea early on, before the first index card was pinned up, was to make something makeable. "Makeable" is a funny word, an aspirational spin on "possible," and it's tossed around a lot in the independent film world. It's not a very descriptive word — all things made, after all, from the atom bomb to Zardoz, were deemed, by someone at some point, to be makeable — but it sounds better than "cheap," which is really what, in this context, it means.
The Mend was, by most rational measures, a cheap movie to make. The core ensemble was small. The crew was predominately young. There were precisely two short scenes involving moving automobiles. There were no live animals except for a tiny mouse, saved by our production from his fate as pet store snake food and kept for over a year after production until his death from what appeared to be a massive brain tumor. He was named Friend Dan, after our assistant director, Dan Taggatz.
The film was shot over 25 days, 17 of them in an 800-square-foot two-bedroom apartment. The apartment, I should point out, was occupied at the time by my partner and one of the film's producers, Myna Joseph, our friend and story co-writer, Russell Harbaugh, and myself. It is currently, some two years later, occupied by same, minus Russ.
At the time I wrote The Mend, I was getting desperate, feeling the days scream by, starting to wonder if I would ever step over the confounding narrative/professional threshold into feature filmmaking. (Still wondering.) I'd spent several years working on a self-consciously Large script covering forty-five years in the life of a single mother in New Orleans, and the whole ordeal just got very big and scary. It started to read like a thick stack of blueprints for a skyscraper that would not be built in my lifetime.
So I ran towards something makeable. And what's easier than shooting in your own apartment? This is well-trodden Indie territory, right? Resources are limited, so you might as well have some major characters share enough of a similar background to your own that they would live in your apartment. Wait, could a lawyer live here? Like, a not terribly successful lawyer? Sure, why not.
The small director-owned apartment is the king of write-what-you-know settings. Furnished, locked off from strangers, loaded with familiar quirks and vetted power outlets. Even as renters—or especially as renters—we could safely, and with a clear conscience, treat the "set" basically like garbage and worry about it later. We repainted the walls, painted over our (gasp) exposed brick. We put up wallpaper. Swapped out chairs. Ripped out the breakfast counter. On the living room ceiling, we attached a large, custom-constructed light rig. Everything was so self-contained and planned out. It was like a low-budget movie set bento box.
It's strange to look back at the past four or so years—the time it took to construct this skyscraper, from development through post-production and distribution—and see that the shoot took up such a small portion of time. Production looks like a crazy, blurry blip now. The hazy night before a long hangover. A time before the lonelier period of editing and cobbling together post-production funds, a time when our lives were so insanely full.
Of course, the shoot is when most of the money is spent, so it can't last forever. I hear about some fat 100-day production, and once I've made it through the shooting migraines of jealousy, I think, "Well, that's the way it should be done." With 100 days shooting can occur comfortably in tandem with editing and re-writing and more shooting, and the whole thing blends like a lap dissolve. With five weeks, it's more like a shock cut. The problem is, to get 100 days of shooting, you need to exploit the shit out of people and/or have easy access to tens of millions of dollars. We had yet to accrue the needed money and/or sociopathy.
We were so young and naïve and sleep-deprived! Well, not young, really. So much from the film has closed or died or faded into obsolescence. Not just the mouse. There's the bar on 145th Street, M & S Front Line Company. There's Lit Lounge, soon to leave the East Village. There's the iPhone 4s, used as props. The e-cigs, quaint precursors of the currently more fashionable and psychotic-looking "vape" pipes.
And there's the house we live in, now in the process of being sold. We'll be able to live here for a little while longer, we think, but our neighborhood has officially caught up with the rest of Manhattan's hyper-development. It makes sense — it's a beautiful neighborhood.  
Things change, apparently.
When I look around the apartment now, I can see traces from those fevered weeks. The wallpaper's still there. A purple flower curtain—brought in mid-shoot as a replacement for another curtain, the fine patter of which was causing "moire" in the footage—still separates the bedroom from the closet. The kitchen's still painted Pale Avocado. The living room's still painted Navajo White. And there remain rectangular smudges on the living room wall, from that custom-constructed light rig. Myna and I have been busy the past couple years, not just with The Mend but with enduring adulthood and making rent, but a part of me thinks maybe we just let some artifacts from production linger to remind ourselves that the shoot did actually happen. It happened, and so the movie must one day exist. When it's out there, released like a field mouse from the claws of a hawk, then maybe we'll finally paint over that awful Pale Avocado.
******
Below is a kind of pre-emptive oral history of a movie you probably haven't seen yet. Here are some memories from the cast and crew of The Mend:
"Apparently the most tragic mornings are the ones with a 5 a.m. call time for 60 unpaid extras. Never in my life had I been informed of so many sudden illnesses, deaths in the family, and car accidents occurring at the same time."
— Lana Yang, Associate Producer
"I remember after a long overnight shoot, a few of us stumbled into a subway train, so tired and ready for bed. Then all of a sudden the man across from us shits his pants and everyone runs to the next train. It was amazing."
— Samantha Sherman, "Jodi"
"Someone from production brought me an egg and bacon sandwich every day. One morning, Josh Lucas sat next to me on the front stoop — we would often sit on the stoop in the morning and talk — and said, 'What the hell, how do you get this sandwich every morning and I'm looking for food?'"
— Cory Nichols, "Ronnie"
"There was makeup in the kitchen, food in the living room, wardrobe in a bedroom. And the dining room was actually used as a bathroom. At least that's how I used it. I am truly sorry if I misunderstood that."
— Todd Stone, twin brother of Adam Stone; played "Russell"
"I spent most of my evening acting as a liaison messenger between the Stone twins. They were very concerned about each other when they were separated."
— Mickey Sumner, "Farrah"
"If the actors ever got confused about what they were saying, John would look at the sides and make this kind of stunned, perplexed face. Like he was just as surprised at what was written there."
— Micah Bloomberg, Sound Mixer
"I remember thinking, John is so specific about music, I better see what he's going for in this movie, so I went up to him and asked, 'John, what are you thinking about music for the film?' and he replied, 'I see a lot of music,' and that was it."
— Joseph Krings, Editor
"I remember walking through the feast of San Gennaro and having huge Italian dudes throw their arms around me, look in the lens and give the thumbs up. Thanks for the vote of confidence, Italian guys."
— Stephen Plunkett, "Alan"
"I was sleeping on a hot set so I couldn't leave anything anywhere. We had this little hidden spice shelf in my kitchen that was designated as my shelf, the producer's shelf, and I also carried and packed a bag everyday—in my own apartment…
"During the night-long party shoots, Austin Pendleton was this incredible force of good energy, and everyone was electrified by his presence. Austin is such a pro, and so adept at making himself comfortable wherever he lands. One of the skills he has is that he can sleep on anything, anywhere—even between takes. Before a take, I'd poke him on the shoulder and he'd just get right back into it…
"I had tell all the crew to stop apologizing for being in our personal space—like, being in my closet, or bedroom, or bathroom. I'd tell them we chose to do this to you, and I'm sorry for putting you in this weird position in my bedroom closet. I'm fine with it, so you need to find a way to be fine with it."
— Myna Joseph, Producer
"Every member of the cast and much of the crew took a nap in John and Myna's bed at least once during the shoot."
— Lucy Owen, "Andrea"
"I recall Myna bringing in this girl off the street, in the middle of production, crying from having just had some scary encounter with her boyfriend, letting her stay in the apartment just so she could have a place to calm down and someone to talk to."
— John Henri Coene, staff PA
"My wife went on our honeymoon without me because I chose to shoot The Mend. And because the commute from Brooklyn to Harlem in the early morning was so brutal, I slept on John and Myna's floor, surrounded by C-stands. I would wake up each morning at 5am with a series of photo texts from my wife of Kauai sunrises and beaches, and seriously consider if I had made the biggest mistake of my life."
— Chris Teague, Director of Photography
"For a few of the final shoot days, I was away at my own wedding. On returning for the final days of production, I was on a tear, unusually gruff, telling our production staff things like, 'Make a to-do list, review the to-do list, and do the things that are on the to-do list.'"
— Michael Prall, Producer
"When there was yelling and banging, I wasn't sure if it was the film or real life…most likely both."
— David Cole, downstairs neighbor, "David"