Back to selection
Why the Kickstarter Film Festival is Expanding to 32 Screens for its Fifth Edition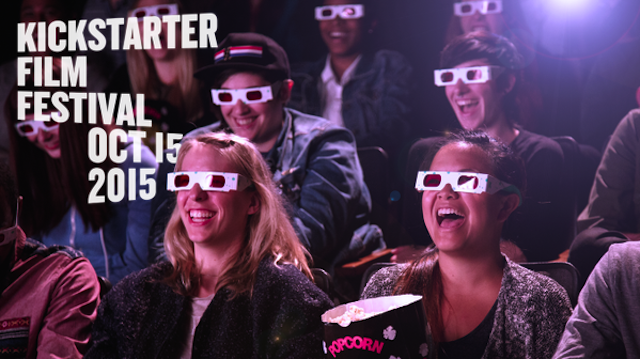 Previously, the Kickstarter Film Festival showcased everything from feature film excerpts to apps funded on the site over the course of one evening in Brooklyn, Los Angeles and London. For the 5th edition, Kickstarter has pared down the lineup to include two features and three shorts, while expanding their geographical reach, as the program will now be presented in 32 screens across the country on October 15, for free with RSVP. Filmmaker spoke to Kickstarter's Film Partnerships Lead Dan Schoenbrun about this new iteration, which seeks to bring the platform's films to their widest audience yet.
Filmmaker: What was the decision behind the move from three cities to a national event?
Dan Schoenbrun: Last year, we did it in Brooklyn, Los Angeles and London, and people came and watched clips and we brought in some food trucks and had live music, but the Kickstarter Film Festival is one of our biggest traditions. We love to highlight the films and filmmakers on Kickstarter, and we had a desire to expand it beyond those three cities, which is just inherently limiting since you can only connect with so many communities. We had the idea, which I really loved, to not only open it in theaters across the country, but Kickstarter-funded theaters. 11 of the 32 theaters that we're screening in have run Kickstarter campaigns themselves. We wanted to really give the films an opportunity to be seen around the country.
Filmmaker: Regarding the theaters that you didn't have pre-existing relationships with, how did you go about getting them to partner with you given that it's a free event?
Schoenbrun: Well, we had a budget for booking and we're paying the filmmakers a fee for opening their films for free across the country. But we worked with Oscilloscope to book all the theaters. We did blanket outreach to Kickstarter-funded theaters, and then with Dan [Berger] and the team at Oscilloscope, we put a lot of the expertise in their hands. They focused on the biggest markets for Kickstarter and finding the right ones for an event like this.
Filmmaker: None of these films have theatrical distributors in the US per se, but What We Do in the Shadows was in theaters earlier this year.
Schoenbrun: Right. Their Kickstarter campaign was to fund their American theatrical release. They worked with Paladin, and the Orchard had the digital ancillary for the film, and it's done really well. But the filmmakers and producers came to us, because Taika Waititi, one of the co-directors, had previously done a Kickstarter to release his film Boy, and they just felt that based on that experience, why would they want to give away their rights? It was by far our highest funded distribution campaign, which is a trend we're seeing more and more of lately. They raised money to hire bookers and publicists to do a holistic release on their own. They were able to tour with it and talk directly to the fans.
Filmmaker: Is there an overlap in terms of cities the film has played in previously and will play in as part of the Kickstarter Film Festival?
Schoenbrun: I'm sure it's played in some before, but I don't know the exact number.
Filmmaker: How did you decide on T-Rex?
Schoenbrun: T-Rex is a film I actually worked on when I was at IFP. It was in the Labs two years ago, and it's a great documentary about the youngest female boxer in the Olympics. It's centered on a great character dealing with a lot of struggles in and out of the arena. It might not have the opportunity to reach audiences all over the country with a traditional theatrical deal, and we feel it really represents the spirit of the underdog story on Kickstarter.
Filmmaker: Did you pair the shorts and features in any particular way?
Schoenbrun: No, not really. The events team and the film team, we all combined forces that we felt would play well in a theatrical environment. We thought about how they would pair a little and how they represented Kickstarter, but mostly it's just about putting great things on screen. For me to be a part of putting a film like World of Tomorrow in all of these theaters, which, in 12 minutes, made me laugh and cry and just bowled me over, is an experience we want to share.
Filmmaker: Because a lot of these films have been in heavy rotation on the festival circuit, did you consider any others that haven't received this sort of widespread attention yet?
Schoenbrun: I think it was really just about finding what we thought would play to a really large audience across the country. Films we think deserve another look. We wanted to put our weight behind films that we thought were exciting and diverse.
Filmmaker: With companies like Range Life and Tuff, self-distribution and touring was growing increasingly popular a few years ago, but it's something one has to commit to. It takes a lot of elbow grease.
Schoenbrun: The trend of people doing distribution campaigns on Kickstarter has been one of the most exciting things for me in the past few years. It goes all the way back to 2011 and 2012 with The Iran Job and Detropia. It's not necessarily new, but we've definitely seen a marketed increase in high profile people saying, "Why would I hand my film over to a distributor when I could be a part of the process of bringing it into the world?" Whether it's What We Do In The Shadows, or David Cross's Hits, which they raised funds to pay what you want in theaters, or Bluebird, Evolution of a Criminal, the Black Panthers documentary — all of these films deserve to be seen in theaters. Filmmakers need money and need audiences and need support from development to putting it in theaters, and this is a great tool for helping them do that. Don Hertzfeldt also funded the Blu-Ray for World of Tomorrow. That's a creative use of the platform because he had these shorts that had never been released in that way, and he had an audience, and he was able to turn it into a communal experience and gain more traction than he would have if he just did a pre-order.
Filmmaker: Was there a reason you settled on only five films?
Schoenbrun: I'm a fan of literally hundreds of films that have been funded on Kickstarter that I see on the festival circuit any given year. Ultimately, in the move away from showing clips and short content, we felt we could make the biggest impact with a small number of films in a large number of places. It was a lot of tough decisions, but we feel we arrived at a slate that represents what's amazing about film on Kickstarter.