Back to selection
Visual Mixtape: Elisabeth Holm on the Kickstarter Film Festival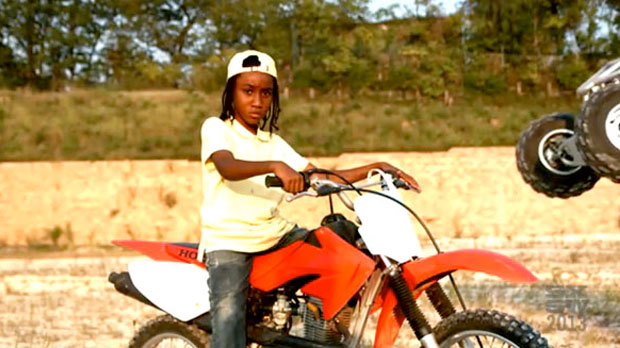 12 O'Clock Boys
The crowdfunding boom has proved an altogether blessing for entrepreneurism, artists and consumers alike, with the role of sites like Kickstarter now extending beyond a helpful platform and into the campaign afterlife. While some competitors are adopting distribution pathways, Kickstarter culls their most prized projects into a festival lineup for added exposure. Submissions are currently open (through May 14) for the Kickstarter Film Festival's fourth iteration, for which any successfully funded, recently completed projects are eligible. And not just films. Last year's fest featured several food options, music and artwork, in addition to notable docs like 12 O'Clock Boys, Everybody Street and Flex is Kings. Filmmaker spoke to Elisabeth Holm, Kickstarter's Film Program Director and independent film producer (most recently of Obvious Child), about curating the occasion.
Filmmaker: With crowdfunding sites, more and more users are becoming concerned about the shelf life of the finished product. Was the festival a means for you to capitalize on the built-in audience that each campaign cultivates? What would be its mission statement?
Elisabeth Holm: The Kickstarter Film Fest is a celebration of the diverse and dynamic work that grows out of our creative community each year. Our staff spends all our days discovering amazing new work through the site, we're eager to shine a light on that work for a wider audience! We've seen over $235 million pledged to nearly 14K film and video projects — thousands of which find homes and audiences at festivals, in theaters, on televisions, and digital platforms around the world. Long after funding ends and beyond the bounds of the website, the festival is an opportunity to continue to support and celebrate work that excites, challenges, and inspires us, to share that work with the world, and to invite that world to come out and meet each other IRL.
Filmmaker: Last year, you showcased not only films but also an app and a restored portrait. How did you go about integrating and exhibiting these 'odd projects out'?
Holm: From features and shorts to webisodes, music videos, restorations, trailers, and more — Film & Video on Kickstarter has always been a space that fosters and celebrates a diverse body of work from emerging and established creators alike. People in all sorts of field are doing amazing things with moving pictures — they aren't just films! — and Kickstarter Film Fest has always reflected that. Cesar Kuriyama's One Second Everyday app captures one moment of every day and weaves those brief glimpses together into a 352-second narrative that just as if not more engaging and poignant than a traditional short film. We don't see this work as "odd projects out," but rather, er, rad projects in.
Filmmaker: What do you look for in the curatorial process? Are you assessing the combined package of campaign and product?
Holm: We selected a handful of work that inspires us — whether that's to see and make things differently, to be passionate, curious, honest, bold, or most of all, to be creative. We're looking for work that moves us and that speaks to the incredible diversity and depth of artists and work we see on site everyday. Last summer one of our favorites we screened was Mr. Grillo, a short documentary about an enigmatic theremin player from Mississippi, who showed up to play a surprise live performance just as the film ended. The crowd went nuts and cheered him on to an encore. (Gotta love Brooklynites.) With this year's open call, we're again reaching out to all successfully-funded creators to submit their work. We'd love to see all they've been able to create through Kickstarter.
Filmmaker: Do you find there are challenges in screening excerpts versus completed products?
Holm: The festival is a kind of visual mixtape, and excerpts are part of that. Of course we'd love to spend weeks screening everything we love, and perhaps next year's program will be longer than one-night, but there's also the cool opportunity that comes with sharing excerpts as a kind of tease; audiences just want to see more, often leaving the festival seeking out that artist, finding more of their work, becoming a fan who just wants a deeper experience after the night is over. If you've ever been to a Kickstarter film fest you know we take great pride in our mixtape's variation and flow and the ability for the feature excerpts we choose to stand on their own alongside shorts, webisodes, music videos, and other short-form work. And if you haven't yet been, come see for yourself this summer!