Back to selection
Previewing IFP Film Week and the Screen Forward Conference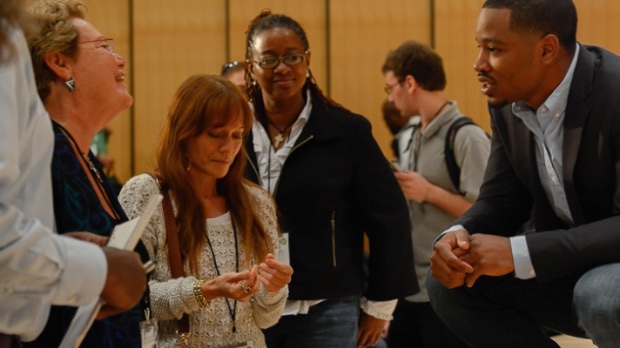 Ryan Coogler (right) at the 2014 IFP Filmmaker Conference
I wonder what some time-traveling filmmaker would think of IFP's Independent Film Week, which commences tomorrow up at the Bruno Walter Auditorium at the New York Performing Arts Library. The non-profit IFP — formerly "Independent Feature Project" and now "Independent Filmmaker Project" — has done some version of its Film Week for nearly the entirety of its 35-year history. For much of that time it wasn't called "Film Week," but, nonetheless, events occurred annually over a few days in the Fall, and these events served to advance the interests of independent filmmakers by, initially, providing them with a market for their work. This was before the number of film festivals exploded, Withoutabox, and the internet. Back in the day, the IFFM, as it was known, was the place to discover films like Clerks or, for me, the early work of Rebecca Miller (Angela) and, if my memory is correct, even Gaspar Noe (Carne).
Over the years Film Week has evolved alongside the independent film industry and now, in its 2015 edition, it has landed, with deceptive modesty, on what might be its most refined articulation yet. Film Week contains, as it has the past several years, a Project Forum, where in-progress work is connected with potential producing, financing and distribution partners; the Festival Forum, a sidebar event for film festival professionals; and the Filmmaker Conference. The conference this year has been renamed "Screen Forward," speaking to today's multi-platform world, where an independent creator may seek to find a home for his or her work in a movie theater, on a download screen or delivered via streaming service. And that work might be a short film, web series, or in what for film organizations might count as a territorial land grab, a video game or multimedia installation. (For more on this platform agnosticism, check out IFP Deputy Director Amy Dotson's "This is Not a Keynote," which contained her commented upon — and subtweeted — "you are not a filmmaker" declaration.) In 1979, when the Film Market launched, there were no links. Now there are, and filmmakers need to learn how to get viewers, curators and festival programmers to click on them.
And then there are the things that don't change — the search for financing, the desire for theatrical distribution and, simply, the struggle to evolve film and media as art forms worthy of attention in an attention-deficit world. Independent Film Week, the Screen Forward Conference and the Project Forum try to help makers do all these things too, and, at Filmmaker, we'll be riding along this week with reports from the various presentations. (Here might be a good place to note that IFP is Filmmaker's parent organization.)
Scanning the schedule, which is broken into days discretely focusing on narrative, documentary, new ideas in distribution and fundraising, and new media, I see a welcome assortment of new faces, fewer sponsor-driven panels and events drawing in behind-the-scenes powers who often aren't given a spot on the main stage. If you're in New York and you'd like to attend, there are still some tickets left, although I note that full week passes including the "Meet the Decision Makers" day are gone. Click here for day and four-day passes.
Below are a few of the events at the Screen Forward conference that have caught my eye.
Why We Bought Your Film (Sunday, Sept. 20, 11:00 AM): The requisite distribution panel features execs from Variance, Bleecker St. Broad Green, Featurette and Oscilloscope answering that perennial question: "What Are You Looking For?"
To Stream or Not to Stream. (Sunday, Sept. 20, 3:00 PM). Chris Horton from Sundance Artist Services, a couple of 25 New Faces (Reinaldo Marcus Green and Ryan Koo), Tribeca Shorts Programmer Sharon Badal, Vimeo Curator Jeff Bowers and Bleecker St.'s Kent Sanderson tangle with that question that erupts after every festival premiere — and oftentimes before. Should a film debut on the large or small screen?
Industry Talks: Christine Vachon and Michael Barker. (Sunday, Sept. 20, 4:00 PM). After two decades in the business, Christine Vachon and Killer Films are still producing great movies. (Todd Haynes's Carol is one of the best of the year.) And, after an even longer span (Sony Pictures Classics was founded in 1992), Michael Barker and his co-president Tom Bernard remain a durable and sought-after distribution team continuing to deploy a surprisingly durable playbook. The description doesn't say much about what these two will talk about, but neither is a shrinking violet….
Hacking Theatrical. (Monday, Sept. 21, 2:00.) Event theatrical, theatrical 2.0, outdoor screenings, luxury theaters — a panel led by Slated Editorial Director Colin Brown including reps from Fandor, Gathr, Rooftop, Tugg discusses ways in which the moviegoing experience is evolving in order to fend off the lure of the couch.
In Conversation: Greg Clayman. (Monday, Sept. 21, 4:00 PM). Speaking of the small screen, ending Monday is this conversation between Margaritaville Media's Laura Lee and Greg Clayman, who heads up Vimeo on Demand. Let's hope this talk yields some data-fueled insights into just how independents are doing on that platform.
Embedded: Finding Your Movie in an Unfolding Story. (Tuesday, Sept. 21, 10:00 AM). Whether a doc is set in a conflict zone or is simply rife with conflict, the practice of non-fiction requires being able to respond to unfolding events. This particularly strong panel features the makers of (T)ERROR, Welcome to Leith, Cartel Land, Fictionless, and Among the Believers discussing how they rolled with all the various punches coming their way.
Where Issue Meets Art: Creative Potential in Social Issue Documentary.. (Tuesday, Sept. 21, 2:00 PM). Despite the need for theatrical feature documentaries to stand out by virtue of bold visions and creative aesthetics, the funding landscape is still biased towards films that deliver direct messages on a variety of social issues. But should the two things — creative filmmaking and a social agenda — be considered to be in conflict? That's what this panel is set out to address.
Blitz Talk: Khalik Allah. (Tuesday, Sept. 21, 2:45.) Khalik Allah's stunning filmmaking meets street photography fusion has been an intoxicating pleasure on the festival circuit this year. A Filmmaker 2015 25 New Face, he delivers a short talk about this practice on Tuesday afternoon.
Thinking Outside the Doc Box. (Tuesday, Sept. 22, 2:00 PM). The announcement last week of The Intercept's new Field of Vision short doc program, headed up a trio of documentary vets, only speaks to the need for filmmakers to consider all manner of forms and outlets, from New York Times Op Docs to TV series to longform. Molly Thompson, Senior VP, A&E Indiefilms, moderates.
In Conversation with Julie Goldman. (Tuesday, Sept. 22, 4:00 PM). All of the end-of-day conversations this week are strong, but I'm especially excited about this one. Goldman has one of the most detailed documentary producing CVs around, with recent credits including Best of Enemies, Art and Craft, Mission Blue and The Kill Team. She'll be talking doc production today with Nancy Abraham, Senior VP, HBO Documentary Films.
Realizing Your Vision on a Budget. (Wednesday, Sept. 23, 11:00 AM). With everyone shooting digital these days, it is still possible to shoot celluloid on a low budget. Or, at least, it should be otherwise there wouldn't be a panel on the subject at Screen Forward. I'll be moderating with folks from Imelda and Listen Up, Philip.
Dylan Marron: Every Single Word. With dialogue about race, representation and Hollywood bouncing across social media these days, there's also the echo chamber effect, endless cycles of retweets and likes that show solidarity but do little to advance the discourse. That's why Dylan Marron's contribution this year is so notable. You know that too few meaningful roles in Hollywood go to people of color. But to feel it beyond the statistical, check out Marron's Every Single Word blog, which assembles that paucity of dialogue into unfortunately brief supercuts.
In Conversation with Mike Ryan. (Wednesday, Sept. 23, 4:00 PM). Fresh off his Venice win for Jake Mahaffy's Free in Deed, producer Mike Ryan arrives at the IFP to elaborate on his provocative, widely read and much-debated Filmmaker article, "TV is Not the New Film."
2015 Labs Showcase Screening. (Wednesday, Sept. 23, 7:00 PM). Free and open to the public is Wednesday night's screening of excerpts from the new feature film and documentary projects that have gone through the IFP Labs, including films by 25 New Faces Shevaun Mizrahi and Cecilia Aldarondo.
Transitioning to VR. (Thursday, Sept. 24, 10:00 AM). I interviewed Google's in-house filmmaker, Jessica Brillhart, for the upcoming print magazine, and she's got the most accessible, grounded and practical advice on making VR work I've heard from anyone. She'll be interviewed here by P.G. Vogt of Gimlet, the start-up podcaster behind… um, Startup.
Inhabiting the Audience: VR, Games and the Quest for Empathy. (Thursday, Sept. 23, 11:00 AM). Experience an Oculus VR work like Clouds over Sidra and you'll receive something of a shock when a simple filmic device — like matching eyelines — registers powerfully because one of those eyelines is yours. An all-star panel moderated by JustFilms Cara Mertes examines the artistry and neuroscience behind VR production.