Back to selection
IFP Screen Forward: 5 Questions for Producer Peter Phok about Crowdfunding's Aftermath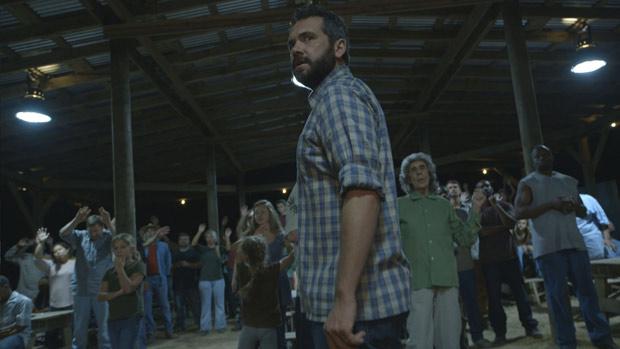 The Sacrament
Producer Peter Phok (The Sacrament, The Innkeepers, V/H/S) is one of five professionals this morning at an IFP Screen Forward panel titled "Bridging the Gap after Crowdfunding." The title of the panel is an interesting collision of terms as only recently has crowdfunding been factored into independent film financing equations alongside terms like "mezzanine," "senior debt" and "tax credit monetization." But, indeed, crowdfunding is part of many independent films' financing schemes, and its success — or failure — has much to do with a film's greenlight. Below, Phok answers questions about film and crowdfunding.
Filmmaker: Your panel is called, "Bridging the Gap After Crowdfunding." Have you done crowdfunding campaigns for your films and, if so, what lessons have you learned from each one?
Phok: I haven't managed a crowdfunding campaign personally, but with Michael Vincent's Only a Switch, he attempted an initial campaign that failed to reach its goal. We learned that it is a full-time commitment to drive a campaign home. The same amount of attention and effort it takes to make a film is required for a successful crowd funding campaign. It also takes a filmmaker who's willing to be the face and voice of the campaign, who isn't just looking to friends on social networks for their contributions, but able to reach out beyond the immediate circle to other groups who are not as familiar with the world of filmmaking, yet interested in supporting an artist among many other artists with similar campaigns. The campaign needs to be unique and genuine to succeed. Most of the crowdfunding organizations offer services to help drive your campaign to succeed.
Filmmaker: The word "gap" is usually used to refer to some production financing shortfall, or a cash flow shortfall, that is not able to be filled easily using quantifiable revenues. To your mind, where does a gap come from? A shortfall in what sort of financing sources?
Phok: A gap appears when the needs of the filmmaker is not met by the marketplace. There are no shortage of strong indie films being pitched around town. The issue isn't really the equity investment, but how it'll be recouped. There are far too many films that have been made that never recoup and thus led investors to place their money in other investments. I've seen many filmmakers drive their budget down so low that it will hinder the production. While they can still make their film, the production value will never match that of a slight larger-budgeted film, and they must rely on the quality of their film itself for any hope to see the light of day. In the U.S., most indie films are put together using equity in combination with an advance against a state tax incentive, which will hopefully be enough to meet the film's budget (strike price). If it doesn't there's a gap; if this gap can't be filled any other way by lowering the budget or raising the additional equity, one can turn to gap lender. However, it is the most expensive loan for a such a smaller piece as the terms are very aggressive. At a certainly level of budget, this kind of arrangement is normal, however when focused on the micro-budget and ultra low budget world, it's not the best solution. Sometimes, crowdfunding could be the missing element to close the gap, but, again, running a campaign to fund your film isn't a sure thing. I see crowdfunding more of an awareness builder to gauge interest in a project for those who are paying attention and help build an audience for your film, which you can being engage through the process.
Filmmaker: And, to follow up, what are some outside-the-box ways of bridging a gap after crowdfunding?
Phok: Have you explored all funding opportunities from grants to tax credits? After crowdfunding fails, it's import to review why it wasn't a successful campaign. Is there more that can be done with the film's package to make it more viable to the marketplace? Are you able to re-budget your project and/or re-assess your goals?
Filmmaker: What non-monetary benefits have you discovered from crowdfunding, and what advice do you have for filmmakers to maximize these benefits.
Phok: The social connection to the filmmakers is probably the most interesting non-monetary benefit. The opportunity to connect and converse with the filmmaker is something that's more value then more rewards for donating. It's important to study what successful campaigns did to reach their goal, and which crowd funding platform is best for your project and target reach.
Filmmaker: Finally, what are three pieces of advice you'd give to any filmmaker embarking on a crowdfunding campaign?
Phok: Who is your audience that you're targeting? Are you ready to commit yourself or your team to this endeavor a daily ritual on all social media to push it's awareness beyond the normal reach our immediate family, friends, and colleges? Are your goals realistic in comparison to other projects some similar nature?