Back to selection
Professional Development, Pleasures and Promiscuity at IFP Film Week: A Filmmaker Post-Mortem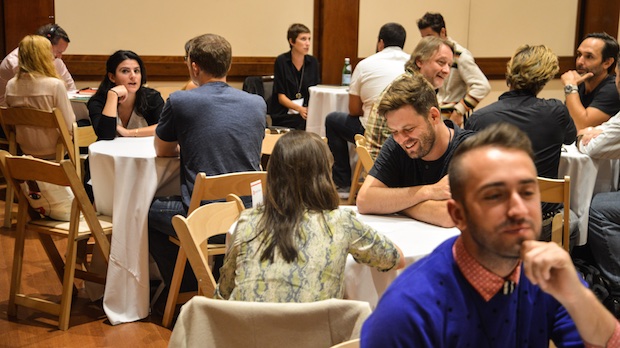 Meetings at IFP Film Week (Photo: Kelsey Doyle)
IFP Film Week 2015 has come to an end, and while the Filmmaker Conference, with its front-facing elements — all the panels, events and screenings — may have dominated ours and others' home pages, the real action, arguably, was behind-the-scenes, at the Project Forum. That's where filmmakers hustling the projects of tomorrow all convened, looking for the support that will enable them to bring their vision to screens in the years ahead. To call it a wrap on Film Week, we asked a number of directors, writers and producers attending the Project Forum to sum up their experience and, if they've been able to process it, offer advice on the act of pitching to financiers, distributors and broadcasters at forums such as this one. Below, drawn from filmmakers participating in the RBC Emerging Storytellers program, No Borders, Spotlight on Documentaries and the Narrative and Documentary Labs, are their thoughts.
Lawrence Levine, writer/director, Too Much of Nothing (No Borders): I guess after doing it, I felt like it was fun to talk to other people who are enthusiastic about film and whose enthusiasm runs into different channels. I learned from them about those channels and who knows, maybe one day my boat will sailing down one of their channels.
Sophia Takal, producer, Too Much of Nothing (No Borders): Everyone seems nice. One guy yesterday spoke in such generalities and parroted weird industry talk that nothing he said actually made sense. It was just a string of catch phrases and buzz words. This whole thing has been fun and funny.
Laura Heberton, producer, Freeland (No Borders): This is what I learned this week: the grass lawn/roof at Lincoln Center on a sunny afternoon is a glorious thing; it takes a lot of young ballet students to fill an elevator; melted cheese bonds people together; pitching is more fun when you get to say "marijuana", "weed" and "pot" about two times in a half hour with the occasional "drug lord" thrown in there; the IFP No Borders team sure knows how to dress — hot damn. But mostly the best thing about Film Week is pure and simple: hanging with the other filmmakers and producers in the Project Forum who are all up to such exciting, mind-blowing stuff. It made me fall even harder for this fiercely original art form we call low-budget independent film. What a privilege it is to do what we do.
Doug Block, writer/director Getting Personal (Spotlight on Docs): The week reinforced for me the importance of having a strong video sample. I'm still at a relatively early stage of production on my film (Getting Personal) and wasn't sure I had enough material for a sample. I was also admittedly a bit cavalier about the need for one, as most of the industry people we were scheduled to meet with are familiar with my body of work, and a few like HBO and BBC had contributed major funding in the past.
My producing partner Lori Cheatle and I decided pretty last minute that we'd go for it and it turned out to be a really good move. A personal look at personal documentary filmmaking isn't exactly a no-brainer of a concept. The 6-minute sample we conjured up made it more specific and real than words could possibly be, and was very effective. It turned a number of heads around, especially those who felt the film might appeal only to film lovers.
Another reminder that when it comes to documentaries you're reinventing the wheel with every film, and every buyer wants to see the goods.
Kishori Rajan, producer, American Fable (No Borders): This is my second time going through No Borders, and both times the IFP staff has made the process an incredibly enjoyable and productive one. It was especially great for Anne and I to be there with our movie having just wrapped the day prior; immediately diving back into the New York film community was a great way to return home.
Ani Simon-Kennedy, writer/director, The Short History of the Long Road (RBC's Emerging Storytellers): I feel like I'm still processing the tornado that was Film Week but some of the best things that happened this week (in no particular order) were:
– Being surrounded by so many truly original projects constantly
– Meeting people face-to-face who I only ever emailed with in the past (special shout-outs to Amanda Salazar, Kishori Rajan, Janet Pierson and Cara Cusumano!)
– Celebrating Philiane Phang for winning the first Phosphate Prize for her amazing screenplay The Space Between and congratulating Pamela Tan for creating such an amazing grant in the first place
– Bonding over our Emerging Storytellers mafia and really lifting each other up, whether it was sharing business cards, phone chargers or snacks
– Pitching my script The Short History of the Long Road dozens of times yet never tiring of watching people's eyes widen as they leaned in with genuine curiosity
Cailin Yatsko and I didn't have time to be nervous all week, we were just so happy to be there throughout the marathon of it all. Telling the story of my script over and over made me learn so much more about it and I can't wait to dive into my rewrite as I head back to L.A. tomorrow to finish Film Independent's Screenwriting Lab. Deepest virtual thanks to Amy Dotson, Zach Mandinach, Izzy and all of the volunteers for such an amazing experience!
Terence Nance, director, So Young, So Pretty, So White (Spotlight on Docs): It was interesting, you get a random range of reactions to the film your pitching: people crying, people loving it, people misunderstanding it and saying sexist/racist stuff to you, people being completely indifferent to it.
But under that flurry of feedback there is this weird feeling — this knowing — that this whole thing can make no difference at all in whether or not the film gets made. Or, it can make all the difference in whether or not the film gets made.
That said it's also just an intense week of focusing on your project, and as a filmmaker with a million hustles assembled to make ends meet it's dope to be forced into laser focus on your most pressing project(s). It's important to be woken up to the reality of how much sustained focus it will take to get a film done and out into the world.
Karl Jacob, writer/director, Cold November (No Borders): IFP has a long history of matchmaking, and they are good at it. The attention that we were given by IFP staff to make sure we got the meetings we needed with the people who would be the most responsive to our work was constant and calculated. This year's Film Week will likely bring the resources we need to get Cold November completed in the timeframe that we had hoped, with some of the best people in the industry at our sides. In addition to the official meetings, the new filmmakers we met from around the world became fast friends. The sense of support that the event fosters is refreshingly inspiring.
Heidi Reinberg, producer, 93Queen (Spotlight on Documentaries): Honestly, it was probably the most productive week I've ever had in film. Let's face it, we film people spend an awful lot of time hearing "no," so to have a solid week of hearing nothing but love for your film is a pretty mind-blowing experience.
The reason it works so well is that it's sort of like a Tinder for filmmakers. As the industry reps have already "swiped right" on you, by the time you meet at IFP, you know you're meeting with someone who's already into you — which is a pretty great feeling to go into a meeting with.
Boots Riley, writer/director, Sorry to Bother You (No Borders): They say IFP week is like speed dating for filmmakers and producers, but it's more like an orgy for filmmakers and producers. An orgy where every single participant is hot and no one uses protection. Often this leads to beautiful babies being made with folks who were recently strangers.
P.J. Raval, director, Untitled Jennifer Laude Documentary (Spotlight on Docs): Independent Film Week/IFP Project Forum was once again a really great resource to meet with film industry players, whether that be formally in a scheduled meeting or informally by casually meeting at a cafe or making a new acquaintance at a reception or screening. The conference panels allowed filmmakers to ask industry "insiders" pressing questions and get honest and frank answers. I am leaving inspired and encouraged to work hard and persevere through the crazy storm we call filmmaking, but also reminded each film could easily be its own case study. Each film has its own path on how it got made and got out into the world, but that common goal is what we all share and IFW can be a crucial step in that process.
Kyle Ranson-Walsh, producer, Summer (No Borders): It was really interesting to be on the "other" side of Film Week this year having been involved in both the conference and Project Forum selections last year. Even though I've "sold" the benefits of Project Forum to others, I was surprised how pleasurable participating was.
Saschka [Unseld, director] and I came to Film Week to meet potential production partners and left with a number of people interested in following up. Even if we don't end up partnering with them on this project, we now have a dozen more connections in the industry for future projects.
It felt like a reunion every day, running into old friends and new friends. The other projects at No Borders were helmed both by friends & people I have long admired.
The first person I saw at orientation on Sunday was another producing buddy who I had last seen at the beginning of the summer right before she was headed out to shoot two films. Here she was five months later, fresh off of a red eye, ready to pitch the next thing.
The week really felt like a coming out party for our feature, which, for the past year, has been just one of those scripts "in development," hiding under other projects. What a joy to bring the film out into the open and talk about with industry people who purposefully sought out time with us. Seemed like there were quite a few people interested in our vision of telling independent stories with a touch of Pixar magic.
Nancy Schwartzman, director, Red Red Roll (Spotlight on Docs): This past week at IFP I was inspired by how many people are responding to the changing landscape by continuing to tell powerful stories while boldly branching out across genre, platform, format and style.
Sean Hackett, director, Farewell Tour (No Borders): Fred, Justin, and I are currently in our uncle's basement burning a mix-tape of melancholy indie love songs for Amy, Neerja, Gabriele of IFP's No Borders. They put together a collective of creative workaholics that will ensure that independent cinema remains dominant.
Our film, Farewell Tour, dissects the common bond of trying to entertain ourselves with imagination in the worst of times. Since childhood we instinctually create & share stories that we wished to hear on our darkest days… in hope that it saves someone else from their own desolation.
Independent Film Week gave us the chance to see the faces of characters who have self-vocated in the same patterns we have. We're mutants of imagination hoping to share their magic at 24 fps meeting those who want to find it & spread it. Many of the people on the other side of the table redefined the negative title of executive. Many with self-created goals to spend as many hours replicating our stories as we spent telling it to ourselves.
As the Farewell Tour tribe rode the train to Rockaway, we said goodbye to the city but not the moment. It was a great week that was worth retelling. It reminded us that we're not alone. And it showed us that our stories were needed and worth the sacrifices.
Keith Maitland, writer/director, Tower (Spotlight on Docs): If you feel like you're outside of the "industry side" of the industry, then this is the place to balance the scales. With 43 meetings in five days, I don't feel disconnected from the industry right now.
The last time I participated in Spotlight on Documentaries with a previous film, my project was in it's earliest stages and the conversations helped set the stage and expectations for that film — this time it's been a lot different walking in with a solid rough-cut that we're ready to share….
It's like a pre-festival festival.
Milton, Paola, Zach and their team really take care of the filmmakers — for the size and scope of the events, they still manage to customize your schedule, offer great advice, and set up some extra curricular conversations that could be really impactful. They have been for me and Tower.
Cecilia Aldarondo, director, Memories of a Penitent Heart (IFP Documentary Lab): The greatest thing about IFP was the platform it gave us. After years of working on this film in relative obscurity, suddenly we were sitting down face-to-face with distributors, sales agents, broadcasters and festival programmers who are in the position to get our film finished and seen. We also got a ton of feedback; there's nothing like a week of back-to-back pitching to help you see what works and doesn't. It may have been exhausting, but now we have a much clearer sense of how to present our film, which audiences we hope to reach, and what post-completion life we should be aiming for the film to have. Now, all we have to do is make sure our film is great…
Joe Talbot, The Last Black Man in San Francisco (RBC's Emerging Storytellers): IFP may very well host the best round of speed dating there is — they pair you up with like-minded people who share your interests, create a unique setting that feels as stimulating as it does comfortable, and host an array of nightly events where the love affairs continue to take form. In the end, you walk away (hopefully) having made life-long connections with an eclectic array of prospective new lovers — from filmmakers to producers to executives to programmers.
Anna Rose Holmer, writer/director, The Fits (No Borders): I've grown a lot since my first Independent Film Week in 2009. Back then it was, "Who wants to come on board for this project?" Now it is, "Who do I want to partner with longterm?" The relationships that can sustain multiple films are the most valuable to me. All week we reminded ourselves to "zoom out" and think about our conversations in that context.
Charles Poekel, Black on the Vine (RBC's Emerging Storytellers): The Project Forum helped us feel more comfortable talking about our film — it got us thinking about it in new and exciting ways. It also provided us with creative fuel we hadn't realized we needed after spending months tucked away writing.
Matt Petock, producer, High Bridge Hill (RBC's Emerging Storytellers): This marks the fourth project I've brought to Independent Film Week over the past four years. Because of the great people I get to meet with and the talented filmmakers I become friends with and learn from, I always finish the week knowing a lot more about myself and about the film I'm setting out to make.
Claire Carre, writer/director, The Singularity (Web Storytellers Spotlight): It was awesome to be be a part of this year's IFP Project Forum with my episodic project The Singularity. You could really feel the enthusiasm for the rise of the Indie Series buzzing in the air. The segment length that people I met with were looking for ranged from under 10 minutes to full hour episodes, and really got me thinking further about the relationship between storytelling structure and duration. The kind of story I would want to tell in a series of 12 minute pieces is very different than the kind of story that I'd want viewers to sink into for an hour at a time.
Rodrigo Reyes, director, Lupe Under the Sun (Narrative Labs): Film Week blurs the line between industry and filmmakers and shows us that we are, after all, on the same team.
Brett Potter, writer/producer, Coast to Coast (RBC's Emerging Storytellers): I'm thankful for the IFP community. They've built a platform to facilitate some of the hardest aspects of getting your film made — meeting new industry contacts, pitching to people who actually matter, and hopefully landing equity partners. IFP wants to help you get your film made. That's cool.
Nadia Szold, director/producer, Larry Flynt for President (Spotlight on Docs): It's a place at the table — except in this case multiple tables in a marathon of musical chairs. I only hope all this promiscuity pays off.
This piece was updated with new responses on October 6.