Back to selection
Lena Olin-Starring A Critically Endangered Species Wraps Production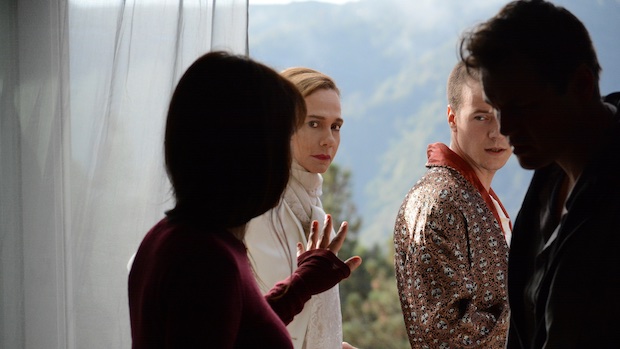 Lena Olin in . (Photo: Priscilla Huber)
Oscar and Golden Globe-nominee Lena Olin (The Unbearable Lightness of Being, Enemies, A Love Story) has wrapped production of A Critically Endangered Species, an independent drama directed by award-winning poet T. Zachary Cotler and novelist/producer Magdalena Zyzak. The film was produced by Mike Ryan of Greyshack Films and Morgan Jon Fox, a director and producer who placed in the 2009 edition of Filmmaker's 25 New Faces. Olin stars as a famous novelist who, after deciding to commit suicide, calls on young male writers to submit their work to her so that she can name one her literary executor. Starring alongside Olin is Golden Globe nominee Rosanna Arquette, who plays Olin's eccentric best friend. Jordan Gavaris, Nathan Keyes and Alex Koch co-star. A Critically Endangered Species wrapped last week in Los Gatos, CA.
In addition to the work of Olin, Ryan and Fox, Filmmaker readers will know Zyzak from her producing of Redland, directed by Asiel Norton, another 2009 25 New Face. Recently, Macmillan published her debut novel, The Ballad of Barnabas Pierkiel.
Ryan's credits include Junebug, The Comedy, The Missing Girl and Free in Deed, the latter the winner of the Best Film in the Orizzonti Section at the 2015 Venice Film Festival. Producing alongside Ryan's Greyshack Films is The Winter Film Company, the film arm of The Winter Anthology, which focuses on "production of cinema with the qualities traditionally associated with poetry and high-quality fiction."
Note: this post has been updated to reflect the film's new title. It was previously called A Posthumous Woman.