Back to selection
Filmmaker Announces 2015 40%-Off Holiday Sale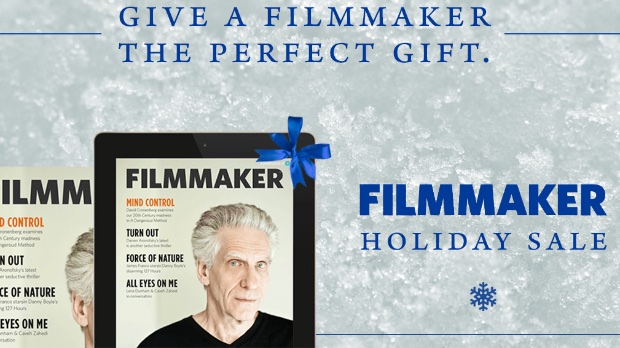 Filmmaker announces this week the 2015 edition of its annual subscription drive. Subscribe by the morning of December 23rd for yourself or a friend or loved one and receive a digital or print edition of the magazine for 40% off. Print subscriptions are $10 and digital subscriptions are only $6. Plus, be eligible to win one a great collection of film-related prizes. The full list will be up on the site tomorrow, but some include gifts from our contributors — the brand new edition of Alix Lambert's documentary, Mark of Cain; columnist Nicholas Rombes's debut novel, The Absolution of Roberto Acestes Laing; and digital downloads and vinyl soundtracks of our Winter, '15 cover film, Kumiko, the Treasure Hunter, which was shot by our columnist Sean Porter.
If you're a regular reader of the website, know that by subscribing you read all of our content, and the majority of what's in the print magazine doesn't appear on the web until weeks or months later. Filmmaker in print is where our most thoroughly researched and painstakingly prepared articles appear, including articles on the how-to's of directing, producing, shooting, writing and editing. Your subscription helps us tremendously in the commissioning and editing of these articles. And, by subscribing you help our overall financial health, which keeps the website chugging along.
Finally, for years we've wanted a seamless way to gift Filmmaker, and now, thanks to our back-office geniuses, we have one. The subscription page will walk you through gifting a subscription, and our email to your recipient will go out to them on the day you choose. So, please consider making Filmmaker your 2015 stocking stuffer. Click here for the 40% off links.
Okay, commercial break over. Thanks for your readership and hope to see some new faces out there on our subscription rolls this year. And happy holidays to all.