Back to selection
Speaking the Same Language: Cocoon Central Dance Team on She Does Podcast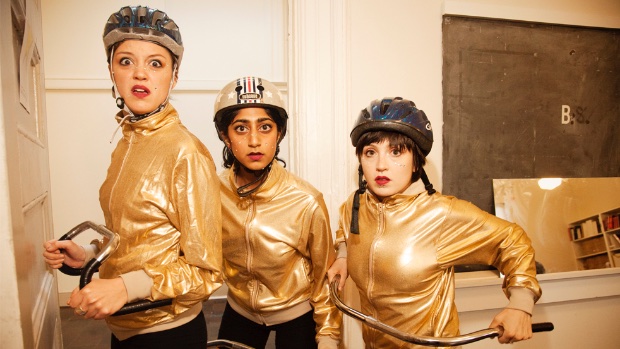 Cocoon Central Dance Team is a New York-based comedy dance troupe made up of three talented women: Sunita Mani, Eleanore Pienta and Tallie Medel. They are each up-and-coming actors in their own right, landing roles in indie films, big music videos and on television. But their work as a trio, as Cocoon Central Dance Team, is what we focus on in this episode of She Does Podcast because they truly are a remarkably talented, gut-busting, thigh slapping, absurd-outfit-wearing, glitter-throwing, dance-until-you-laugh-until-you-cry group of women. Cocoon has performed at Upright Citizen's Brigade, MoMa PS1, The Pit, Showgasm with John Early and Cast Party. They've opened for Broad City Live, the 2013 New York City Marathon, have been back up dancers for HUSH HUSH and have a successful web series called Rehearsal. Cocoon Central Dance Team breaks rules and plays with the forms of dance and comedy, making them an undefinable act, which is one of the greatest things you can be in today's comedy and dance landscape.
EPISODE TAKEAWAY:
What Cocoon Central Dance Team represents as a collaborating group of women.
Pienta: It takes me a minute to step back and be like, 'Oh yeah, we are three women doing something. What does that look like to anybody else?'
Medel: We're not ever thinking about gender unless you have to defend yourself. When people are like, 'As a woman…' and you're like, 'As a what?!?' But because we're used to working in a trio of women in comedy, when we're doing anything about nudity or sexuality, there's something we don't have to worry about because it's the three of us in the room. When men are asking you, 'Do something girl-like but be sexy,' you just want to be like, 'No! I will not. I won't. You're asking for a fraction of what these people can do.' And so when we're putting those same things upon ourselves, there's such freedom.
Mani: You just sort of come together. It's felt so organic this whole time that like, it's weird to say but just find your friends.
Pienta: Well, you find the language.
Episode titled Parallel Universe from Cocoon's web series REHEARSAL

White Strips Episode

The Evaluation Episode