Back to selection
At Sundance: In Defense of Daniel Radcliffe's Farting Corpse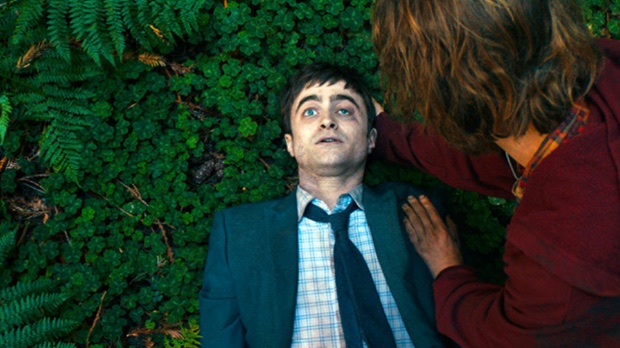 Swiss Army Man
The atmosphere was tense at the Eccles Theater Friday afternoon. The premiere of Swiss Army Man, the debut feature from acclaimed music video directing duo The Daniels (Dan Kwan and Daniel Scheinert) was running 25 minutes behind and audience members were still fighting over the venue's few remaining seats. The buzz leading up to the film's premiere had been fervent, with many pegging it as the anticipated breakout of the festival's competition lineup. Were audiences about to see the next Beasts of the Southern Wild or Whiplash?
No. In fact, it wasn't long after the film let out that the backlash began. That evening's much-shared Variety headline summed it up best: "Sundance: Daniel Radcliffe's Farting Corpse Movie Prompts Walk-Outs."
The headline doesn't lie. Swiss Army Man does indeed feature Daniel Radcliffe as a corpse. And yes, he does spend a good portion of the film farting. In fact, in the film's first four minutes alone, Paul Dano rides Radcliffe's corpse across the ocean like a jet ski, propelled only by the force of Radcliffe's flatulence. From there, the movie only gets weirder, bolder and more unrelenting in its embrace of potty humor.
To be honest, I really enjoyed it. Swiss Army Man is far from a perfect film, but it's packed with enough passion, imagination and originality to set it apart from the vast majority of feature debuts.
But there's something more important to highlight here, something that's been missed in the conversation: the fact that this film even exists is in itself a massive triumph.
It's almost inconceivable that an American debut this defiantly odd — one clearly conceived as a challenge to notions of 'good taste' — could be produced at this budget-level, with this cast, in 2016. Perhaps a decade ago the concept of a young American director (or, in this case, directors) being given the opportunity to experiment with an inherently uncommercial premise at this scale was common. These days, it's almost unfathomable.
It's just not how the independent financing structure we have functions nowadays, at least in the U.S. Contrast The Daniels' premise against the rest of Sundance's Competition lineup. There are many strong filmmakers represented (including proven talents like Chad Hartigan, So Yong Kim, and Andrew Neel), but to comb through the film write-ups is to receive a visit from the Ghosts of Indie Hits Past. It's a sea of reverent biopics, ensemble comedies, coming-of-age dramas and issue films. How could a farting corpse be anything other than the black sheep?
The backlash around Swiss Army Man in Park City is bumming me out. And that feeling has only multiplied as I've seen the same condescension about Radcliffe's farting corpse spread across the Internet (even though most of the people writing about the film online clearly haven't even seen it).
Given how homogenized the American filmmaking landscape has become, a farting corpse in the Sundance Competition lineup isn't something we should be deriding offhand. It's something we should be celebrating. Independent film isn't supposed to be safe or easily defined. It's supposed to provoke, to challenge. It's supposed to be a tool of the counterculture, serving up the stories, ideas, and visions that mainstream movies couldn't hope to produce. Sundance, our country's premiere launchpad for independent cinema, should be a place where a film that zags as aggressively as this one does is embraced.
Ironically enough, Swiss Army Man anticipates all of this. As the film unfolds, it reveals itself to be a post-modern parable about the act of filmmaking itself. The lead characters (a duo, just like The Daniels) learn to do more than just embrace the profane, they build something beautiful from it. The film, and the film's characters in turn, create a sculpted universe where gorgeous music and violent flatulence coexist in harmony. Most notably, without spoiling the film's final moments, let's just say that The Daniels anticipate the current backlash they're facing, pause to internalize it, and then joyfully blow past it.
One hopes that there are still audiences at Sundance excited about the possibility that when the lights go down at Eccles, something unlike anything they've ever seen before might grace the screen. Even if that something might be a farting corpse. But with every walk out, and the hasty press shaming that follows, we're only encouraging filmmakers, financiers, festivals — really the industry as a whole — to play it safe.