Back to selection
SXSW Film Festival 2016 Unveils Feature Film Slate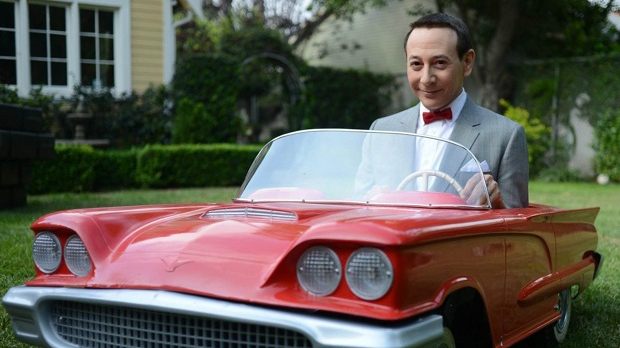 Pee-wee's Big Holiday
There will be late additions, but the bulk of this year's SXSW feature film slate has been unveiled. From the festival, here's the rundown section by section. Obvious highlights: world premieres of Richard Linklater's Everybody Wants Some and Pee-wee's Big Holiday, Joel Potrykus' follow-up to Buzzard, and a documentary about the making of Smokey and the Bandit from Jesse Moss (The Overnighters).
NARRATIVE FEATURE COMPETITION
Ten world premieres; ten unique ways to celebrate the art of storytelling. Selected from 1,443 narrative feature submissions in 2016.
The Arbalest
Director/Screenwriter: Adam Pinney
The inventor of the world's greatest toy reflects on his decade-long obsession with a woman who hates him. Cast: Mike Brune, Tallie Medel (World Premiere)
Before The Sun Explodes
Director: Debra Eisenstadt, Screenwriters: Debra Eisenstadt, Zeke Farrow
After his wife kicks him out, an anxious comedian is lured in by an intriguing woman with a stalker. Cast: Bill Dawes, Sarah Butler, Christine Woods, Michael Rivkin, Amir Arison, Kerri Safran, Anna Margaret Hollyman, Gene Serritella, Kristin Slaysman, Eric Fillipkowski (World Premiere)
Claire in Motion
Directors/Screenwriters: Lisa Robinson, Annie J. Howell
Claire is sure of herself, her work and family, until — like a bad dream — her husband disappears, leaving a trail of puzzling secrets that shatter her certainty. Cast: Betsy Brandt, Chris Beetem, Zev Haworth, Anna Margaret Hollyman, Sakina Jaffrey (World Premiere)
collective:unconscious
Directors: collective:unconscious (Lily Baldwin, Frances Bodomo, Daniel Patrick Carbone, Josephine Decker, Lauren Wolkstein), Screenwriters: Jamal Batts, Lily Baldwin, Frances Bodomo, Daniel Patrick Carbone, Mariama Diallo, Lauren Wolkstein, Concept by: Dan Schoenbrun
Five of independent film's most adventurous filmmakers adapt each other's dreams for the screen. This is going to get strange… Cast: Frank Mosley, Will Blomker, Lily Baldwin, Tonya Pinkins, Daniel Ryan, Ryan Cassata, Sanda Weigl, MJ Frank, Samuel John Damon, Jamal Batts (World Premiere)
Donald Cried
Director: Kris Avedisian, Screenwriters: Kris Avedisian, Kyle Espeleta, Jesse Wakeman Returning home to working class Warwick, Rhode Island, Peter Latang encounters childhood friend Donald Treebeck for what starts as a simple favor and turns into a long van ride into two friends past. Cast: Kris Avedisian, Jesse Wakeman, Louisa Krause (World Premiere)
Hunter Gatherer
Director/Screenwriter: Josh Locy
After a three-year stint in prison, an unreasonably optimistic middle-aged man returns to his stagnant neighborhood to win back his girlfriend only to find that she and his family have done what they always wanted to do — forget he exists. Cast: Andre Royo, George Sample III, Kellee Stewart, Ashley Wilkerson, Kevin Jackson, Antonio D. Charity, Celestial, Alexis DeLaRosa, Jeanetta Arnette (World Premiere)
Miss Stevens
Director: Julia Hart, Screenwriters: Julia Hart, Jordan Horowitz
Stuck at a crossroads in her personal life, it falls on Miss Stevens to chaperone three of her students — Billy, Margot and Sam — on a weekend trip to a drama competition. Cast: Lily Rabe, Timotheé Chalamet, Lili Reinhart, Anthony Quintal, Rob Huebel, Oscar Nuñez (World Premiere)
The Other Half (Canada)
Director/Screenwriter: Joey Klein
A grief-stricken man and a bipolar woman fall in love and try to forge a simple life together. Cast: Tom Cullen, Tatiana Maslany, Suzanne Clement, Henry Czerny, Mark Rendall, Deragh Campbell, Nancy Palk (World Premiere)
A Stray
Director/Screenwriter: Musa Syeed
Trying to outrun his bad luck, a young Muslim refugee in Minneapolis seems like he just might make it — until he crosses paths with a stray dog. Cast: Barkhad Abdirahman, Faysal Ahmed , Christina Baldwin, Ayla, Fathia Absie, Jamaal "Happy Khalif" Farah, Abdullahi Haji-Mohamed, Ifrah Mansour, Rhiana Yazzie, George McCauley (World Premiere)
Transpecos
Director: Greg Kwedar, Screenwriters: Greg Kwedar, Clint Bentley
For three US Border Patrol agents, the contents of one car reveal an insidious plot within their own ranks. The next 24 hours may cost them their lives. Cast: Johnny Simmons, Gabriel Luna, Clifton Collins, Jr. (World Premiere)
DOCUMENTARY FEATURE COMPETITION
Ten world premieres: 10 real world stories that demonstrate innovation, energy and bold voices. Selected from 1,013 feature documentary submissions in 2016.
Accidental Courtesy: Daryl Davis, Race & America
Director: Matt Ornstein
Daryl Davis has an unusual hobby. As a musician he has played with legends like Chuck Berry and Little Richard, but in his spare time he likes to meet and befriend members of the Ku Klux Klan. Join Daryl on his personal quest to understand racism. (World Premiere)
Alive and Kicking
Director/Screenwriter: Susan Glatzer
Alive and Kicking gives the audience an intimate, insider's view into the culture of the current swing dance world while shedding light on issues facing modern American society. (World Premiere)
* SXsports screening
Best and Most Beautiful Things
Director: Garrett Zevgetis
In a celebration of outcasts everywhere, a precocious young blind woman disappears into quirky obsessions and isolation. With humor and bold curiosity, she chases love and freedom in the most unexpected of places: a provocative fringe community. (World Premiere)
Goodnight Brooklyn – The Story of Death By Audio
Director: Matthew Conboy
Death By Audio, an underground art and music venue, is forced to close in 2014. The film focuses on the struggles of maintaining a community in the face of Brooklyn property development, hostile construction workers and a one billion-dollar company. (World Premiere)
The Liberators
Director: Cassie Hay
A tiny Texas town. $350 million worth of medieval treasure. The discovery is just the beginning. (World Premiere)
Orange Sunshine
Director/Screenwriter: William A. Kirkley
The never-before-told story of the Brotherhood of Eternal Love – a spiritual group of surfers and hippies in California who became the largest suppliers of LSD and Hash in the world during the 60s and 70s. (World Premiere)
Ovarian Psycos
Directors: Joanna Sokolowski, Kate Trumbull-LaValle
In East Los Angeles, three young misfit women find solace in an unapologetic, feminist bicycle crew. They call themselves the Ovarian Psycos Bicycle Brigade. (World Premiere)
The Seer
Director: Laura Dunn
The Seer is a cinematic portrait of farmer and writer Wendell Berry. Through his eyes, we see both the changing landscapes of rural America in the era of industrial agriculture and the redemptive beauty in taking the unworn path. (World Premiere)
* SouthBites screening
The Space in Between – Marina Abramovic and Brazil (Brazil)
Director: Marco Del Fiol, Screenwriters: Marco Del Fiol, Marina Abramovic, Fabiana Werneck Barcinski
In search of personal healing and artistic inspiration, Marina Abramovic travels through Brazil experiencing sacred rituals and exploring the limits between art and spirituality. How far will she go to create another work of art? (World Premiere)
TOWER
Director: Keith Maitland
An animated and action-packed look at America's first mass school shooting, when the worst in one man brought out the best in so many others. (World Premiere)
HEADLINERS
Big names, big talent: Headliners bring star power to SXSW, featuring red carpet premieres and gala film events with major and rising names in cinema.
Demolition
Director: Jean-Marc Vallee, Screenwriter: Bryan Sipe
Davis (Jake Gyllenhaal), a successful investment banker, struggles after losing his wife in a tragic car crash. Cast: Jake Gyllenhaal, Naomi Watts, Chris Cooper, Judah Lewis (U.S. Premiere)
Don't Think Twice
Director/Screenwriter: Mike Birbiglia
An improv group loses the lease on their home theater at the same time that one of their cast members gets chosen for the biggest sketch comedy show on TV. Cast: Keegan-Michael Key, Gillian Jacobs, Mike Birbiglia, Kate Micucci, Tami Sagher, Chris Gethard(World Premiere)
Everybody Wants Some
Director/Screenwriter: Richard Linklater
In Richard Linklater's anticipated "spiritual sequel" to Dazed and Confused, a group of college friends navigate their way through the freedoms and responsibilities of the wild final weekend of the summer of 1980. Cast: Will Brittain, Zoey Deutch, Ryan Guzman, Tyler Hoechlin, Blake Jenner, J. Quinton Johnson, Glen Powell, Wyatt Russell (World Premiere)
* SXsports screening
Hardcore Henry (Russian Federation)
Director/Screenwriter: Ilya Naishuller
An unflinchingly original, first-person action film where YOU are the main character, Henry. Resurrected from death with no memory by your wife, your mission is find her, solve the mystery of your existence and discover the truth behind your identity. Cast: Sharlto Copley, Danila Kozlovsky, Haley Bennett, Andrey Dementyev, Dasha Charusha, Sveta Ustinova(U.S. Premiere)
In A Valley of Violence
Director/Screenwriter: Ti West
From Blumhouse, the film tells the story of a drifter named Paul who arrives in a small town, seeking revenge on the thugs who murdered his friend. Sisters Mary Anne and Ellen who run the town's hotel, help Paul in his quest for vengeance. Cast: Ethan Hawke, Taissa Farmiga, James Ransone, Karen Gillan, John Travolta (World Premiere)
Midnight Special
Director/Screenwriter: Jeff Nichols
A father goes on the run to protect his young son and uncover the truth behind the boy's special powers in writer/director Jeff Nichols' sci-fi thriller Midnight Special, a film as supernatural as it is intimately human. Cast: Michael Shannon, Joel Edgerton, Kirsten Dunst, Adam Driver, Jaeden Lieberher, Sam Shepard (North American Premiere)
Pee-wee's Big Holiday
Director: John Lee, Screenwriters: Paul Reubens, Paul Rust
In Pee-wee's Big Holiday, a fateful meeting with a mysterious stranger inspires Pee-wee Herman to take his first-ever holiday in this epic story of friendship and destiny. Cast: Paul Reubens, Joe Manganiello, Jessica Pohly, Alia Shawkat, Stephanie Beatriz (World Premiere)
Tony Robbins: I Am Not Your Guru
Director: Joe Berlinger
Granted unprecedented access, Tony Robbins: I Am Not Your Guru captures renowned life and business strategist Tony Robbins behind the scenes of his mega seminar Date with Destiny, pulling back the curtain on this life-altering and controversial event. (World Premiere)
NARRATIVE SPOTLIGHT
High profile narrative features receiving their World, North American or U.S. premieres at SXSW.
9 Rides
Director/Screenwriter: Matthew A. Cherry
An Uber driver gets life changing news on the busiest night of the year. Cast: Dorian Missick, Omar Dorsey, Robinne Lee, Xosha Roquemore, Amin Joseph, Skye P. Marshall, Thomas Q. Jones, Tracie Thoms, Aasha Davis, Sujata Day (World Premiere)
Another Evil
Director/Screenwriter: Carson D. Mell
After encountering a ghost in his family's vacation home, Dan and his wife Mary hire an "industrial-grade exorcist" named Os to get rid of the beings. Cast: Steve Zissis, Mark Proksch, Jennifer Irwin, Dax Flame, Steve Little, Dan Bakkedahl (World Premiere)
BLACK (Belgium)
Directors: Adil El Arbi, Bilall Fallah, Screenwriters: Nele Meirhaeghe, Adil El Arbi, Bilall Fallah, Hans Herbots
Mavela, 15, is a Black Bronx. She falls madly in love with Marwan, a charismatic member of a rival gang, the 1080s. The young couple is forced to make a brutal choice between gang loyalty and the love they have for one another. An impossible dilemma. Cast: Martha Canga Antonio, Aboubakr Bensaihi (U.S. Premiere)
Black Mountain Poets (UK)
Director/Screenwriter: Jamie Adams
Two professional con artist sisters go on the run and assume the identities of The Wilding Sisters, guest stars of the a poetry retreat in the depths of the Black Mountains. A romantic comedy drama about love, crime, spirituality and soul. Cast: Alice Lowe, Dolly Wells, Tom Cullen, Rosa Robson, Richard Elis, Laura Patch, Roger Evans, Hannah Daniel, Ben McGregor, Claire Cage (North American Premiere)
From Nowhere
Director: Matthew Newton, Screenwriters: Matthew Newton, Kate Ballen
Three undocumented Bronx teenagers are graduating from high school while navigating the treacherous waters of trying to get their papers to stay in the US. Cast: Julianne Nicholson, Denis O'Hare, J. Mallory McCree, Octavia Chavez-Richmond, Chinasa Oghuagu, Raquel Castro, Tashiana Washington, Sydni Boudin, Jim Norton, Portia Johnson(World Premiere)
I Am Not A Serial Killer (Ireland/UK)
Director: Billy O'Brien, Screenwriters: Billy O'Brien, Chris Hyde
In a small Midwestern town, a troubled teen with homicidal tendencies must hunt down and destroy a supernatural killer whilst keeping his own inner demons at bay. Cast: Max Records, Christopher Lloyd, Laura Fraser, Karl Geary (World Premiere)
Jean of the Joneses (Canada/USA)
Director/Screenwriter: Stella Meghie
Chaos ensues after the estranged patriarch of the Jones family dies on their doorstep. When the paramedic who answers their 911 call tries to win over acerbic Jean Jones, his attempts are disrupted by old conflicts that come to a boil at the funeral. Cast: Taylour Paige, Sherri Shepherd, Gloria Reuben, Michelle Hurst, Erica Ash, Mamoudou Athie, Francois Arnaud, Demore Barnes, Anna Hopkins (World Premiere)
Long Nights Short Mornings
Director/Screenwriter: Chadd Harbold
An examination of the romantic life of a young man in New York City and his sometimes fleeting, sometimes profound experiences with the women he encounters. Cast: Shiloh Fernandez, Ella Rae Peck, Paten Hughes, Layla Koshnoudi, Christine Evangelista, Cassandra Freeman, Helen Rogers, Stella Maeve, Natalia Dyer, Ebonee Noel, Addison Timlin (World Premiere)
The Master Cleanse
Director/Screenwriter: Bobby Miller
Down, out and heartbroken, Paul attends a spiritual retreat to cleanse himself and fix his broken life but soon discovers that the cleanse releases more than everyday toxins… a lot more. Cast: Johnny Galecki, Anna Friel, Kyle Gallner, Diana Bang, Kevin J. O'Conner, Oliver Platt, Anjelica Huston (World Premiere)
My Blind Brother
Director/Screenwriter: Sophie Goodhart
Love for the same woman causes conflict between an over-achieving blind athlete and the brother who made him that way. Cast: Adam Scott, Nick Kroll, Jenny Slate, Zoe Kazan, Charlie Hewson, Maryann Nagel, Greg Violand (World Premiere)
* SXsports screening
Rainbow Time
Director/Screenwriter: Linas Phillips
A developmentally delayed 40-year-old man named Shonzi is sent to live with his brother Todd. But when Shonzi developes a crush on Todd's new girlfriend Lindsay, he threatens to reveal past secrets that could ultimately tear the couple apart. Cast: Melanie Lynskey, Linas Phillips, Timm Sharp, Tobin Bell, Lauren Weedman, Artemis Pebdani, Jay Duplass, Reagan Yates, Austin Fryberger (World Premiere)
Shovel Buddies
Director: Si&Ad, Screenwriter: Jason Mark Hellerman
After the death of their best friend, Jimmy (Alex Neustaedter) enlists childhood friend Dan (Kian Lawley), little brother Lump, and crush Kate (Bella Thorne) to fulfill his last request.Cast: Bella Thorne, Kian Lawley, Alex Neustaedter, Anton Starkman, Philip Labes, James C. Burns, Jenny Cooper (World Premiere)
Slash
Director/Screenwriter: Clay Liford
Neil is a questioning teen who secretly writes erotic fan fiction about popular sci-fi characters. When his classmate Julia discovers his writing, she leads him down a rabbit hole deep into the world of 'slash' fiction. Cast: Michael Johnston, Hannah Marks, Michael Ian Black, Missi Pyle, Jessie Ennis, Peter Vack, Sarah Ramos, Robert Longstreet, Tishuan Scott, Lucas Neff (World Premiere)
Suntan (Greece)
Director: Argyris Papadimitropoulos, Screenwriters: Argyris Papadimitropoulos, Syllas Tzoumerkas
On a hedonistic Greek island, a local doctor becomes obsessed with a young female tourist when she lets him tag along with her group of hard-partying friends. Cast: Efthymis Papadimitriou, Elli Triggou, Dimi Hart, Hara Kotsali (North American Premiere)
The Trust
Directors: Ben Brewer, Alex Brewer, Screenwriters: Ben Brewer, Adam Hirsch
Two corrupt Las Vegas police officers plan to rob a large stash that they find in connection to a local drug operation. Cast: Nicolas Cage, Elijah Wood, Sky Ferreira, Jerry Lewis (World Premiere)
The Waiting
Director: Kasra Farahani, Screenwriters: Mark Bianculi, Jeff Richard
Two high school filmmakers decide to create the illusion of a haunting on an unsuspecting neighbor. Cast: James Caan, Logan Miller, Keir Gilchrist, Laura Innes, Edwin Hodge, Bailey Boble, Lili Reinhart, Anne Dudek, Mindy Sterling, Tamlyn Tomita (World Premiere)
War On Everyone (UK)
Director/Screenwriter: John Michael McDonagh
Two corrupt cops in New Mexico set out to blackmail and frame every criminal unfortunate enough to cross their path in this volatile jet-black action comedy. Cast: Michael Peña, Alexander Skarsgård, Theo James, Tessa Thompson (North American Premiere)
DOCUMENTARY SPOTLIGHT
Shining a light on new documentary features receiving their World, North American or U.S. premieres at SXSW.
Asperger's Are Us
Director: Alex Lehmann
In this coming of age documentary, four friends on the autism spectrum whom have bonded through humor and performed as the comedy troupe Asperger's Are Us will prepare for one final, ambitious show before going their separate ways. (World Premiere)
The Bandit
Director: Jesse Moss
The Bandit is a film about 70s superstar Burt Reynolds, his best friend, roommate and stunt-double Hal Needham, and the making of their unlikely smash-hit Smokey & The Bandit. (World Premiere)
Beware the Slenderman
Director: Irene Taylor Brodsky
Beware the Slenderman tells the story of a Boogeyman lurking on the internet and two 12-year-old girls who would kill for him. A horrifyingly modern tragedy, this film explores children's accountability in the online age. (World Premiere)
Chicken People
Director: Nicole Lucas Haimes
In a high stakes world where a single broken feather can mean a shattered dream,Chicken People follows the trials and tribulations of those who breed exotic birds in the world of competitive poultry. (World Premiere)
* SXsports screening
The Dwarvenaut
Director: Josh Bishop
The Dwarvenaut is a dreamlike documentary chronicling Brooklyn-based artist Stefan Pokorny's lifelong quest to inspire humanity through the one medium he knows best: Dungeons & Dragons. (World Premiere)
Fantastic Lies
Director: Marina Zenovich
Ten years after the Duke Lacrosse case exploded into the national media, we revisit the case which divided America and explore how it affected the lives of those involved. (World Premiere)
* SXsports screening
Hit it Hard
Directors: Gabe Spitzer, David Terry Fine
Hitting it hard is the only way John Daly knows. It's how he plays golf. It's how he lives life. After 25 years of extreme highs and devastating lows, this film explores why Daly has remained one of America's most beloved athletes. (World Premiere)
* SXsports screening

The Hollywood Shorties
Director/Screenwriter: Ryan Steven Green
In 1980s Los Angeles, a professional dwarf basketball team composed of recognizable-but-typecast actors finds itself the unwitting vanguard of a revolution to represent little people as something other than objects of curiosity. (World Premiere)
* SXsports screening
The Incomparable Rose Hartman
Director: Otis Mass
With a career spanning decades Photographer Rose Hartman is known for her iconic photos from Studio 54 and the fashion world, her boisterous personality and ever presence capturing the New York social scene. (World Premiere)
* SXstyle screening
Insatiable: The Homaro Cantu Story
Director: Brett A. Schwartz
Chef and inventor Homaro Cantu helped put Chicago on the culinary map and wanted to change the world. Insatiable takes you on a dizzying and thrilling ride with Cantu, in a story that moves from redemption and inspiration to tragedy and back again. (World Premiere)
* SouthBites screening
Learning To See
Director: Jake Oelman
One man's transformational journey to find the Amazon's strangest creatures. (World Premiere)
Mr. Gaga (Israel)
Director/Screenwriter: Tomer Heymann
Mr. Gaga tells the story of Ohad Naharin, renowned choreographer and artistic director of the Batsheva Dance Company, an artistic genius who redefined the language of modern dance. (North American Premiere)
Seven Songs for a Long Life (UK)
Director: Amy Hardie
The intimate story behind our changing relationship with death – with great songs! (North American Premiere)
Silicon Cowboys
Director: Jason Cohen, Screenwriters: Steven Leckart, Jason Cohen
Three friends dream up a portable computer at a Texas diner in 1981, and soon battle IBM, the world's most powerful tech company, for PC supremacy. Compaq Computer's improbable journey altered the future of computing and shaped the world we now know. (World Premiere)
The Slippers (Canada)
Director: Morgan White, Screenwriters: Derek Lageunesse, Morgan White
The Slippers pulls back the Wizards curtain the unbelievable story of Dorothy's Ruby Slippers from The Wizard of Oz, and their impact on popular culture, and the now multi-million dollar a year industry of Hollywood memorabilia collecting. (World Premiere)
Starving The Beast: The Battle to Disrupt and Reform America's Public Universities
Director/Screenwriter: Steve Mims
The story of money, power and politics and the well organized, yet little noticed, efforts to radically disrupt and reform America's public universities. (World Premiere)
Thank You Del: The Story of the Del Close Marathon
Director: Todd Bieber
Fifteen years after Del Close's death, thousands of comedians (both famous and unknown) gather to celebrate modern comedy's most important person that no one knows. (World Premiere)
VISIONS
Visions filmmakers are audacious, risk-taking artists in the new cinema landscape who demonstrate raw innovation and creativity in documentary and narrative filmmaking.
The Alchemist Cookbook
Director: Joel Potrykus
Self-made chemist Sean, a recluse living in an old trailer in the woods, suffers from pill-popping delusions of fortune. When his manic attempts at cracking the ancient secret of alchemy go awry he unleashes something far more sinister and dangerous. Cast: Ty Hickson, Amari Cheatom (World Premiere)
American Fable
Director/Screenwriter: Anne Hamilton
When an 11-year-old girl named Gitty discovers that her father is holding hostage a wealthy man on their family's remote farm, she chooses to dive into a dark and magical world in this Midwestern-set, fairytale thriller. Cast: Kip Pardue, Peyton Kennedy, Gavin MacIntosh, Rusty Schwimmer, Zuleikha Robinson, Marci Miller, Richard Schiff (World Premiere)
Baby Bump (Poland)
Director/Screenwriter: Kuba Czekaj
Growing up is not for kids. Cast: Kacper Olszewski, Agnieszka Podsiadlik (U.S. Premiere)
I Am Belfast (UK)
Director/Screenwriter: Mark Cousins
A visual, poetic depiction of Belfast and its citizens, told with love and passion by someone who has left the city many years ago but is still fascinated by it. (North American Premiere)
In Pursuit of Silence
Director: Patrick Shen
In Pursuit of Silence is a meditative film that explores our relationship with silence, sound, and the impact of noise on our lives. (North American Premiere)
Jules and Dolores (Brazil)
Director: Caito Ortiz, Screenwriters: Lusa Silvestre, Caito Ortiz
Jules and Dolores is a pop comedy about the theft of the World Cup Trophy that occurred in Brazil in 1983. Curiously enough, nobody truly knows the details surrounding this unbelievable event, until now. Cast: Paulo Tiefenthaler, Taís Araujo, Danilo Grangheia, Milhem Cortaz, Fabio Marcoff, Pedro Wagner, Álvaro Diniz, Thelmo Fernandes, Otto Jr.(World Premiere)
* SXsports screening
Karaoke Crazies (Republic of Korea)
Director: Kim Sang Chan
Welcome to ADDICTION KARAOKE and let's sing till the end! (World Premiere)
Little Sister
Director/Screenwriter: Zach Clark, Story by Zach Clark, Melodie Sisk
A young nun returns home to visit her estranged family. Cast: Addison Timlin, Ally Sheedy, Keith Poulson, Peter Hedges, Kristin Slaysman, Molly Plunk, Barbara Crampton (World Premiere)
LOEV (India)
Director/Screenwriter: Sudhanshu Saria
A weekend trip between friends takes a sudden turn, making them each examine what love is and what it means to them. Cast: Shiv Pandit, Dhruv Ganesh, Siddharth Menon(North American Premiere)
My Beautiful Broken Brain (UK)
Directors: Sophie Robinson, Lotje Sodderland
Her brain is broken. Her mind is limitless. A film about a young woman's cerebral hemorrhage with outcomes no one could have predicted. (North American Premiere)
Operator
Director: Logan Kibens, Screenwriters: Sharon Greene, Logan Kibens
JOE, a programmer and obsessive self-quantifier, and EMILY, a budding comedy performer, are happily married until they decide to use one another in their work. Operatoris a dark comedy about love, technology, and what can't be programmed. Cast: Martin Starr, Mae Whitman, Nat Faxon, Cameron Esposito, Retta, Christine Lahti, Kate Cobb, Kristopher Lofton, Tim Hopper, Trevor Dawkins (World Premiere)
Spaceship (UK)
Director/Screenwriter: Alex Taylor
A girl fakes her own alien abduction and disappears, leaving her father to search for her in a strange teenage world of unicorns and black holes. Cast: Antti Reini, Alexa Davies, Lara Peake, Lucian Charles Collier, Tallulah Haddon, Steven Elder, Jack Winthrop, Kristof Gerega, Harry Jarvis (World Premiere)
Teenage Cocktail
Director: John Carchietta, Screenwriters: John Carchietta, Sage Bannick, Chris Sivertson, Story by: Amelia Yokel
Teenage Cocktail is the story of how Annie and Jules fell in love and how it all got weird.Cast: Nichole Bloom, Fabianne Therese, Pat Healy, Michelle Borth, Joshua Leonard, AJ Bowen (World Premiere)
Under the Sun (Czech Republic/Germany/Korea/Democratic People's Republic of Latvia, Russian Federation)
Director: Vitaly Mansky
"My father says that Korea is the most beautiful country," says schoolgirl Zin-mi. Despite continuous interference by government handlers, Under The Sun reveals a never-before-seen glimpse of one family's life in North Korea. (North American Premiere)
EPISODIC
Featuring innovative new work aimed squarely at the small screen, Episodic tunes in to the explosion of exciting material on non-theatrical platforms, including serialized TV, webisodes and beyond. (New for 2016: Open to all badgeholders)
Outcast
Director: Adam Wingard, Screenwriter: Robert Kirkman, Showrunner: Chris Black
Outcast, based on the Skybound/Image comic title by creator Robert Kirkman and artist Paul Azaceta, follows Kyle Barnes, a young man who has been plagued by demonic possession all his life. Cast: Patrick Fugit, Philip Glenister, Wrenn Schmidt, Reg E. Cathey, David Denman (World Premiere)
Preacher
Directors: Seth Rogen, Evan Goldberg, Screenwriter: Sam Catlin
Preacher is a supernatural, twisted and darkly comedic drama that follows a West Texas preacher named Jesse Custer, who – along with his ex-girlfriend Tulip and an Irish vagabond named Cassidy – is thrust into a crazy world, much bigger than he is. Cast: Dominic Cooper, Ruth Negga, Joseph Gilgun, Ian Colletti, W. Earl Brown, Lucy Griffiths(World Premiere)
Search Party
Directors/Screenwriters: Sarah-Violet Bliss, Charles Rogers
Search Party is a dark comedy about four self-absorbed twenty-somethings who become entangled in an ominous mystery when a former college acquaintance suddenly disappears. Cast: Alia Shawkat, John Early, John Reynolds, Meredith Hagner (World Premiere)
Vice Principals
Directors: Jody Hill, David Gordon Green, Screenwriters: Danny McBride, Jody Hill
A dark comedy series that tells the story of a high school and the two people who almost run it, the vice principals, who are engaged in an epic power struggle for the top spot. Cast: Danny McBride, Walton Goggins, Kimberly Herbert Gregory, Georgia King, Busy Philipps, Shea Whigham, Sheaun McKinney (World Premiere)
You Me Her
Screenwriter/Showrunner: John Scott Shepherd
An impulsive "date" between suburbanite Jack and escort Izzy spins into a three-way affair including Jack's wife Emma, posing the question: What if your truest, happiest life looked nothing like you imagined? Would you be brave enough to live it? Cast: Greg Poehler, Rachel Blanchard, Priscilla Faia, Jarod Joseph, Melanie Papaila (World Premiere)
24 BEATS PER SECOND
Showcasing the sounds, culture and influence of music & musicians, with an emphasis on documentary. (Open to Music badgeholders)
The American Epic Sessions
Director: Bernard MacMahon, Screenwriters: Bernard MacMahon, Allison McGourty, Duke Erikson
On the 90th anniversary of the first electrical sound recordings, twenty of today's greatest artists test their skills against the lost recording machine that first gave America her voice.
And Punching the Clown
Director: Gregori Viens, Screenwriters: Henry Phillips, Gregori Viens
Comedian Henry Phillips is lured to LA by a renowned TV producer who wants to bring his story of failure to the screen. But when a major network gets involved, Henry must decide whether he wants to make jokes for a living, or be the butt of them. Cast: Henry Phillips, Sarah Silverman, Tig Notaro, J.K. Simmons, Jim Jefferies, Ellen Ratner, Mike Judge, Mark Cohan, Clifton Collins (World Premiere)
The Art of Organized Noize
Director: Quincy 'QD3' Jones, III, Screenwriter: Joshua A. Krause
Organized Noize shaped the landscape of Hip Hop music with a distinct sound created in the confines of a dungeon. They're responsible for the careers of Outkast, CeeLo, Goodie Mob and the Dungeon Family. This is the story of the Art of Organized. (World Premiere)
Artist & Repertoire (UK)
Director: Matthew Jones
A pulsating documentary charting the extraordinary life and career of underground DJ icon, music producer and global trip hop mogul, James Lavelle. Starring DJ Shadow, 3D of Massive Attack, Futura, Ian Brown, Grandmaster Flash and Josh Homme. (World Premiere)
BANG! The Bert Berns Story
Directors: Brett Berns, Bob Sarles
Music meets the Mob in this biographical documentary about the meteoric career and tragic life of Bert Berns, the most important '60s songwriter that you never heard of. His hits include Twist & Shout, Hang On Sloopy, and Piece Of My Heart. (World Premiere)

Born To Be Blue (Canada/UK)
Director/Screenwriter: Robert Budreau
Ethan Hawke lights up the screen as jazz legend and icon of cool, Chet Baker, whose comeback from heroin addiction is thrillingly told with wit, verve, and style to burn. Cast: Ethan Hawke, Carmen Ejogo, Callum Keith Rennie, Tony Nappo, Stephen McHattie, Janet-Laine Green, Dan Lett, Kedar Brown, Kevin Hanchard, Tony Nardi (U.S. Premiere)
Gary Numan: Android In La La Land (UK)
Directors: Steve Read, Rob Alexander
The Godfather of electronic music is on a one-way trip to crack America, returning to the studio for the first time in nearly a decade. Android is a celebration of a music-making pioneer and the love story that helped him turn his life around. (World Premiere)
Honky Tonk Heaven: Legend of the Broken Spoke
Directors: Sam Wainwright Douglas, Brenda Greene Mitchell
The Broken Spoke has hosted country greats like George Strait, Willie Nelson, Ernest Tubb, Bob Wills, George Jones and Roy Acuff. A profile of "the last of the true Texas dance halls" and the tenacious family keeping it alive amid rapid urban growth. (World Premiere)
I Go Back Home – Jimmy Scott (Germany/USA)
Director: Yoon-ha Chang
In I go back home – Jimmy Scott we meet 54 year old Ralf Kemper, a successful German music producer. He takes on the journey to produce a record with the almost forgotten jazz icon Jimmy Scott. (World Premiere)
Miles Ahead
Director: Don Cheadle, Screenwriters: Don Cheadle, Steven Baigelman
Inspired by events in his life, Miles Ahead is a wildly entertaining, impressionistic, no-holds barred portrait of one of 20th century music's creative geniuses, Miles Davis. Cast: Don Cheadle, Ewan McGregor, Emayatzy Corinealdi, Lakeith Lee Stanfield, Michael Stuhlbarg
Miss Sharon Jones!
Director: Barbara Kopple
Dreams never expire, but sometimes they are deferred. Miss Sharon Jones! tracks the talented and gregarious soul singer of the Grammy-nominated R&B band Sharon Jones & the Dap-Kings during the most challenging year of her life.
A Song For You: The Austin City Limits Story
Director: Keith Maitland
From Willie Nelson to Wilco, Ray Charles to Radiohead, A Song For You: The Austin City Limits Story offers the ultimate backstage pass to 40 years of incredible music from the longest running music show in television history. (World Premiere)
Soundbreaking – Stories from the Cutting Edge of Recorded Music
Directors: Jeff Dupre, Maro Chermayeff
An eight-part series that explores the nexus of cutting-edge technology and human artistry that has created the soundtrack of our lives. (World Premiere)
The Smart Studios Story
Director: Wendy Schneider
From the outside Smart Studios looked like just another Midwestern warehouse left behind by the economic decline of the 1980s. No one could have guessed what was going on inside – and how it would soon change the sound of music forever. (World Premiere)
We Are X (UK/USA)
Director: Stephen Kijak
X Japan led a hard rock cultural revolution in Japan during the late 80's. Twenty years after their tragedy-fueled collapse, We Are X tells the story of the most influential band in the world that you've never heard of…yet.
SXGLOBAL
A diverse selection of International filmmaking talent, featuring innovative narratives, artful documentaries, premieres, festival favorites and more.
BODKIN RAS (Belgium/Netherlands/UK)
Director/Screenwriter: Kaweh Modiri
The people in Forres don't work. Between 9 and 5 they dissolve into the pubs, where the light shines as a warm glow in their midst. Then the stranger Bodkin arrives into town. He has come to this remote corner of Europe to hide and lay low. Cast: Sohrab Bayat, Lily Szramko, Eddie Paton, James Macmillan (North American Premiere)
Dead Slow Ahead (Spain)
Director: Mauro Herce, Screenwriters: Mauro Herce, Manuel Muñoz
A freighter crosses the ocean. The hypnotic rhythm of its gears reveals the continuous movement of machinery devouring its workers: the last gestures of the old sailors' trade disappearing under the mechanic pace of 21st century. (U.S. Premiere)
Ghostland – The View of The Ju/'Hoansi (Germany)
Director: Simon Stadler
For the first time the Ju/Hoansi Bushmen travel through the Kalahari and then right into the heart of Europe. What starts as a look at their fascinating culture becomes an even more fascinating look on our Western lifestyle. (North American Premiere)
KILL ME PLEASE (Brazil)
Director: Anita Rocha Da Silveira
After an encounter with death, she will do anything to make sure she's alive.
Papagajka (Australia/UK)
Director/Screenwriter: Emma Rozanski
A stranger arrives in Sarajevo and barges into Damir's reclusive world. Little by little she takes over his life. She absorbs his dreams, until finally she threaten his very existence.Cast: Adnan Omerovic, Susanna Cappellaro, Tina Kerserovic, Sabina Mrgan, Don Guido(World Premiere)
UIO: Take me for a Ride (Colombia/Ecuador/Mexico)
Director/Screenwriter: Micaela Rueda
How do you deal with being 'different'? Cast: Samanta Caicedo, María Juliana Rángel, Diego Naranjo, Paty Loor, Monserrat Astudillo, Miranda Zepeda, Anne Dominque Correa, Domenica Blanco, Ana Belén Bermeo (World Premiere)