Back to selection
SXSW: Tree of Life Plus the Doors — Rainbow Time DP Nathan M. Miller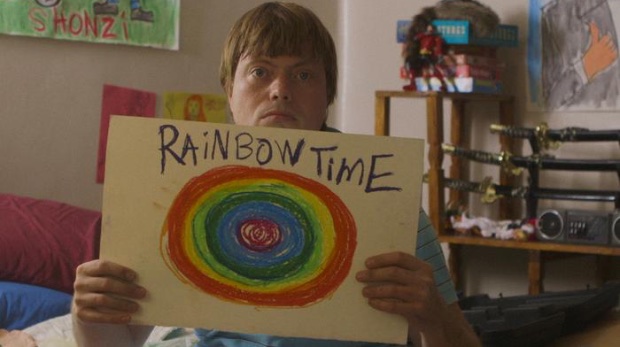 Rainbow Time
In his follow-up to Manson Family Vacation, director Linas Phillips turns his attention to the troubled relationship between Todd (Timm Sharp) and his sex-obsessed, developmentally delayed older brother Shonzi (Phillips). A Duplass brothers production with Melanie Lynskey as Todd's girlfriend, the film premiered this weekend at SXSW. Before, DP Nathan M. Miller spoke about using The Doors (not the movie!) as a reference point, working with a small crew and integrating VHS into the production.
Filmmaker: How and why did you wind up being the cinematographer of your film? What were the factors and attributes that led to your being hired for this job?
Miller: Rainbow Time was shot in and around LA, but Linas and I had crossed paths in the Seattle film scene. He knew that I split my time between Seattle and LA, and when he started crewing up, a few people recommended me as well, so it all made sense. Once he sent me the script, I was pleasantly surprised by his handling of the material and his humor, and thought it could be a really interesting project.
Filmmaker: What were your artistic goals on this film, and how did you realize them? How did you want your cinematography to enhance the film's storytelling and treatment of its characters?
Miller: We kept it simple, which was motivated by budget of course, but also very much creative. It was a great story that had compelling characters. I just needed to make sure it translated well onto the screen. This was a story about relationships that didn't require any fancy camerawork.
Filmmaker: Were there any specific influences on your cinematography, whether they be other films, or visual art, of photography, or something else?
Miller: Linas and I talked about Tree of Life. And The Doors — the band, not the film.
Filmmaker: What were the biggest challenges posed by production to those goals?
Miller: We did a lot with very, very little. We had a fantastic crew, who really came through on this one. Everyone was taking on several jobs — I'm really proud of our cast and crew. All good people. I think at day's end there were typically less than 10 people on set, doing the job of 30.
Filmmaker: What camera did you shoot on? Why did you choose the camera that you did? What lenses did you use?
Miller: We used the Canon C300 & C100 mkII w/ EF lenses. This was originally motivated by what was available to us, but I think the look of Canon cameras and lenses ended up being a perfect match for the story Linas was trying to tell.
Filmmaker: Describe your approach to lighting.
Miller: Minimalist. Naturalistic. Just accentuating what's already there. Except for the dream sequence …. we got a little funky with that one.
Filmmaker: What was the most difficult scene to realize and why? And how did you do it?
Miller: That might be our VHS sequences, as we were committed to using true VHS camcorders. Figuring out that process with limited time and means was an interesting hurdle.
Filmmaker: Finally, describe the finishing of the film. How much of your look was "baked in" versus realized in the DI?
Miller: As far as looks, on the day we just dealt with the built-in Canon LUT, keeping an eye on the C-Log to know what we had. The final look was realized in the DI. Nothing fancy.
Camera: Canon C300/C100 MKII/Panasonic VHS Camcorder
Lenses: Canon EF Lenses
Lighting: various
Processing: n/a
Color Grading: Resolve/Nick Smith/Finland Finish/Austin, TX