Back to selection
True/False Dispatch 2: Locked In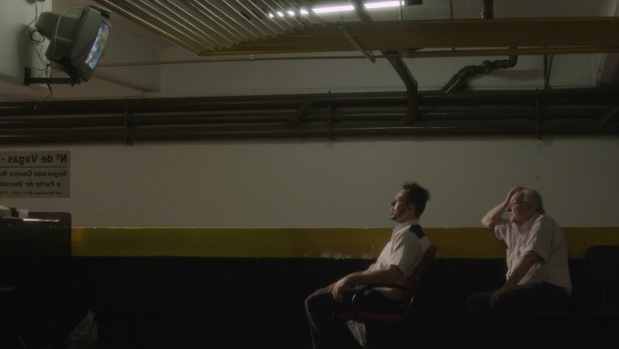 O Futebol
One of my favorites at True/False, Sergio Oksman's O Futebol constructs/chronicles the director's reunion with his long-out-of-touch father. After 20 years based in Madrid, Oksman has returned to São Paulo to spend a month watching all the 2014 World Cup games with his father. Even in a nation as soccer-crazed as Brazil, Oksman senior's recall is massive: of a potential challenger for his claim to ultimate knowledge, he responds, "Let's see if he knows who was the referee of the 1954 Fourth Centenary Cup final." Father and son never do make it to the stadium — dad says he's too busy, and then late-film complications emerge — but they spend a lot of time watching games in various restaurants and driving to/around the stadium.
The camera's thus committed to a primary POV that's bolted to the backseat of dad's car. The placement is very particular: exactly center, peering through the window at the city as if through a telescope that renders what's out of front fuzzily farther away. The visual mode is less big-city panorama, more restricted views of the immediate roadway. This is a very particular choice made by a very particular filmmaker, and O Futebol proves there's plenty of life yet in the old dog known as Slow Cinema. Taxonomic shorthand aside it's not slow, just committed: Oksman can't enter a restaurant or hospital without having found the precise right place for his camera. The tone is a familiar but expertly calibrated mixture of listless disconnect between the central duo, droll ennui and occasional eruptions of cheering from the street. A collaborative semi-fiction, O Futebol periodically has its gaze punctured: after an extended shot of dad staring at an unseen TV, with the game over, he finally snaps "Sergio, may I get up now for God's sake?" Around a study of civility-preserving non-communication, O Futebol takes in electronics repairs, glimpses of the homeless, and snapshots of a city alternately lulled to a standpoint by each game or progressing with the business of construction and ensuring continued sprawl.
The first shot of Antonio Tibaldi and Alex Lora's Thy Father's Chair straps the camera to the POV of a van from cleaning service Home Clean Home backing into the driveway of a Midwood home. They're here to clean up a house that, thanks to the active disregard of twin Orthodox brother Avraham and Shraga, is the stuff of hoarder nightmares: long-expired canned food in the pantry, a Dutch oven with a horrifyingly old stew in the freezer, surfaces covered in a detritus of papers and beer cans.
The camera goes no further than the sidewalk throughout; this is a film as locked-in as the brothers are in their squalor. Shot over eight days, Thy Father's Chair (its title indicative of the very specifically accent and lexical oddities captured) is first enigmatic as far as what its primary interest is, then actively nightmarish; for anyone who has trouble letting go of things (hi!), the differing textures of ossified garbage will serve as an object lesson in what a future in which the smell of undiscarded cat litter might not even be the biggest of your problems. (It's also a ready-made metaphor for documentarians trying to make sense of their footage, which I can't resist pointing out despite it being the opposite of this the pared-down film, which clocks in at 74 minutes.) The clinginess sometimes goes very far (one brother argues the merits of retaining a very old stick of deodorant), increasingly pointing up the vast gap between the abstract intellectual achievements of these religious scholars and their total inability to function even within their own cloistered space. Shot with great attention to this tiny space, the film induces claustrophobia; a closing dedication to Chantal Akerman, another portraitist of restrictive domestic spaces, is earned.
Conversely taking place entirely outdoors but no less oppressive for that, Those Who Jump has filmmakers Estephan Wagner and Moritz Siebert literally handing over a camera to Malian subject Abou Bakar Sidibé. He's one of many African migrants waiting to hop a fence between Morocco and Spain, a process which involves a lot of waiting for the strategic moment to surge over in somewhat-unstoppable numbers. Sidibé didn't need to take post-colonial studies to understand that he's on right side of history; experience has done that for him. "For decades my country has been exploited by Europe," he fumes. "And now they want to stop me from going to Europe? […] I have the right to go to Europe." But first he must wait, filming the impromptu campsites routinely raided by Moroccan police (in an especially anti-humane move, they burn the migrants' rice) and documenting how the camp works. Migrants from each country stick to their own groups, each of which has a representative chief. Despite differing backgrounds (there's a rowdy Mali vs. Ivory Coast soccer game), the shared common goal is repeatedly attempted; the film's climax unusually hinges on the question of whether, in hopping the fence himself, Sidibé can chronicle a successful push to the mainland from the inside.
Clearly aware of the potential power problematics associated in "giving voice" to African experience through the filtering prism of Western financing and editing, Siebert and Wagner are implicitly/unavoidably aligned with the surveillance camera footage they occasionally cut to. Here, the migrants appear almost as a parody of the proverbial old Hollywood epic "cast of thousands," an impressive stream of people dotting forbidding landscapes. Siebert and Wagner can observe through the lens of national authority, and later through the footage they're given, but they're still part of the power structure. The film comes out with all good intentions successfully realized. A recurring secondary motif is Sidibé's growth as a filmmaker, from early days — when he's repeatedly asked what he's doing with the camera — to his artistic maturation: "I started to enjoy creating images," he realizes. "I express myself through creating images." This serves as an implicit rebuke to the bad idea that urgent social situations are of such importance that they negate the possibility of aesthetics. Those Who Jump thus crunches neatly on both experiential and political levels, though it's more engaging to unpack than actually watch. That's not necessarily a value judgment, just notice that this was one of the festival's more limited-returns offerings for me personally.
I'm throwing in Deborah Stratman's The Illinois Parables here because, even though it doesn't comfortably fit the loose throughline — well, close enough. A veteran experimental filmmaker (this is only my second encounter with her work), Stratman's 64-minute feature is the result of a decade's labor. Taking place in 11 chapters, Stratman uses a variety of oblique (and not-so-much) tactics to represent Illinois' history. The Trail of Tears takes up considerable time, represented in part by close-ups of that atrocity's via-models representation in a museum, in part through static shots of the landscape they passed through, layering over the sound of moving feet and an outraged letter to the president from Ralph Waldo Emerson (read by fellow avant-garde practitioner David Gatten). A segment on the ever-present threat of tornados layers oral testimony over helicopter fly-over footage of a particularly devastating twister's post-storm debris pattern; later, audio footage of a Black Panthers press conference pointing out the FBI's lies regarding the assassination of Fred Hampton plays over a puckish B&W reconstruction of the FBI's own investigation.
I don't have much to say about Stratman's thematic preoccupations. The Illinois Parables is a politically blunt object — not quite John Gianvito-level ideological firmness, but still a work of progressive convictions that are both righteous and a little standard. But Stratman's description of the film as "maximalist minimalism" sticks: there's plenty of gorgeous 16mm footage to look at, in many different aesthetic modes, and an eclectic soundtrack of disparate cues to process. What's fascinating is the gap between the two. To wit: this is one of the best DCP transfers of 16mm I've seen recently, preserving at least the illusion of a constantly changing swirl of grain textures responding to different settings, with splices and scratches further hammering home the celluloid source. The soundtrack cues, though, often have a non-analogue loudness and sharpness you can't get with 16mm. There's a 16mm print that exists, but for once I think this DCP merges the best of two different mediums while encouraging us to think harder about the properties of both.
[Click here to read the first dispatch.]