Back to selection
Primary Colors: On the Sun Valley and Miami Film Festivals in the Hour of Republican Reckoning!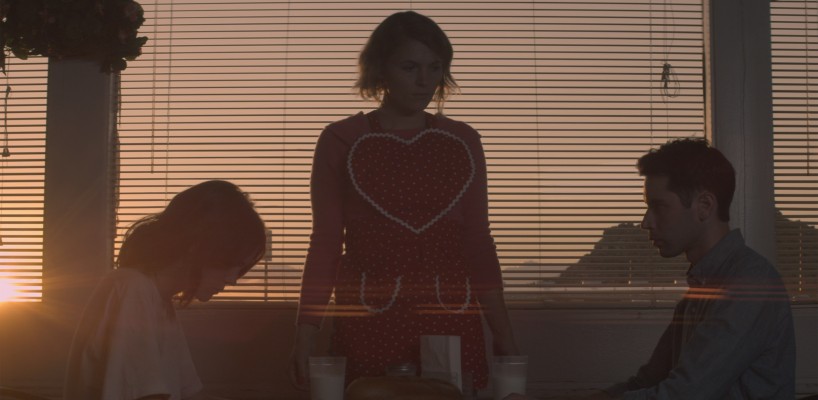 MA
Despite the complete lack of interest from much of the population — and assuredly the tax incentive and rebate-averse Idaho State Legislature, the same one chronicled by Frederick Wisemen a decade ago in one of his lengthy, late-career epics — film culture is thriving in the Gem State. There's no more evidence of this than the fifth annual Sun Valley Film Festival, directed by Ted Grennan in a relaxed, welcoming style and inventively programmed by Laura Mehlhaff. And while the absence of incentives might hamper both Hollywood and indie productions from coming here — during the Q&A for a local shorts block, much talk rang out about a Tom Cruise production that had passed up the land of potatoes for pastures with greener state subsidies — there was still plenty of interesting local work by filmmakers such as Christian Lynbrook (Carbon), Cody Gittings and Stephen Heleker (Smoke), and Jaffe Zinn, who premiered his latest feature, Children, starring Kate Lyn Sheil.
While Idaho may not need a subsidy program more than any other state, it is notable that this red state's pride in a kind of rugged individualism doesn't extend to the culture of film. On the penultimate night of the festival, Ted Cruz, who would win the state's caucus two days after the festival ended, was in Boise, a three-hour drive away, telling an audience he wanted to abolish the IRS, rein in environmental regulations, create a single flat tax and repeal "every word of Obamacare" before suggesting that if Hillary Clinton becomes the nominee, "we lose the Bill of Rights." I doubt he thinks the Bill of Rights calls for state film subsidies.
I sat on a jury that awarded Celia Rowlson-Hall's MA, a hard-to-shake reimagining of the Mary Magdalene story set in a nightmarish and snake-bitten kinda sorta contemporary American desert, the top prize. It has already been written about elegantly in these pages by Sarah Salovaara, on the occasion of a work-in-progress screening it had at last year's Tribeca Film Festival. It has surely changed a bit since then, as well as since I saw it, on a sleepy Sunday afternoon at the last Borscht Film Fest, where it played in a WIP Rowlson-Hall double bill with Ian Clark's A Morning Light, which the young director and actress stars in with Zach Weintraub (The International Sign of Choking, Slackjaw). The version I caught in the run up to Sun Valley was even more expertly modulated for maximum surrealist chaos. It is futile to discuss the film's plot, seeing as it is a slender and often abstracted work of frequently terrifying weirdness. Of course, like 99% of the most interesting independent films, MA has no "commercial" future. It is a miracle it exists. If we care about film artists trying to make hard-to-classify, uninhibited-by-the-marketplace films that speak to myth and legend and the heart of darkness that we find in this country, we should all do our best to make sure people pay to see it, somehow.
You could say the same about much of the program, such as Robert Putka's remarkable Mad, a brutal and genuinely funny Cleveland-set drama about two sisters, one a successful finance industry type, the other a drifting working-class gal, who have to try and come together to take care of their suicidal mother. Unimaginatively shot, it still strikes many chords very successfully, recalling the low-budget family-on-the-edge hysterics of Drew Tobia's See You Next Tuesday in its telling of a story that could just be played straight or as comedy. Either route would have had much less effect than what Putka and his game cast (Maryann Plunkett, Eilis Cahill and Jennifer LaFleur are all exceptional) summon. Meanwhile Anna Rose Holmer's gorgeous The Fits, the best movie ever made in Cincinnati (I'm looking at you Traffic, and you A Rage in Harlem, and you Carol, and you Miles Ahead, and you Ides of March, and you Rain Man, and yes, even you Redlegs) and surely the only narrative film to embue the life of a black female youth with this kind of specificity and depth, nuance and joy, since at least Eve's Bayou, is a wonder. Oscilloscope will try and get it out in front of some eyes, and God bless them, I hope they succeed. The aforementioned Mad, the toast of this year's Slamdance Film Festival, is still without distribution. The world should want these movies but the world simply does not know they exist.
The festival scheduled The Fits against a dinner high up in the mountains of nearby Ketchum for Oliver Stone, so few of the guests and journalists made the screening, which did not sell out. Stone, who shared a cut of his forthcoming Snowden with some of the attendees (co-star Melissa Leo was there to help fete him), was his less-than-politically-correct self in his public (and private) comments, giving a series of ponderous Q&As after a screening of Natural Born Killers and during a coffee talk — the festival's series of morning discussions with prominent guests — at a local black box theater the following day. I was sad to never get a chance to tell him about that time I was an extra in Wall Street 2, the same day he had to end the shoot earlier than his producers would have liked; he had dinner plans with Hugo Chavez. A united attempt on a part of the film journalists in attendance to fetch Stone for a round of drinking on Ernest Hemingway's grave, a popular watering hole that sits less than 100 yards from out hotel proved futile as well.
The most memorable event of the whole dang thang was Cassian Elwes, producer and former William Morris agent, speaking to the assembled masses in the festival HQ, a converted brewery where the open-bar vodka cocktails (the festival is sponsored in part by Tito's) flowed freely all day. "I think Blaine County is the only county in Idaho that votes democratic," the moderator joked at the beginning of this more intimate "salon" chat, winning knowing laughter from an audience that was all too aware that it had convened in an affluent and progressive outlier. Elwes regaled us, this room full of indie film aspirants and players, this room full of white people and myself, of thrilling tales of life on the front lines of the industry, one in which Marc Forster had to cast Halle Berry instead of Alfre Woodard, his preferred actress, in Monster's Ball to get the thing made. You already know why, you don't even have to ask, and Mr. Elwes didn't expound upon it. The Nina Simone debacle currently playing out is evidence enough that actresses that look like Ms. Woodard have yet to get their fair day in court.
Elwes talked about traveling the country trying to round up the nearly 30 financiers, most of them black, it took to make Lee Daniel's The Butler. He told us it was hard but not to give up. When I asked him, after the talk, if the black financiers he had recruited for a movie best watched simultaneously with White House Down were going to finance other black filmmakers' work, all he could summon was that ex-basketball star Michael Finley had invested in A Birth of a Nation. But what would it take for other black filmmakers — not already kinda famous black actors — to make kitchen sink dramas and outlandish comedies in underrepresented Americas, stories that aren't involved with struggle, with the weight of history bearing down on their backs as well as the arc of their narratives? These are the types of worlds you know Charles Burnett wanted to explore more often when you buy him lunch one day at a Westchester County hotel and he has the audacity to tell you, with clear-eyed earnestness, "I didn't have a great career." Elwes, a polite, insidiously intelligent Anglo Saxon who is hard at work on the new film from LGBTQ and African-American female director Dee Rees, demurred, repeating his well meaning and learned mantra of how it was getting better. But a single film about Nat Turner, or the rise of a single and singular voice like Ms. Rees, does not a revolution make. Mr. Turner's revolution failed. after all.
The first film I saw at the Miami International Film Festival, which like much of the arts establishment in the town is generously underwritten by the Knight Foundation, was Josh Kriegman and Elyse Steinberg's Weiner, an arresting verite account of the fallen Congressman's equally doomed attempt at redemption in the form of the 2014 NYC Mayoral race. Weiner was a candidate who, unlike Donald Trump, could not get away with saying anything he wanted. He lied, he lied about his previous lie, and then he did it again. But we sense something in this remarkably candid profile of him and his wife, long suffering Hillary Clinton consigliere/bag lady Huma Abedin, that we rarely get out of any politician — a respect for the truth. We get to know a Weiner who lied because he respects what it would do to his family and his career, who has attempted to atone for that but who, out of a desire to spare himself further embarrassment, lied even more. It begs the question: Would one rather have a liar like Weiner in the White House as opposed to a bullshitter, someone who says things that are demostrably untrue not out of a desire to protect the truth, a la Weiner, but out of a complete lack of understanding of the truth, an aversion to unassailable fact, like Donald Trump? What is done in darkness usually comes to light, and in this film one consumes the images in a mild shock, as your schadenfreude increasingly dulls throughout as Weiner's candor and Abedin's clear pain become impossible not to empathize with. When Weiner's last hope at a political second act goes up in smoke, its hard to laugh at him. I doubt, when the end finally comes for him, anyone will feel such pathos for, as Charles Pierce would have it, the vulgar talking yam currently leading the polls.
That film was the most lauded documentary at Sundance and, indeed, most of the festival top prizes went to big mega-festival holdovers. Cannes Palme D'Or winner Dheepan, by Jacques Audiard, took the festival's top prize, while Yorgos Lanthimos' Cannes competition entry The Lobster won best director from a jury that included indie stalwart Kyle Patrick Alvarez and Krisha director Trey Edward Shults. MIFF usually includes a few world premieres but for the most part it cobbles together a snapshot of contemporary world cinema from the previous festival season that is expansive as any big city film festival in its tier. Knowing it will never have time-acquired prestige (New York, San Francisco) or marketdom (Tribeca), it doesn't try too hard to stamp relevance across its program, with sartorially gifted Festival Director Jaie LaPlante opting for a "something for everyone" approach that seems to reach a wide variety of Miami audiences. Unfurling at this latest edition were 129 films spread over ten days in multiple Miami, Miami Beach and Coral Gables locations. Despite the sprawl, the whole thing proceeds with a sense of leisurely effortlessness that feels of a piece with the surroundings.
It was clear, mostly from highly unscientific informal canvassing of cab drivers and pool boys, along with every poll conducted this year, that the Magic City was not a place that a Republican like Marco Rubio could ever win. After Romney's loss, some moderate conservative voices within the GOP wanted to expand the party's reach to brown people and thought this son of working-class Cuban immigrants would be the guy to do just that. But after kowtowing to his party's nativist heart and disavowing his own immigration legislation, his hopes to win in Florida rested mostly with whites in the upper peninsula and the panhandle, the stretches of Florida that more resemble the deep American South than his father's homeland. He courted right-wing Cubans, sure, but not most Latin South Floridians. His base was people who speak with hard southern accents and don't mind the complete lack of services that their relatively non-existent state taxes don't fund. These people voted, but not for him, however; Donald Trump won a large plurality of Republican votes in the state two days after MIFF #33 drew to a close, and it looks like he can't be stopped, except by chicanery and rules manipulation on the part of the fathers of the modern GOP, from being the latest Presidential nominee for the Party of Lincoln.
Dheepan, a sort of Tamil language Taxi Driver for the current political moment in France, feels like the type of movie that is sure to alarm the sort of voters that Donald Trump attracts, if only their part of the country had yet been reached by broadband and Cable VOD, since no small or midsize town cinema in the deep South or the hollowed-out industrial East is likely to be playing a movie about a Sri Lankan immigrant who ends up shooting and killing a bunch of natives to a mostly white, western country with a violent past. One doubts, given the sorry state of motion picture literacy in this country, that most people would get that the film is seemingly pro-immigration. For once, be happy the masses haven't gotten hip to the arthouses!