Back to selection
Atomos Announces 7" HDR Field Monitor/Recorders that can Display Log Footage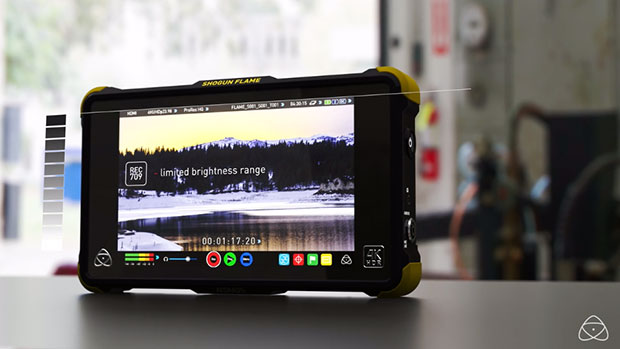 Atomos has announced the Atomos Flame series of field monitor/recorders. These new units feature 7" 1920x 1080 resolution screens with 1,500 nits of brightness — four times the brightness of their existing screen. Atomos claims it's the world's brightest and widest dynamic range panel in a field monitor.
But what is HDR footage? Atomos CEO and co-founder Jeromy Young explains that if you have a camera that shoots in a Log format, and that will output that over SDI or HDMI, you already have an HDR camera. The problem is that it can be difficult to see what that Log image is really capturing. With their 10-bit processing, built-in support for Log footage from Sony, Canon, Panasonic, ARRI, Red and JVC, and the extra bright screen, the Flame series makes it possible to view Log footage in the field. The brighter screen also makes it easier to review footage in different situations.
"We are taking the Log footage exactly from the camera and we are transforming it using our technology inside the panel to represent for you a 99% accurate image of what HDR will look like when you take your Log footage and you apply HDR processing to it."
Jeromy Young – Atomos CEO and co-founder
The units still record the Log footage, not the Atomos HDR representation of it. Recording can be in 10-bit 4:2:2 Apple ProRes or AVID DNxHR/DNxHD, and the devices record to SSD.
Atomos sold 50,000 of their original 4K Shogun units last year, and they've made a number of changes to these units based on the feedback they have received. The new units feature a much more robust case, a hot-swappable dual battery system, and a charger that is three times faster than their current version. These models also now come with a sun hood.
The two units feature very similar features, with the Shogun adding SDI in/out, Genlock and balanced XLR in/out, while the Flame supports HDMI in/out. The Shogun Flame will ship the week of March 28th at $1695, while the Ninja Flame ships the week of April 11th at $1295.