Back to selection
Robert De Niro Pulls Controversial Autism Doc Vaxxed from the Tribeca Film Festival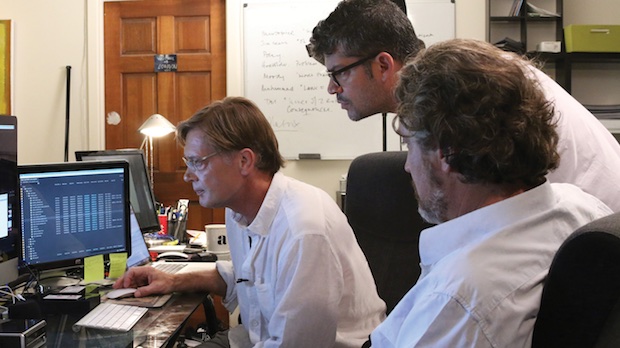 Vaxxed
Just a day after issuing a statement supporting what he dubbed a personal decision to screen a controversial documentary, Vaxxed, by discredited researcher and former doctor Andrew Wakefield, Tribeca Film Festival co-founder Robert De Niro has pulled the film from this year's festival. Last night, De Niro issued the following statement:
My intent in screening this film was to provide an opportunity for conversation around an issue that is deeply personal to me and my family. But after reviewing it over the past few days with the Tribeca Film Festival team and others from the scientific community, we do not believe it contributes to or furthers the discussion I had hoped for.

The Festival doesn't seek to avoid or shy away from controversy. However, we have concerns with certain things in this film that we feel prevent us from presenting it in the Festival program. We have decided to remove it from our schedule.
Vaxxed alleges ties between childhood vaccination and autism as well as a conspiracy at the U.S.'s Center for Disease Control surrounding research trials.
The surprising about face occurred just a day after De Niro defended the screening — programmed not in a documentary section but as a "Talk," complete with post-screening panel — and took responsibility for its selection. "In the 15 years since the Tribeca Film Festival was founded, I have never asked for a film to be screened or gotten involved in the programming," De Niro said on Thursday. "However this is very personal to me and my family and I want there to be a discussion, which is why we will be screening Vaxxed."
Robert De Niro and wife Grace Hightower have an autistic son.
The surprising reversal occurred after much criticism of the documentary from the scientific community as well as filmmakers like documentary filmmaker Penny Lane, who published an open letter at Filmmaker urging the festival to pull the film. "Very possibly, some people will walk away from your festival having been convinced, in part because of your good name and the excellence and integrity of your documentary programming, not to vaccinate their children," she wrote. "And very possibly people will die as a result.
Director Wakefield and producer Del Bigtree responded on the film's website, alleging "censorship" by the "power of corporate interests."