Back to selection
Report from the Green Room Cast and Crew Premiere in Portland
Green Room
It was a homecoming of sorts for Green Room writer-director Jeremy Saulnier, actors Anton Yelchin, Imogen Poots, Macon Blair and other members of the local cast and crew when they attended a special screening of the film at The Hollywood Theatre in Portland, Oregon on April 9. The last time they had gathered in Portland it was to shoot the grisly thriller, which was both set and filmed in Oregon in fall 2014.
Green Room marks Saulnier's latest effort since the critically acclaimed revenge thriller Blue Ruin. Written and directed by Saulnier, Green Room premiered at the Cannes Film Festival Director's Fortnight before screening at Toronto, Sundance, and other festivals.
The genre film tells the story of a young down-on-their-luck punk band who take an unexpected booking at a run-down club deep in the backwoods of Oregon. When they witness a gruesome murder backstage, they are trapped inside the club's "green room" and forced to confront the neo-Nazi club owner (Patrick Stewart) and his pack of Nazi punk henchmen.
"Portland is the only place we could make this movie," said Saulnier, who joked that Portland was such an important place to the movie that his Uber drive on the way to the theater was an extra in the film.
Saulnier, who grew up making movies with friends (including Blue Ruin and Green Room actor Macon Blair), said he made Green Room for his 19-year-old self, who was into John Carpenter films and the hardcore punk scene.
In fact, his own experience in the hardcore punk scene inspired the story. "You wouldn't know it from looking at me, but I used to go to shows in Washington D.C. in the '90s and there were Nazi punks at almost every show," he said. "They were scary, but I was really trying to capture the aesthetic and energy of the hardcore punk scene that I remember."
Though he acknowledged that "Nazi punks are low-hanging fruit for bad guys," Saulnier said they made sense for this particular story. "I chose them because they're actually militant. They're organized. They wear combat boots and they seemed the most likely to have some kind of affiliation with crime and weaponry. I chose them because they're the most like soldiers."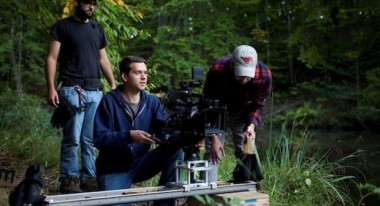 Saulnier discussed how he rushed to shoot all of the film's exteriors first because fall foliage was coming in. "It was a race to get it all covered," he said. In particular, they had just missed the corn harvest by a week and a half, so they had to buy two acres of corn for crucial overhead shots of a cornfield.
After shooting the film's ending and other exteriors, Saulnier said they "took refuge in a sound stage" where production designer Ryan Warren Smith created the roadhouse where the band is trapped. "As an independent filmmaker, I felt very guilty making him [Ryan] do all that to spec," said Saulnier. "Because the script is so based on a pre-visualized geography and we realized that we could not make this movie unless it was to my specs because we'd have to rewrite the entire script, plus a new location."
After the venue was built, Saulnier said, they shot more or less in order, "which was really fun, so we could start from scratch inside and then build the tension slowly, put these guys [Poots and Yelchin] through the meat grinder."
Yelchin agreed that "every day was so intense for all of us" and "it wasn't an easy movie to make."
As for his next project, Saulnier said that after Blue Ruin and Green Room, he'll avoid another "color" film. "The next movie color will not be a color," he told the audience. "If all works out, it might be a shade. Macon [Blair] and I are working on a script and we're going to wean ourselves off of colors slowly."
Meanwhile, Blair liked shooting in Portland so much that he's currently filming his directorial debut, starring Elijah Wood, in Portland.
A24 will release Green Room on April 15 in New York City and Los Angeles before expanding to other cities throughout the month.