Back to selection
Tribeca 2016: Five Questions for For The Love of Spock Director Adam Nimoy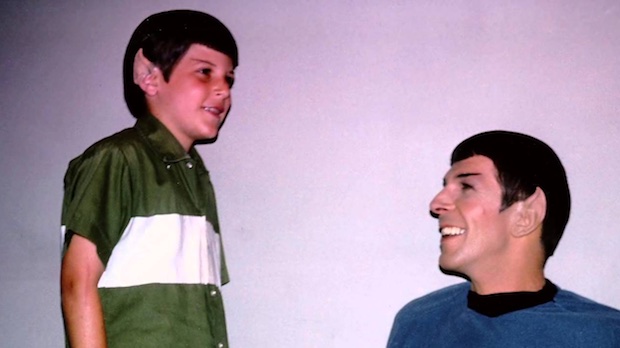 Adam and Leonard Nimoy in For the Love of Spock
Along with Lord of the Rings, Star Wars and James Bond but few others, Star Trek is that rare pop-culture franchise that spans generations. And while Zachary Quinto may have taken over the role of Mr. Spock, the half-human character's DNA originates from Leonard Nimoy, who played the character in the original TV series as well as early movies. Having its premiere last night at the Tribeca Film Festival, For The Love of Spock is son Adam Nimoy's tribute to the character of Spock, Star Trek fandom and his dad. The film also happens to be one of the most successful Kickstarter film raises of all time. Below, Nimoy talks about Spock the character, crowdfunding and his favorite episode of the original series.
Filmmaker: Star Trek — and the character your father played, Spock — have been well chronicled in both official and fan culture. What more is there to learn about Spock? What other viewpoint are you hoping to provide with your film?
Nimoy: Although no doubt much has been written about Star Trek and Mr. Spock, a visual documentary of Spock has never really been produced before. This is what inspired my father to collaborate with me in developing the idea. We wanted to create a visual biography of Spock and explore how he was conceived, how he evolved and why he has continued to resonate with fans for almost 50 years. But the other aspect of this film which makes it unique is that it's told from my perspective; I watched the production of Star Trek before the show even aired, I am a first-hand witness of my father's long and productive career and, after Dad's passing, I have felt the outpouring of emotion for a great artist and a pop culture icon.
Filmmaker: With this film, you had one of the most successful Kickstarter campaigns of recent years. Aside from the funds raised, how did crowdfunding and the community you built affect the actual making of this film? And what have been the challenges resulting from your success?
Nimoy: The fact that over 10,000 fans showed up to contribute to the funding of this film led me, and my collaborators, to believe that there really was a need for this film. It was almost a battle cry of "Give Us Spock!" The community of supporters who made themselves known through Kickstarter thereafter inspired another community of supporters: individuals and entertainment entities who stepped up to the plate to support us by providing goods and services at discounted rates to help make this film a reality. In terms of the success on Kickstarter, the most important challenge that we remain mindful of is to stay in contact with our contributors follow through on the promises we made regarding rewards fulfillment.
Filmmaker: In 2008 you wrote a memoir that dealt frankly with your childhood, your relationship with your father and the challenges you faced later in life. Do you see a relationship between these two projects — that memoir and this film? Is some of that previous point of view contained within this film? Did writing that book allow you to dive back into this personal history?
Nimoy: Part of my experience with my father expressed in the memoir shows up in For The Love Of Spock. After Dad's passing, it became clear that the film had to not only address his artistic commitment to Spock but his other artistic endeavors as well. Some of his personal life and his role as family man also became an important part of this documentary. In this regard, the film expanded to consider my experiences with Dad and Spock, including some of the ups and downs.
Filmmaker: What is your own favorite episode of Star Trek featuring your dad, and why?
Nimoy: I still very much love the two part story of "The Menagerie." It was a brilliant construct to join a Spock-centric story involving his court martial with the the original Star Trek pilot when Christopher Pike was captain of the Enterprise.
Filmmaker: Your film is full of rare archival material. What's your proudest "get" on this film — some piece of material that you thought you might not be able to secure?
Nimoy: The only interview of Dad in Spock costume. That was a good one.