Back to selection
Going Reverse Oedipal Outside the Margins: Eight Tribeca 2016 Short Films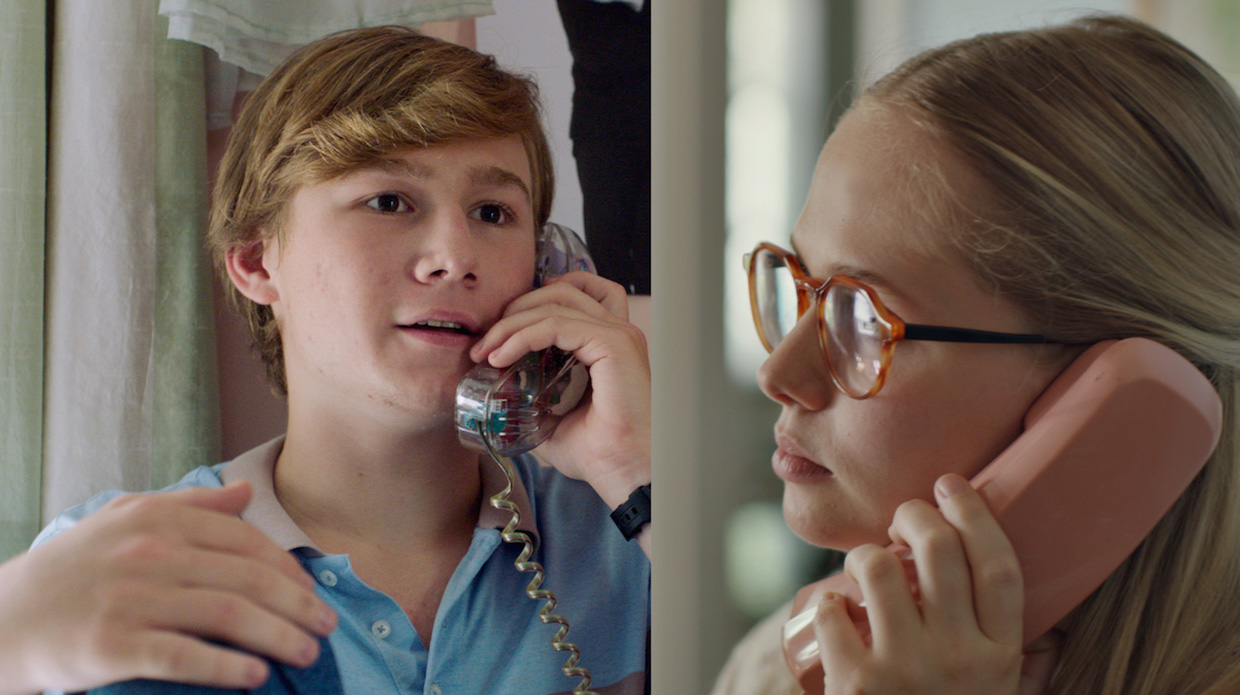 The Board
The wide-ranging 15th edition of the Tribeca Film Festival feels more screen-agnostic than ever, with films, television, VR, and interactive projects expanding across two weeks of downtown-centric programming. While resisting the urge to identify an all-encompassing theme that sloppily groups all these works into a State of the Union address, the shorts I viewed provided an appropriately hefty sampling of independent cinema comfortably outside the margins. Famous faces, small budgets, issue-driven calls-to-action, oddball foreign comedies, intriguing student work, and throwbacks to pop cinema were all accounted for. Given the scope and depth of the films being offered then, take the following as a sample of eight recommended titles whose creative ingenuity fought the good fight.
The Board
The socially inept, hormonally-infused male teenager is not a character that's been underrepresented in American cinema over the past several decades, but it takes a film like David Shane's The Board to get him right. Incredibly awkward and nervous around female classmates, our male lead develops a cheat sheet of sorts to help guide conversations with the opposite sex. This diagram features topics of all kinds — the existence of a higher power, a teacher with a bad smell — to touch on whenever a phone call tends to drop in interest. With the aid of a split-screen, The Board showcases one such phone call as the boy, struggling to be both sincere and quick-witted, attempts to ask a girl (played with a striking sincerity by Tessa Albertson) out on a date. Sometimes it just helps to be yourself. Showcasing an up-tempo quirkiness that so many other coming-of-age tales fail to master (Alfonso Gomez-Rejon's Me and Earl and the Dying Girl crashed and burned when letting its freak flag fly), The Board takes a John Hughsian approach (e.g., implementing a Ferris Bueller-breaking of the fourth wall) to rebellious teens who secretly wish to conform.
Dead Ringer
New York City payphones spend their last days going largely unnoticed in a "technologically sophisticated" world where people trust in cellular devices as a be-all communication tool. As pay phones continue their slow decline, so too do the booths that house them: dirty, unkempt, and claustrophobic, these slender hubs haven't been given much recognition since, well, the 2002 movie Phone Booth. Alex Kliment, Michael Tucker and Dana O'Keefe's Dead Ringer places us inside one such booth as the pay phone, lugubrious and bitter over the neglect its recently experienced, narrates a kind of eulogy for its fellow NYC pay phones. Citing classic movie scenes in which booths were prominently featured ("we protected Tippi Hedren from the birds, we helped Bill and Ted travel time, and without us Clark Kent is…he's just Clark Kent"), the pay phone's monologue proves it to be both an angry Luddite and an old fashioned romantic fighting for relevance. Produced by New York's own Timothy "Speed" Levitch, Dead Ringer mournfully proves that, in its own grungy way, there's nothing more mysteriously fascinating than a phone booth at the darkest of night.
Jahar
Approaching the third anniversary of the Boston Marathon bombings that took the lives of three people on April 15th 2013, now is the pragmatic time for cinematic dramatizations of the tragedy. Preceding the forthcoming Patriots Day, which reteams Lone Survivor collaborators director Peter Berg and star Mark Wahlberg, Jahar serves as a compelling if not altogether effective slice-of-life look at one of the men behind the event, Dzhokhar Tsarnaev. Known as "Jahar" to his friends, Tsarnaev is depicted via flashbacks as a free-wheeling high school kid who likes to joke around and get high with his chums on local Massachusetts basketball courts. He is a kind young man and, director Henry Hayes appears to be telling us, definitely not the sort of person you would expect to commit such a heinous act. As Jahar's friends reconvene on that same basketball court weeks after the tragedy, still in denial over how their friend could ultimately be so evil, the film acts as a story of dealing with tragedy by means of painful acceptance. Due to thin characterizations, the heart strings are only slightly tugged, but the film resonates thanks to its interest in the human psyche beneath the surface.
Madam Black
The death of a beloved pet may be one of the most tragic experiences a wide-eyed child will have to deal with, and finding an appropriate way to break the news can prove difficult — that is, if you choose to tell them at all. Director Ivan Barge's equally dark and endearing Madam Black confronts this conundrum head on, as a well-meaning photographer accidentally drives over and kills a young girl's cat (the title character) and struggles with how to let her down easy. Taking the rotting carcass home with him, the photographer's solution is ingenious: he informs the girl that Madam Black is vacationing around the world as he uses his studio to take photos of the dead cat positioned in front of iconic tourist backdrops. Receiving these photos in postcard form, the girl starts to anticipate frequent updates, providing even more moments of desperate hilarity between a man who means well and a feline that keeps deteriorating. Confirming New Zealand cinema as a hub for outrageous comedy (further demonstrated by the work of filmmakers Taika Waititi and Jemaine Clement), Madam Black blends the drab and insular tedium of suburban existence with the morbidly wacky enjoyment of prop comedy. As the relationship develops between unfortunate cat-killer and optimistic cat-owner, Barge injects earned pathos into his Weekend at Bernie's four-pawed spinoff.
Mildred and the Dying Parlor
A fantastical coming-of-age story with fairy tale inspirations, Mildred and the Dying Parlor features a star-studded cast having fun with the material director Alex Gayner and screenwriter Ilan Ulmer provide. Part Rod Serling, part Charles Perrault, the film focuses on a nuclear family — Steve Buscemi and Jane Krakowski play the oddball parents, Zosia Mamet the rebellious teenage daughter — who use their welcoming home as a dying parlor, i.e. a place where geriatrics come to spend their last remaining days. As mom and dad attempt to convince their daughter to entertain today's guest, the daughter recalls what her life's been like, growing up surrounded by customers whose most alluring feature is their expedient ability to kick the bucket. Featuring production design that's top notch in its playful attention to detail (the color red plays an important factor upon a second viewing) and a slightly off-kilter, unsettling tone that's sustained throughout, Mildred and the Dying Parlor is an alluring genre mashup.
Porzingod
Sometimes all it takes is one player to make an impact on a long-suffering fanbase. A NBA franchise that hasn't sniffed a championship since 1973, the New York Knicks are a classic example of lowered expectations, and their current three-season playoff drought indicates that it will be even more time before the Madison Square Garden-based team can claim competitiveness. And yet Kristaps Porzingis, a twenty-year-old forward from Latvia drafted in the 2015 NBA Draft, has brought a renewed sense of hope to fans, a religious-like worshipping that would seem almost God-like in its declaration of a new hardwood savior. In Porzingod, a three minute comedy in which actors John Leguizamo and Adam Mucci visit a church decked out in Knicks paraphernalia to confess their love for the almighty Porzingis, director Conor Byrne literalizes that evangelical comparison to hilarious effect. As they kneel before an altar, their faces brightly illuminated with a heavenly glow, made up of memorabilia that symbolizes the team's many ups (Willis Reed, Patrick Ewing), downs (President of Basketball Operations Isiah Thomas, point guard Stephon Marbury), and false prophets of hope (Jeremy Lin), the men sum up the trials and tribulations of their long loved team as Byrne uses specific Knick iconography to provide blink-and-you-miss-it jokes for the most obsessive of fans.
Super Sex
Writer/director Matthew Modine pulls a great deal of humorous wordplay and uncomfortable miscommunications out of his simple premise: Two parents (played by Kevin Nealon and Elizabeth Perkins) attempt to find the appropriate birthday present for their off-screen son. After going through a list of rather lame options, they decide on hiring a prostitute to provide him with an evening he'll never forget. It's at this point that Modine reveals that these two aren't parents at all, but are actually siblings attempting to give their eighty-six year old father one "last ride on the saddle." SNL veteran Nealon is appropriately fish-out-of-water as he attempts to negotiate the appropriate price to pay for a woman of the night's services (he also handles some of the material's more outdated bits, such as a bodega employee's weak grasp of the English language, with commendable aplomb). The bulk of the short is set on a low-lit block in a sketchy part of town, on which Modine keeps introducing new characters to provoke and tempt our strong-hearted but misguided leads. As the lucky father about to get lucky, Ed Asner makes a cameo at the very end with a classic joke that's derived from the film's title. For the role of the lustful prostitute, Modine goes reverse Oedipal: he casts his daughter, Ruby.
We All We Got
Opening with the POV of a helicopter surveying the Chicago city streets — and concluding with a final shot of the heavenly clouds above them — We All We Got takes a macroscopic view of the city's gun violence and youth fatalities within the African-American community. Shot in black-and-white and with minimal connective tissue, this social issue tableau incorporates fragmentary bits of character — a man advocating for peace marching through the streets, a family in shock as the splattered blood of a deceased loved one is washed off the basketball court concrete where it lies — tone poems, and expressionistic photography to create a meditative sense of loss. Anger isn't the primary emotion behind each protest, but rather a parasitic feeling of sadness. As we hear the damning statistics of modern gun fatalities in Chicago public schools, with parents holding framed photos of their lost loved ones, Carlos Javier Ortiz's We All We Got proves itself a startling artifact of a community that grieves together, collectively experiencing the pain they can never fully shed.