Back to selection
Jump! How New Distributor Grasshopper Film Plans to Succeed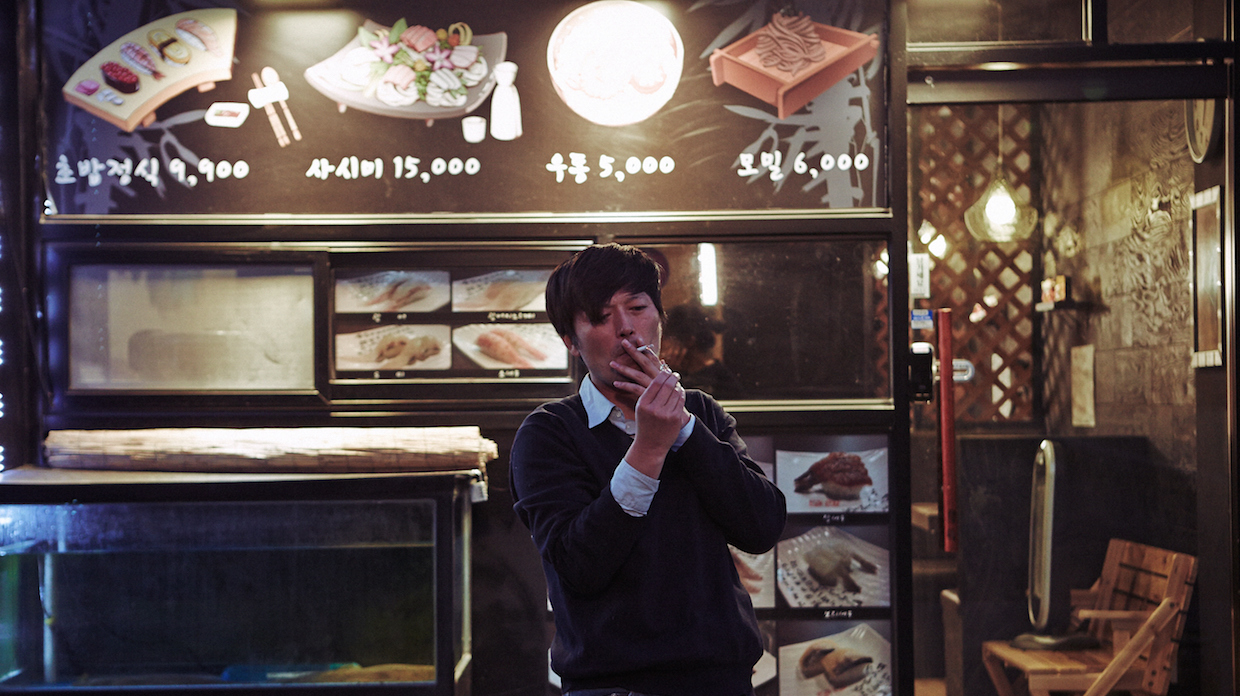 Right Now, Wrong Then (Photo courtesy of Grasshopper Film)
Before going to meet Ryan Krivoshey — the founder and, for the moment, sole employee of new distributor Grasshopper Film — I emailed a friend who works in distribution to ask what questions he would ask if he were picking Krivoshey's brain. "HOW DOES HE MAKE MONEY?" he wrote back in emphatic all-caps. A fair question when you look at Grasshopper's ambitious slate of first releases, which kicked off with Asghar Farhadi's previously unreleased 2006 film Fireworks Wednesday. That's a comparatively viable commercial proposition, given Farhadi's high profile as the director of A Separation and relative audience friendliness. What's coming next is a line-up heavy on the kind of demanding festival films that often languish unacquired, each with their own obvious marketing problems: In the City of Sylvia director José Luis Guerin's academia-based The Academy of Muses (no stars, lots of talking in Spanish); Bi Gan's acclaimed Kaili Blues ("difficult," Chinese); Hong Sang-soo's Right Now, Wrong Then (Korean, no stars, Hong's proven poor commercial track record). And so indeed: How will Grasshopper Film make money?
Born in Odessa in what's now Ukraine, Krivoshey moved with his family to Brooklyn when he was four. His undergraduate degree was in English, with a minor in art history; film wasn't a serious pursuit until the early '90s. A viewing of Mike Leigh's Naked turned him on to new ways of making movies, and he became a regular at New York's Angelika Film Center, but it was a stint working at Kim's Video that, as he says, "blew the gates wide open." Krivoshey would buy film studies and history textbooks, scan the indexes for titles, rent them en masse, and then read the related chapters — a crash course that left him with an appreciation for a wide variety of world cinema. Stints at Film Forum and Icarus Films led him to The Cinema Guild in 2002, where he worked for 13 years, first in the theatrical division, then adding nontheatrical distribution to his plate.
Last November, he posted a note on Facebook saying that he was leaving Cinema Guild effective immediately. The next day, Grasshopper Film launched with no outside investors; the seed money is all Krivoshey's. "There really was no specific impetus for leaving Cinema Guild," he explains. "I had free rein to acquire films as I saw fit within reason. But at the end of the day, it was never my company." (The company was founded by Philip and Mary-Ann Hobel, and it's still a family business.) "There was a limit as to what I was able to do. The opportunity presented itself to start my own company, including acquiring certain films I wouldn't be able to acquire, and I grabbed it."
One of the things Krivoshey gained an appreciation for during his time at Cinema Guild was the importance of building an educational library to shore up revenue. He uses Lav Diaz's monumental Norte, the End of History as an example: The 2014 release marked the first time the Filipino director of films with legendarily daunting running times had received theatrical distribution. The comparatively trim, 250-minute Norte only made a shade over $10,000 theatrically, but that's not the point. With one-off screenings and purchases by universities, the movie made money. Ditto Béla Tarr's The Turin Horse, the Hungarian long-take master's first theatrically distributed film in the states. By the time Krivoshey left Cinema Guild, the film was firmly in the black and on its third Blu-ray printing.
Grasshopper Film already has over 40 films acquired specifically for the educational market. These are documentaries, some of which are formidable in their own right, including Pedro Costa's Casa de Lava and Diaz's Storm Children: Book One. Another upcoming theatrical release — Thom Andersen's dense video essay on Gilles Deleuze, The Thoughts That Once We Had — is already one of Grasshopper's best-selling educational titles. That expands on Krivoshey's approach at Cinema Guild, where "with the exception of a tiny percentage of films, every film I picked up broke even eventually from theatrical, nontheatrical and educational revenue. That's always been the goal."
Acquisition is a process of intuition more than algorithms. Other companies might figure out whether a film is "worth acquiring and how much it was worth to spend on it based on comparative studies of other films, of elements in that film that sold better than others that could be marketed," says Krivoshey. He crunches costs but also follows his instincts: "Do I love the film? If yes, how much do we want to pay for the advance, and how much do we want to spend on P&A costs? There are films we don't always acquire, but if it's a film I love, we're always going to try to go after it." Keeping a tight financial ship means effective cost-cutting — too much festival travel cuts into the bottom line, so Krivoshey only travels to Cannes and Toronto, plus one or two more festivals a year. Instead, he tracks festival coverage carefully and lives off Vimeo links he watches on his TV (a space-saving arrangement over what formerly were stacks of DVDs).
The release calendar will be split between more obviously commercial prospects, like the documentary Don't Blink: Robert Frank (which has a famous subject and a soundtrack featuring Lou Reed and the Rolling Stones), and the smaller, more difficult titles. Attendantly, bigger titles might play the Landmark Theatres circuit while hitting up as many as 50 cities over a five-month period, while smaller films will have engagements in 10 to 20 cities. Playing chains like the Landmark is a more expensive proposition due to the revenue split, calendar and publicity charges and virtual print fees ("the bane of my existence"); calibrating the correct approach for each film is a fine art. One-off engagements at cinematheques and the like are a possibility, and the fee is negotiable. "What I've never understood is hearing from bookers that they want to play a film but the distributor won't give it to them," Krivoshey  notes. "One thing I think it has to do with is an over-abundance of releases. If you have 20 or 30 films you're releasing, the last thing you want is to get bogged down booking a title for a $250 guarantee in some market when you have another film that calls for your attention." Grasshopper will be able to pay that kind of attention.
Right now, Grasshopper is Krivoshey's one-man-band, with outside assists only for publicity and posters; the goal is to have a staff of six by year's end, which will release eight to 12 theatrical releases of varying sizes annually and as many as 50-plus VOD/educational titles. "The main audience is cinephiles and film lovers," Krivoshey says. "If I were given a choice between an ostensibly difficult-to-market foreign arthouse title or a low-budget, really bad American independent film, I don't know why anybody else wouldn't choose, in a heartbeat, the arthouse film. It's a better film, and if there's genuine energy and passion behind that film, then you're going to be able to reach that audience, versus dumping that film on VOD and seeing what happens. People who wonder how to make money with these films overlook that. They've seen Norte, Turin Horse, Once Upon a Time in Anatolia and Actress  — they've seen half of the Cinema Guild catalogue. It's incongruous that way; they're answering their own question. I want to be at the stage with Grasshopper where, if it's a film that Grasshopper picks up, even if you've never heard of the film, you should have an interest in seeing what it's about because we're releasing it. That's the ideal scenario."