Back to selection
VR AXS Map Wins the Made in New York Media Center by IFP Demo Day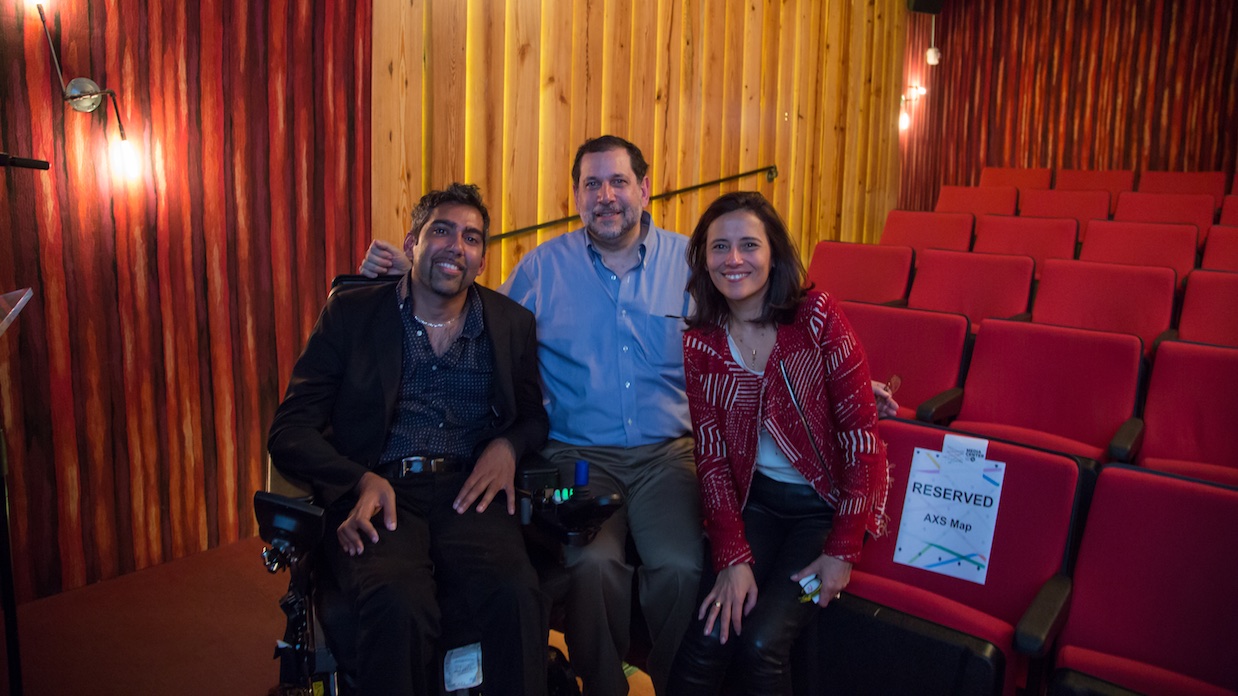 Jason DaSilva, Loren Abdulezer, Joana Vicente (Photo: Kristen Vetter )
VR AXS Map, a platform using VR to help the disabled pre-visit and share information about accessible public spaces, was named the winner on Wednesday night of the Made In New York Media Center by IFP's Demo Day.
The curated audience of VCs, entrepreneurs, creative directors and brands voted the award after five teams of Media Center entrepreneurs pitched their projects to a panel moderated by Mashable's Jason Abruzzese and consisting of Fran Hauser (Partner Rothenburg Ventures) and Matthew Hooper (VP, Open Innovation, Barclays; Head of Rise, NY). VR AXS Map stood out due to its obvious social utility and clear audience. During the project's pitch, developer Loren Abdulezer of Evolving Technologies Corporation and Jason DaSilva, who uses a wheelchair, demonstrated how the platform — available for Google Cardboard, Gear VR and the web — allows its users to virtually visit a space prior to an in-person trip in order to note accessible entrances and exits and to simply reduce the anxiety associated with encountering a new place.
Said Abdulezer after the event, "We've got some very interesting technology and capabilities, and when you marry that to important ideas you can do extraordinary things. What was great about the presentation is that everybody in the room 'got it' — they saw the significance and potential of what VR AXS Map can do."
Abdulezer said the company is looking for $250,000 for its next round of funding, and that he hopes the win "will open doors" and enable VRX AXS Map to scale up and include even more spaces. "What we need is equipment so that we can cover and scan more sites. That's a lot of work, and it requires more staffing. We also have to develop software to make this even more accessible."
"We understand the needs of startups disrupting the world of media and designed our community and support at the intersection of media and technology," said IFP Executive Director Joana Vicente in a press release. "VR AXS Map is part of a new crop of innovators guided by our mentors and industry partners and we congratulate them on their success."
The event was introduced by Vicente along with Julie Menin, Commissioner of the Mayor's Office of Media and Entertainment (MOME), Maria Torres-Springer, President and CEO, New York City Economic Development Corporation and Minerva Tantoco, Chief Technology Officer, City of New York.
The evening's other VR project, Empathetic Media, which bills itself as a "virtual and augmented production studio" also has a clear goal — fostering emotional connections between audiences and storytellers — and a targeted user group. In its case, that's audiences and creators looking to bring transmedia techniques to immersive storytelling. The company has built an augmented storytelling app, ARc, that enables interactive coverage of news events through the use of 3D infographics, animations, audio and annotations. Ferguson Firsthand, a VR exploration of the Michael Brown shooting developed for Fusion networks and viewing on Oculus and desktop, is an example of the company's early work. Arguing that "the 3D immersive model is broken," the company's founder, graphic journalist Dan Archer, said that the Empathetic Media's products allow VR experiences to be shared communally and that the company's business model includes the production of workshops for clients like the Washington Post, where VR techniques are taught.
Explains Vicente about the work the Media Center does with VR companies, "There's so much conversation right now about VR content and hardware, and we're happy to see business start-ups looking into the possibilities of monetizing VR."
Another journalism project was Codex Platform, described by founder Tim Farnam, a data journalist formerly of the Washington Post, as a "Squarespace for news" that gives visual tools to non-technical users. Codex Platform, which can be a small publisher's full-featured CMS or simply provide embeddable single stories to a larger publisher's existing CMS, helps publishers create beautifully designed, graphic-rich layouts that will allow, said Farnam, their content to stand out to both readers and advertisers. "Good design is a requirement," said Farnam. "News design needs to scale." He went on to point out the high $70 CPMs obtained by a site like Quartz, contrasting them with the lower ($10) numbers secured by a site with lower design quality, like Buzzfeed. Questioned after his presentation by the panel, Farnam said that his dream customer might be The Awl, while also noting that the news and culture site has just moved over to Medium. Citing the design sameness of Medium sites, Farnam said, "We can give publications something that Medium can't, which is their own identity."
Also presenting was Gamechat, a cross-platform messaging service for gamers that obviates platform lock-in by allowing users of one console system to message users of another. "Any chat, any gamer, anywhere" is the company's motto. Now in beta, Gamechat has interesting revenue ideas: in-app purchases ranging from sticker packs and custom themes to messaging bots allowing gamers to converse with their favorite characters.
Finally, the project that could be of the most interest to Filmmaker readers was Throwing Fruit, which "empowers content creators through mobile apps," in the words of founder Heather Leonard. Citing the issues creators like independent filmmakers face in distributing their works through traditional means (middlemen distributors are required) or through OTT channels like YouTube or Vimeo ("problems of monetization," Leonard said), Throwing Fruit builds apps for creators that enable work to be bought via the various app stores. Throwing Fruit creates the apps, places them in the various storefronts and takes a monthly fee plus a small revenue share. The company has already created apps for such films as A Brony Tale and I am Chris Farley.
Throwing Fruit's scalability and addressable audience were questioned after the presentation by Hauser, who asked, "Are you just the Squarespace for mobile apps, or are you helping build audiences?" Hooper followed up, pointing out the potential to create a network around these various apps as well as to further monetize through mobile ad networks.
The five companies presenting were all start-ups that have been incubating at Demo Day Training Program of the DUMBO-based Media Center. Said Vicente about the process leading up to the companies' presentations at Demo Day, "Our business advisors are quite a unique collection that helps companies distill what their business idea is and to prepare a clear, compelling visual pitch. It's a transformative process for them. We see at the beginning these companies' first iterations, and by the end of the process their business models have often changed. Their value proposition is clearer, and their audiences have been well defined. Often people with creative minds are surprised by how important it is to create their projects as business endeavors and to ask themselves, 'Who is my audience?'"
(Editor's Note: IFP is the publisher of Filmmaker.)